M Y Southern Flight Extracts from Log 1996
Our first yacht (a small ship really) Southern Flight.
Time to take it home to Guernsey.
PENARTH to GUERNSEY
Joined by friends Peter
Ayres
, Herbert Walker & John Adams. Lucky with weather at all times. Sea like glass round Lands End. I suffered from sea-sickens on all legs of the trip (nerves about handling ropes in front of more experienced people). Tony has lots of practical experience as well as
yacht master
qualification. I have day skipper qualification and little practical experience. Being owner / skipper for the first time, it must have been a nightmare for Tony. Getting out of the
Penarth
lock, the turn is tight into the channel, no problems and Tony happy to be out at sea.
Tony with Herbert (navigator for the trip). John Adams (& bike). Computers & gen DB
Peter Ayers (general adviser)
14th AUG. PENARTH to PADSTOW
On entering the channel for
Padstow, care required on pilotage,
but not a problem with our draft & state of the tide. Southern Flight is known in this harbour and we look forward to taking her in as the new owners.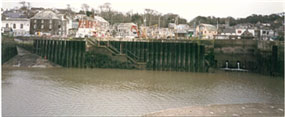 Approach & entrance gate to Padstow harbour.
Meet placements officer Malcolm who knows the boat and previous owner. Moor alongside other boats (inner hrb). Padstow (oldie worldly). It's history goes back to 6th century. St Petroc sailed from Wales and started a monastery. Sacked by Vikings in AD981. Sir Walter Raleigh was Warden of the Stannaries of Cornwall in the 16th century, he lived in Padstow Court House.
Southern Flight in Padstow.
15th AUG.
Day in Padstow, lovely Cornish pasties for lunch. Lots of sightseers, John Adams thought the holiday makers walked about in a trance (like the village in "THE PRISONER" series). Artist off one of the boats was painting peoples portraits (she was very good). Sunny day, very nice.
16th AUG. PADSTOW to FALMOUTH 0830 - 1905
Sea like glass around Lands End
Mooring up a bit of a mess, tide pushing us down and off the pontoon (and round the side of it). Rolling the fenders when straightening up so Tony came in again (opposite direction, no problem). Met Peters brother (& wife) in the evening. We all go to a very nice restaurant (further out from the marina).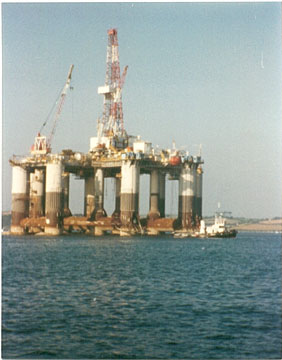 Rig on the move, coming out of Falmouth
18th AUG. A day in Dartmouth,
Herbert drove us around to see countryside (beautiful) and back to his house for a cup of tea. Restaurant meal in the evening. Peter, Herbert & their wife's joined us (our thank you to Peter and Herbert for helping us).
19th AUG. DARTMOUTH to GUERNSEY 1050 - 1950
We are joined by Herbert who fancies the trip. Peter stays home. Passing the "
Channel
L.V". and it's my first view of a light vessel at sea. Foggy when approaching Guernsey. Entrance to
Baucette
Marina was awful, fast flowing water and another boat decided to stop in the mouth of the marina. Tony had to sound his horn. Stern mooring at the pontoon was a problem, not much turning room and Tony can't see the stern from the wheelhouse, I should have concentrated more on letting him know his distance off (will know better in future). We managed it in the end. Phew(!).
SF safely tied at Baucette Marina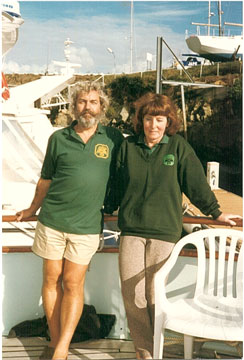 Tony & I at the stern (sun in our eyes)
26th SEP. BEACETTE to QE2 Marina.

08th OCT. QE2 Marina to M&G YARD for refit.
26th NOV. M&G to QE2 Marina.
East arm QE2 Marina