TUNISIA -> ALGERIA -> MOROCCO
Extracts from Log 2006
M Y Southern Flight Extracts from Log 2006
Tunisia - Algeria - Morocco. East to West
From Initial Trepidation To Relaxed Conclusion
Our trepidation was about visiting Algeria,

conflicting

advise

prompted

us to see for ourselves.
The crew for this trip was just the two of us, Kathy & Tony Moore. We had planned to take up to 4/5 months but delays in obtaining visas curtailed this to only 2+ months. We were confident as most stops would be in ports or harbours alongside. 4 Marinas, 1 Anchorage & 19 Ports or Harbours. [1060.5Nm].
We applied for Algerian Visas whilst living aboard in Tunisia. This complicated the issue & we were not informed that a written invitation was required. After waiting months, we obtained an invitation from an Algerian hotelier. We then received our visas in 10 days. The invitation was for no specified period, our
successful
applications for tourist visas gave us multi-entry for 3 months.
Formalities in Algeria were tedious but not oppressive. For the most part, people we met were welcoming, kind & helpful (sometimes overwhelmingly so).
Before we set off we were advised to stock up well, as we should expect to find shortages, contrary to this we had no problems. The shops and markets had all one required, including (bottled water, milk toilet rolls etc.). Most of our stay was during Ramadan, so we made no attempt to buy wine or beer during this period.
We took tourist information (mostly in French) & souvenirs of Guernsey, they were well received.
Although marinas are scarce the Ports and Harbours are well run and most welcoming. No charges for mooring or water were made and fuel was only 9 to 10p a lt. At all ports the authority showed great concern for the safety of the boat and our well being. We thought the countryside was well cared for and clean. The roads are generally good with well appointed signposts.
23rd Aug Monastir, Port de Peche to The Port of Sousse after re-fit 12.9M 2hr 14
After wintering in El Kantaoui and maintenance work carried out in Monastir Fishing Harbour, we were ready to begin our cruise. We were starting late in the season due to a long delay in obtaining Algerian visas (finally resolved when we acquired a written invitation from Hotel Torch, Algeria).
While waiting we made trips home to visit family & friends. Grandson Jake & his father Caesar joined us in Monastir for a week. The 50cc scooter we bought in Tunisia was just the job for shopping.
25th Aug Sousse to El Kantaoui 6.09M 1hr 54
Before returning to El Kantaoui we moored two nights in Sousse harbour. Our good friend Habib is chief pilot there. We enjoyed spending time with friends Habib & family, also Fathi & family.
27th Aug El Kantaoui to

Hammamet

(Marina Jasmine) 29.6M 4hr 48
Sun up, mackerel sky, slightly choppy, no white horses, passage OK.
Arrive Hammamet, escorted to berth by marina dinghy. Staff take our documents to the office.
Enjoyed our short stay in this marina. Noise from bars, restaurants (even the beach bars) seems to be kept deliberately down. Lots of empty shops & apartments (place has not quite taken off yet). Plenty of restaurants etc. A lot on offer for family's, beaches, swimming pool, boat trips, bouncy castle for kids etc. Shopping centre outside a bit soul-less. Pleasant staff in marina office & unlimited Internet access.
30th

Aug

Hammamet to Ras Ed Drek (anchor, east of Cap Bon) 58.1M 9hr 01
Good visibility & light winds to start, variable during the day, F5(NW) as we approach the cap. Conditions not good to round Cap Bon. Drop anchor before 4pm. (reasonable protection).
Flies a bit of a nuisance in this anchorage. A pleasant evening/night at anchor. Visited by Garde National (Kelibia). Didn't come aboard, gave them copy boat document. Day 2, visited by Garde National, they came aboard to chat (pleasant guys). Day at anchor. Second night, not so pleasant, change of wind direction, very roly poly. Boat swinging, both of us out of bed at intervals, checking position or odd noise (stowage working itself free etc.). Anchor held well.
The view of stars at night was beautiful. Hoping for better conditions next day (& move on).
1st Sept Ras Ed Drek to Bizerte 64.1M 10hr 07
Winds decreasing, direction not good for this anchorage (N- NE), decide to round Cap Bon & be done with it. Sea state still a bit choppy, no problem rounding the cap, dip down into Bay of Tunis to avoid beam sea. Conditions much improved by 11am. North wind picking up again as we approach Bizerte.
2 nights in Marina, staff not helpful on entry, no complaints after that. Enjoyed yacht club restaurant & quick look around town Short break did us good.
3rd Sept Bizerte to Tabarka 66.1M 10hr 04
Sun just coming up on depart, good visibility later. Variable winds (strength & direction), OK passage. Blowing a bit when entering Tabarka, tied alongside east quay (well back from interior). Harbour master Mr Sherife gives us warm welcome, arranged mooring space outside capitainerie. Checked space (looked tight), Moved when wind died down (tricky manoeuvre for Tony, went well). .
Evening meal at nearby restaurant, chat with friendly family. Dad's name Khalid (lives Algiers). Invited them to the boat for coffee. Enjoyed their intelligent conversation (all English speaking).
Tabarka
A pleasant harbour, sandy beaches, attractive landscapes around. Building works in progress, in and around the marina (tourist apartments, shops etc.). Dive boats galore. The immediate town is scruffy (but free of rubbish). Lots of stalls with pottery, carvings etc.
A mixture of restaurants. Cheap & cheerful (local style). Cheap tourist places (no alcohol served, a pretence made sometimes to get you in). Good standard, reasonably priced restaurants (serving wine). Almost fell for the "we serve wine" ploy one evening, Tony suspicious, we didn't touch our salad starter or bread. Waiter finally gave up on the wine pretence, we leave (made no payment).
Visit the forte & excursions on the bike to mountain village Ain Draham (not impressed)
Views of countryside & mountains well worth the ride
We liked Tabarka and would go back., reasonable charges.
8th Sept Tabarka (Tunisia) to Annaba (Algeria) 49.7M 7hr 38
Helped with checking out procedures by harbour masters assistant (around various offices).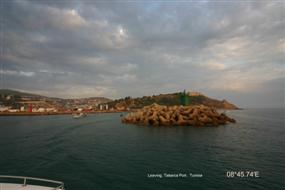 Enjoyable passage, light winds, calm sea, good visibility. 0830 in Algerian waters.
Brought information & Guernsey souvenirs with us, hoping they may be of interest in Algeria.
ANNABA
Called in on radio when 1M out. My few words of French don't go much further than "sorry, I don't speak much French, would you please speak English. Saved by port control who speak perfect English, were helpful and friendly. Guided by radio to berth outside Frontier Police Maritime offices.
Coast guard man (Say-id) waiting, takes our lines. Comes aboard to check documents. Complete Arrival Document in duplicate, one for him, the other we keep (should be the same in each port).
Frontier police (maritime). 2 men check our documents, they complete a form, we don't get a copy. Didn't take away passports, carefully checked them (forgot to stamp, came back later).
Customs (2 men), check our documents, we give them 3 prepared declarations (on boat letterheads). 1/ General declaration: Boat specification (name, basic details). Declare no firearms, ammunition, drugs, stowaways, dangerous substances, cargo or animals aboard.
2/ Declaration of equipment aboard (with serial Numbers). 3/ Declaration of money, gold & valuables aboard. (later thought gold/valuables list not required?)
Didn't know at the time, should have completed Official Declaration of Money. Required when changing money and on depart Algeria (mistake corrected next port).
No boat search, asked about spirits and beer but not wine. Just as well, we may have had our large stock of wine (approx 100 bottles) sealed away from us.
Harbour master gives us warm welcome, (complete a form for him, no copy to us). He said we need shore pass from frontier police if we go to town (proved later to be incorrect).
We expected a boat search lasting maybe 4-5 hours and unfriendly officials. Couldn't have been more wrong. Checking in (less than 2 hours), not all officials came at once, no boat search. All officials friendly and welcoming. Most spoke English and were willing to help with any problems. What a very pleasant start to our cruise of Algeria.
Having ships documents/declarations ready, made ours & the officials life easier. We realised later (smaller ports), some information in French would be better (officials struggle).
Opened our last bottle of champagne to celebrate being in Algeria & the friendly reception we received. (pilot book reads Annaba best avoided). This is a busy port but it's quiet at night.
9th Sept
32c today. Frontier Police say no shore pass necessary, we have tourist visas.A walk around the city was interesting. Old French colonial buildings each side of a wide street, lined with trees and full of café's. Loved the central railway station with it's frescoes & greenery.
Busy and lively narrow streets open up now and again to small park areas, looking dry in this summer heat. Nobody bothered us in any way. Broken pavements and drab housing but city has feel good factor. Lunch aboard and a rest.. Official gives us bread (won't take payment)
Early evening Say–id and policeman come to chat, were very interested in Guernsey.
Received weather information (in French, got translation book out).
10th Sept Annaba to Skikda 55.7M 8hr 2
Called port control before depart, we were not subject to any other formalities.
Light winds increase to moderate, early start meant haze on coastline (not good for photos).
No problems on passage. Sea state good.
SKIKDA
2M off Skikda we call port control in English, they respond in English. Second large port, we are a little more confident. Guided to a berth by port control (SE quay). A guy fishing takes our lines.
More or less same formalities. We receive official form (declaration of money) from customs. Sign book for customs, remarks on their quality of service (happy to write excellent, because it was).
2 men guard our yacht. Our mooring was a drab spot, by dustbin and a problem with flies.
Port officer Mr Salhi explains we will move to west quay (after commercial vessel leaves). Tells us a few French, Italian or German yachts come in each summer, British yachts are rare.
Settled at west quay by 5.15pm. Across the harbour, work taking place on ship which carried fertilizer,. glad the cloud & fumes from said ship were blowing away from us.
Port quiet during the night, a good nights sleep.
11th

Sept
Assigned a plain clothes escort when we visit Skikda town (Hammudi, speaks English). We got on well with Hammudi, visit museum of archaeology, tried to help us buy sim card for mobile phone (shop very busy, didn't wait). When we stopped for coffee he wouldn't let us pay. Visit local market and buy fruit. At supermarket close by, found items we thought unavailable (toilet rolls, Fitness cereal, Activia yoghurt's & much more). In the evening, Hammudi & taxi driver friend take us to smart restaurant. Drop us off, don't stay to eat (did invite them). Nice place, awful food (we may have done better at more casual restaurants close by?). Hammudi & friend pick us up, friend wouldn't accept payment.
Hammudi and chief coast guard on board, looked around the boat (purely out of interest). Liked the navigation system and interested in Guernsey.
12th Sept Skikda to Stora Fishing Harbour to Collo 20.5M 3hr 21
Prepare to leave, request weather forecast from port control. Official in control tower very helpful, gets forecast for me. Said he couldn't shake my hand when I offered it (not allowed?).
Short passage, moderate wind, uncomfortable beam sea.
STORA Fishing Harbour (1M north of Skikda)
Advised to fuel here, by port officials, made the mistake of not seeking out agent in commercial port. Waited around for hours, until main tank topped up. Coast guard rib came in 3 times asking if all OK, local police visit at the quay. Captain Karim (off fishing vessel) came aboard, he & Tony swapping information. Chatted with young man Shokri, he explained why port official in Skikda wouldn't shake my hand. It's a sin for orthodox Muslim men to touch women if not close family. Karim & Shockri spoke English.
Finally take our fuel (4,000 litre, approx 9p litre). Care needed with very oily hose (no connecion on end). Held onto the receipt, may be required for exit Algeria?
COLLO
Arrive Collo feeling tired. Pilot book says anchor here but place has changed (new harbour). Tie up against new quay, usual friendly officials to meet and greet us, didn't stay long. It's promenade time and swarms of people come to the harbour. We create a lot of interest, the occasional person chats in English. The Tunisian scooter causing as much fuss as the boat. Requests for Tony to sell it, couldn't if we wanted to (we don't), import duty would apply.
A trawler due in, more space required at our stern, assisted to move up by fishing boat owner.
A walk around the village early evening. Nice little park, lively but drab streets. Plenty of small shops fresh provisions, groceries, bread & Internet shop. Didn't see any likely eating places, back to boat for salad and tinned fish. Trawler came in, off loads, Gave us fresh sardines.
13th

Sept
Off on scooter, east of Collo, looking for the Hotel Torche. Wanted to thank Mr Torche for our invitation to Algeria. Enjoying the freedom & views. Passed small towns & lovely rural areas. Building work going on in all areas (in varying degrees). Get the feeling Algeria is a country on the move.
Afternoon ride in opposite direction, looking for uphill road, didn't find one. Visited nice beach, rode along some very bad, dusty roads. Thought Collo was a village (it's not). A mass of housing, shops, valley full with blocks of flats. Returned to the boat in time to avoid downpour of rain.
Early evening I walk to the shops near harbour. Dressed in trousers & shirt that covered shoulders and arms (to make sure I caused no offence). Didn't fully take in last evening just how many men/boys about, not a young or old woman in sight (except me). It felt a bit oppressive, kept my eyes down and walked with purpose. I felt watched, but with curiosity or amusement, nobody bothered me.
Bought bread, a young man behind counter spoke English. We chatted a while, he left friend in shop, escorted me to Internet shop (had forgotten where it was). Beginning to feel more at home here.
Bought ½ kg small cakes 200 DA, loaf bread 30, 2 lettuce 50. (x rate £1 = approx 143 DA).
Gave most of our small cakes to the boy on fishing vessel at our stern (plus coca-cola and beer).
Catamaran arrives late evening, we flash torch, hail it over. The lone sailor (German flag) searches smaller quays, goes out again. Re-enters, coast guard aboard our yacht & hail it over. He finally gets the message, makes a business of coming alongside, bow line short, engines left on & in gear. Officials walk our deck (in boots) to visit him. Formalities complete, yachtsman gave us beers to show thanks, chats a while.
He was lone sailor, had to come in, problems with auto-pilot (suspect just wants cheap fuel)
14th Sept
Chief coastguard Karim arrives with fishing boat captain (Omar). We chat, show them pilot book (section on Collo), Karim offered to get us some up dated drawings. I get to look at Omar's brand new fishing vessels.
Mid morning we walk uphill, muddy street (no pavement), take photo's of harbour and I visit Internet for weather, buy provisions & sim card for phone. In the Mobilis Office, staff couldn't have been more helpful, most speak excellent English.
5pm and it's promenade time again, people stare in, close curtains at wheelhouse for a little privacy. It's friendly curiosity (but beginning to feel like goldfish in a bowl).
Trawler at our stern back in for the day, offered a variety of fish (no charge), took crayfish only, can't eat all (only small freezer).
Karim comes to chat, we ask permission to anchor next day (Casabianca, west of Cap Bougaroun). reluctantly gives permission, only if assured we don't go ashore. We think he's being over protective but its his patch, we will comply. He takes our Algeria phone number and gave us his. Said he will contact Jijel about our arrival there after nights anchor (he kept in contact with us during our stay in Algeria).
On good terms with officials, we enjoyed Collo.
15th Sept Collo to Jijel Military Hbr to Jijel Fishing Port 49.1M 11hr 11
Had to insist the German start his engines, move out while we manoeuvre. Wanted to keep his stern tied to quay or fishing vessel (highly dodgy in restricted circumstances).
"Forget the anchorage"
Didn't ask coastguard for local forecast (mistake). Internet forecast slight/moderate winds, turning easterly, just right for anchorage. Couldn't have been more wrong, moderate west wind persists, becomes strong NW. Carry on, thinking it will be short lived. Conditions deteriorate and anchoring out of the question. Cross the bay of Jijel in gale force conditions (gusting 64). Waves deep enough to swallow the boat, Tony on the wheel, crossing them as best as he could. He and the boat coped well. I handled any loose stowage and generally held tight (was sick once, soon recovered). It was purgatory. Some relief as we approach the west coast.
JIJEL Military Harbour
Dark on approach, call port control, they OK entry. Soldier inside franticly waving from port entrance, obvious he wants us to leave. Thought he was trying to indicate drop anchor outside (no way in these conditions). Port control now say "go to Djen Djen, this is military zone".
Out we go, called back in. Same soldier at entrance now having a fit. Ignore him, listen to port control. After no small confusion, we moored up at south quay. Coastguard Joissef explains to us, "we must go to new fishing port" (directly south of this harbour). The soldier at entrance was trying to communicate this all along ( poor man). Joissef comes aboard, out we go again.
No fishing port on admiralty chart or in pilot book, we can be excused for causing so much havoc. Our mate Karim didn't know, we didn't know.
JIJEL Fishing Harbour
Joissef not sure of depths inside, Tony enters warily. Turn to port, light flashing on quay (starboard side). Lots of people about, bow line taken, handled very slowly, made Tony's life difficult (wind blowing us off). Throw stern line and man just stares at it on the ground, fortunately a fisherman close by picks it up for me. Finally secure, officials come and go quite quickly. Joissef thinks we should be in Djen Djen, says "security not good here". Wants us to move scooter out of sight (side of wheelhouse). We assure him it's secure, thank him for his kindness. He gives us his mobile telephone no. goes home.
Tony secures extra lines with difficulty (strong wind blowing us off). Fisherman trying to tell us something, we didn't understand. Suddenly the wind stops, you'd think a wind tap had been turned off (strange). Table at bow had gone in the wind (is that what fisherman was saying?).
A bite to eat and grateful to fall into bed, both of us exhausted.
16th Sept
Walked around town (it's big), smart restaurants, pizza, the popular spit roasted chicken etc. The usual broken pavements but much cleaner than other areas we've seen. Made our way back. Watch crane put fishing boat in the water, wire cables used. Give photo of lift to boat owner. He produces our lost table from his stern (missing it's legs), let him keep it.
Lunch aboard and a few jobs around the boat.
Early evening, discussing going out. Noticed man prancing around on our bow, big guy, dressed in black leather, bikers boots (his friend taking photo's from the quay) a crowd on the quay. Tony firmly insists man gets off & touches his arm. The guy speaks no English, takes offence. Situation turns a bit grim (Tony grazed arm, hatch broken). To cut a long story short, called Joissef for assistance, made no charges against the man (although he will be reprimanded). Josseif organizes overnight security (not his job), leave next day.
Regarding people, this was our only bad experience in Algeria.
17th Sept Jijel Fishing Harbour to Djen Djen Port 7.6M 1hr 49
Up early, still choppy but short distance to run Call Joissef, didn't want him to worry any more.
DJEN DJEN New harbour(not on charts) 36º 50.19'N / 005º 53.90E
Officials friendly, with the exception of one miserable customs man. Played 20Q game with him (mini computer), he won, it didn't raise a smile. He was keen to thoroughly search the yacht, companion settles for quick look. All come aboard with boots/shoes on, varnished top rail & teak deck suffering.
Formalities complete, friendly harbour master greets us from the quay. Asks if we need anything (said bread). Long distance to shops, he fetches 3 baguettes for us, wouldn't accept payment.
Security guard (with gun) sits by yacht (we supply the chair & bottled water).
Day aboard, I tidy up, Tony busy checking engines, navigation etc. Glad to get some peace.
Russian guys working in the port said "OK for swimming in here". So we enjoy a dip.
In the evening, a port officer brings up-dated details for pilot book, we were surprised and pleased. Told him about Guernsey, gave him tourist pamphlet, plus pen. His shift 3 days (off tomorrow).
Good nights sleep, Find two guards in morning (came aboard for second chair we noticed, big boots of course). Give them tea.
Note
Nearly 2km boat to exit gate, another ¾ km to main road, then approx 2km (left) to village). Didn't see any port shop? Thank goodness for the scooter.
18th Sept
Passports required at exit gate, couldn't leave until we saw chief of police. He speaks English, because we have tourist visas, says "we are free to do as we like" (shows concern). Gave us his mobile telephone number, we assured him will take care, won't go far, back in few hours.
Head for the hills, pleasant rural areas, mountain backdrop. Drove through Tarhut, big/busy town, main streets very clean. New road being built as we drive out, very rough roads as we climb higher. Hoped to make a circular route, seemed to get deeper into hills. Turn back.
Bought fresh vegetables/grapes on roadside. bread from small village shop.
A swim in the early evening, give the guards some cheese, fruit & bread. Settle down for rest.
Police chief visits, we chat. He's married, says Arabic women not easy to live with, they are very strong (presume he means strong minded). Works 25 hour shift, doesn't sleep, if he did, his men would also. Says Algeria safe for some years now, getting safer as time passes. In every country, some areas/people not good. We agree, bottle smashed against our hull in Pool & Hull, could go on!
19th Sept
Early morning, boat jobs, Tony checking engines and repairs damaged hatch. Port official takes Internet details of our North Africa Pilot Book. (not sure why?).
Weather forecast supplied by man in nearby building (think it's weather station). Forecast received in French, re-written for us in English (how kind is that).
Short tour east coast, turn inland. Through villages, take the high road, it gets rough in parts. Worth it for the views (greet some cows resting at side of road, they didn't answer). Turn back.
More villages, drive through Tarhut again (a little confusion at junctions). Not bad considering we had no road map). Did some shopping on route. Return to port.
Gave one of the guards the 20Q to play with, supply water for both and occasional hot drink. Tony noticed our water being used to wash with before prayer. Expnsive washing.
20th Sept Djen Djen to Bejaia 41.1M 6hr 41
Forecast NW3-5, no change expected soon (no joy ride probably, after this patch of bad weather).
What a pleasant change, we get the low end of this forecast, still some swell but not uncomfortable. Winds maximum 4 and decreasing. Hazy visibility, sun out later. A very pleasant passage. Entering Bejaia, port control speak excellent English (of course). Instructed to moor near ferry, French yacht on the quay, people aboard. They disappear as we approach (presume don't want to assist). Why do some yachtsmen do that awful thing?
Settled by 1.30pm. Waited hours, coast guard/immigration visit. 5.30pm when finished. Crew from Istanbul ship come to chat, show them our cruise log (with photo's) of north Turkey. One guy could name the fishermen in it (he is fisherman really). This pleased him and us.
The port a bit smelly in the evening. Probably the factory close by or a cargo ship loading?
Meal aboard and good nights sleep (shipyard goes quiet 6pm).
21st Sep
Police at gate fuss over our passports, after looking carefully at visa's, let us out. Customs guard looks into our carrier bag, decides to be awkward, wants declaration for camera, we smile, prattle on in English about equipment declared on yacht, he gives up.
Go walk about. Need new lashing for the dory. Pass showroom (small speed boats) young girl at counter pleased to practice her English, they can't help. The boss escorts us to nearby chandlers, excellent webbing, too wide for our fittings. So good of them to try for us.
Walk up steep roads to main square. Excellent views of harbour & around. Stop for drink of orange Visit museum in old fort, female students outside giggle & say hello.
Indoor market had very little in it (don't know why). Buy fruit from small shop, back to the boat for lunch.
Afternoon tour by scooter, to visit Fort Gouraya, high up on a peak (the whole area is national park). Final walk up to fort may have taken an hour, decided against it (28c). Enjoyed the ride back down. Lovely views of Les Aiguades bay. Plenty of monkeys about.
Entering the port, official seems to think our passports need stamping. Takes Tony away, I stay at the gate with scooter. Comes back apologetic, passports don't need stamping until depart Algeria.
Back to the yacht. Asked to move, ferry leaving, cargo vessels coming in. Move to hammerhead, astern of military ship. Ships off loading, noisier and dirtier position, no siesta for us then. .
Evening meal at nearby restaurant Le Dauphin. Clean place, friendly staff, very good food (beer & wine served). Owner sends free bottle of wine, comes to chat, introduced us to Atman (English teacher, local high school) who translates for him. Only one other woman in restaurant (maybe his wife?).
22nd Sept
Touring with Atman, his wife Nassima & very cute two year old daughter Ines.
Atman explains how roads outside of the port were once sea area. Points out boundary of ancient walled city. Visit fishing port, pass factory (oil, sugar etc.), drive along south breakwater, popular angling and sea view destination (locals unhappy about factory expansion & bridge plan). Atman & his wife teach at local high school, they kindly show us around.
Onto Ras Carbon, good views of lighthouse. Told no access to lighthouse (military zone).
Stop for lunch, return to port. Was 32c in afternoon
Asked for weather report at capitainerie, report in French, must work harder at translation.
23rd Sept
Quiet day aboard, evening meal with Atman and family. Meet friend Fared (studied English at university, said "learnt more from rap music"). Enjoyed our meal in good company. Tony struggled to explain tides to Atman & Fared. Son Walid gave us small plaque as gift (a pleasant, polite boy). .
24th Sept "It's the first day of Ramadan"
No eating, drinking, smoking (nothing past the lips), from dawn until dusk. Hard for people in this heat. Restaurants/café's/coffee shops closed during the day. Told people eat at home during this period so most restaurants closed evenings. Quiet day aboard, evening meal aboard.
25th Sept
Getting a little frustrated waiting for weather to settle (want to move on). Invite Atman & Nassima to dine out with us in evening. Atman drives us to smart hotel. Ramadan menu always starts with filling soup (quick fix at sundown). Enjoyed the evening in good company.
Introduced to friends, chat with English teacher Nadia (a pretty and lively character), she teaches English to 12/16 year olds, says "no discipline problems in her school, pupils respectful to teachers".
I shopped each day by myself, guards at gate get used to me, wave me out & in with a smile. Very good bread /cake shop near the port (road opposite railway track), indoor market not far. Internet access in town. Nobody bothered me and I felt safe.
26th & 27th Sept Bejaiai to Sidi Ferruch (Sidi Fredj) 116.1M 21hr 22
Weather improved enough for depart. Variable conditions, wind F4-5 (W/NW), decreasing during day, 3m swell at times. Swell persists when wind slight. Not a pleasant passage.
SIDI FERRUCH " No response to radio"
Tony in wheelhouse, surly immigration policeman came aboard (spoke little English). Slaps down cards for Tony to fill in, nothing welcoming about this man. I fill in cards, Tony steps onto quay. He chats with guy who's preparing small boat for fishing (Sofiane, Algerian, lives in England, speaks English).Sofiane comes aboard to wash hands. Policeman (his manner unpleasant) tells him off (takes name & address). Realising an opportunity, changes attitude, lets Sofiane interpret for him.
Next, coast guard (good English), slightly arrogant. Made us feel he was looking for something to criticize. Wanted to take our passports (we object), took boat registration & Tony's log (certificates of competence). Receipt given (retrieve on depart). Tony didn't react but was offended by this man.
He leaves, only to return with director of marina, a friendly man (no English). Probably a good thing, would have let him know, this is first place in Algeria where officials have made us feel positively unwelcome. No visit by customs. Midday by the time all finished.
Out of season marina is quiet. A friendly local (head waiter in hotel, good English) shows us around marina and leaves us at the small supermarket, we chat in English to a lady customer.
People love to practice their English skills on us. Back to boat. Sofiane brings us fish on his return. Evening meal in marina, old traditional style restaurant, good food.
Khalid & family visit (met in Tabarka). It was dark, we felt safe to let them aboard. Brought us special Ramadan crispy rolls & bottle of Algerian wine. Stayed for coffee. All of us uneasy, the police may be watching. We decide to move on next day (will have to miss seeing the city), can't tour unless relaxed.
During the night, Tony asks men fishing off the quay to keep the noise down a bit (please).
No charges for one night in marina (would charge for longer period)We were pleased to leave.
28th Sept Sidi Ferruch to Cherchell 34.1M 5hr 29
Pleasant enough passage, variable westerly wind, light-moderate. Uncomfortable swell at times. Choppy conditions on approaches Cherchell. Entered with care, no problems.
Call in on approach, no response from harbour control, call coast guard, they answer (in English), arrange a mooring for us opposite their watch tower, helped us tie up, welcomed us warmly. Coastguard formalities, no visit from immigration or customs.
Our mooring place usually taken by fishing vessel, owner not happy, tries to persuade Tony to anchor (Coastguard insist we stay where we are), after watching us for a while (& complaining a lot), his boat comes in, ties alongside another fishing vessel, we don't see him again all day.
A noise like air raid siren at sundown (from mosque maybe?) we hear people in town partying till late. Evening meal aboard (get to eat Sofian's fish). Guards bring us special Ramadan sweetmeats to try. A quiet night (except for wooden box bouncing against hull).
28th Sept
Visit by Immigration police, have as much English as I have French (very little). Completing forms, collecting information a slow process (nice guys). Must write some of our ships information in French.
Bike ride to Tipasa (Tipaza). Variable scenery, lots of agriculture. Tipasa busy with people (no café's open). Small museum, free entrance (Roman relics & mosaic). Park near harbour closed. Return to Cherchell by coast road (look back at lovely Tipasa bay), Enjoyable ride.
5.30pm, we go shopping. Park bike out side shops, man offers to watch it (it's locked anyway). Friendly bedlam at the market and shops around. Ramadan shopping adds to the urgency. Buy box of small cakes for lads at coastguard station (a little thank you for being so helpful to us).
Couldn't buy at the market while mosque was calling to prayer (note:oranges are expensive in Algeria).
Evening meal aboard , the lamb cutlets we bought were very tender. Good nights sleep.
30th Sept
Morning aboard. Tony sources problem with port stabilizer (works on valve). Early lunch, visit nouveau museum (closed). Take west coast road (good road), turn off for small port (rough road with potholes). Turns out to be " A" container port! [1]
Fisherman visits (who's place we have taken), with two young daughters. Came to apologize for fuss he made. We were pleased to see him, I show his daughters around while he chats with Tony in wheelhouse. They leave, he returns later with laptop computer, wanted to point out dangerous rocks on our next route. Impressed that Tony already had them marked. Gave us bread, fish & his home address (if we need future invitation Algeria). Good relations restored (great).
Note:Quite a bit of rubbish in the water, obvious that oil pumped out on occasions. A bit smelly at times. Paths around harbour full of potholes. Lovely scenery though.
1st Oct Cherchell to Tenes 44.3M 7hr 08
On depart a coastguard (soldier), notes our destination, helps cast off,
Very light SW wind, almost flat sea, Sun coming up in east, makes hazy visibility for coastline photos.
Spotted swordfish jumping, lots of dolphins about. Approaching Tenes we call in, port control say "no place for us, busy with commercial shipping". Asked permission to anchor, given reluctantly. Advised to anchor in ships anchorage. We point out it's too deep, can we anchor off bay (no response). We anchor anyway (2pm), the swell uncomfortable even though light wind. Coastguard visit, surprised we didn't enter, will help if allowed. Fill in their usual document, 3.30pm by this time. 6pm, call in again, told can't enter today, maybe tomorrow. Enquired if they could be firmer than maybe, they couldn't. Decide to move on.
Atman's friend is waiting to greet us in Tenes, we let him know we can't stay.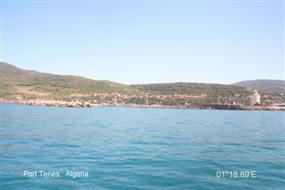 1st & 2nd Oct Tenes to Mostaganem 73.5M 13hr 5
Conditions overnight idyllic, light wind, calm sea, some moonlight. My watch 8-12
Atman phones 11pm, had arranged mooring for us at new harbour (El Marsa), 50km from Tenes (no other detail). I explain, with no information on it (charts or pilot book), too dangerous at night to enter unknown harbour(Tony will agree). Atman disappointed of course.
Picked up speed at one point to avoid fishing vessel, Tony was in the wheelhouse at once, no problem, but his rest disturbed. Discussed El Marsa, he agreed with me.
Tony's night watch 12.– 5 am. I sleep sound.
My watch 5 – 7 Tony goes below for another 2 hours. Disturbed him after first hour, a few fishing vessels about, needed some reassurance. Better safe than sorry, pity to break his rest though (the price of being skipper).
0800 outside harbour, waiting for permission to enter (standing by on channel12). Sun up, lightest of wind, flat sea. Call in at intervals (no response). 9.50am coastguard visit, surprised we haven't entered, they make radio calls. Rrequest we call again, magic, we can enter (channel 12 working fine). Check in with coastguard (inside south breakwater). Move to berth (deep inside port, near main coastguard station). Usual formalities. Customs search (five minutes only), wine store found, man asked for gift (whisky). Tony says "no whisky", he gives up.
11.50am before finished with paperwork. Our passports held by border police at gate (collect to go out, return coming in). All officials pleasant & helpful..
Tony desperate for sleep, goes down to rest. I put my feet up in saloon. Loud & firm knocking on hull, 2 different coastguard wanting entry form filling in. It's same as previous (gave them photocopy). I'm paperwork weary. Finally we get some peace.
Late afternoon we go to gate, officers not happy about us going into town alone (6 months ago, wouldn't have been allowed). They were worried about ALI- BABA (thieves). Reassured by our length of time in Algeria & admit, with tourist visas we are free. Taxi into town, quick in & out to buy bread. Driver was a lovely old man (no English), what a pity we have so little French conversation skill..
Port police want us to put scooter inside wheelhouse (can't be done). It's secured by ropes, Tony adds chain & lock (makes them happy). They say will watch from a vehicle, we can sleep in peace (gave them coca cola/bottled water). Later, Tony hears noise on deck, young men from fishing vessel taking photo's. No harm meant, they leave apologetically. So much for port police.
3rd Oct
Harbour master visits (good English). Greeted us warmly, checking we had no problems. Asked our opinion how to improve his English, (don't think he needs to). gave him 2 novels just in case it helped. Bike ride west coast, uninspiring. Drive through city (smart/grim, big city). Onto east coast road, major housing projects (smart blocks), new university, vast beaches. Turn inland, agricultural areas, small villages. Passing through small town we notice a lot of armed police. Odd?, it was a pleasant, peaceful looking place (people smile & wave at us),. Maybe a barracks nearby? Turn around for home shortly after. Clocked up 115km.
8.30pm ask about fish restaurant nearby, guards look outside, say "it's closed for Ramadan".
Tony chatting later with owner of fishing vessel (reasonable English), the man said "sorry about lads aboard yesterday", "they couldn't resist the temptation of photo on foreign yacht & think ours is special" (well thank you, but ask next time).
4th Oct
Take a taxi to & walk around centre ville. Some impressive buildings, small areas with trees & flowers give relief to the overall greyness of the area. Look down at old city. Bought fruit in the well stocked market. The people (as usual) brighten up our day.
Sloppy in harbour all day, by 3pm, spray coming over port side (very uncomfortable). Told we can move (to face the wind) when cargo ship goes out. Tony & I collecting fish boxes from water (lots of flotsam/jetsam around). 5.30much calmer, forecast good overnight?
5th Oct Mostaganem to Oran 41.8M 8hr 14
Collect weather report from capitainerie. Looks OK w/nw wind, F3-5, moderate sea.
Retrieve passports, port control say "OK" to leave". No such luck! port policeman on quay said wait, he goes to gate, returns with two guys who search the boat for stowaways. Very big boots, even bigger torch (search behind engines etc.). Done pleasantly. Take off ropes for us, off we go.
So now we leave, no such luck, checkout with coastguard. Tie up, same questions on depart as entry, who are we, where from, where going. Tempted to remind them, all answers on entry document & we've been inside this port for 3 days. Play the game instead & prattle on about next destination, confirm no drugs, guns etc. aboard. At last we can leave.
We think local fishermen are subject to this checking in & out also?
A pleasant enough trip, moderate sea, some white water. Choppy around headland & beam sea in parts. Good visibility at sea but not for photo's of land. Call Oran 2M off, given permission to enter.
Around 3pm we enter Oran, check in with coastguard (small white hut, starboard side).
Local fishing vessels check in & out here also (don't always tie up).
Soldiers in big boots aboard. Passports taken & officer sent for. While we wait, chap in plain clothes chats (soldiers milling about). Didn't like him, too many personal questions & he asked for 20euros. We play the double act, Tony calls wife, wife says "no", "we must account for all Euro's on depart". Before officer arrives, our passports returned (suspect should not have been taken). Officer comes with us to our arranged berth (inner harbour), coastguard officer departs. Met by high ranking port officials who apologize for having no space in yacht club. When they understand we want to stay a few days, change their minds about this berth (ALI-BABA again). Move to passenger terminal (in front of big ferry). An officer in whites comes with us, he's a really nice guy, tall & broad. He said "I love my food", "I'm being true to Ramadan," "but it's killing me". Second man now at terminal, we tie up, both officers depart. Next Immigration Police (passports not taken). No customs visit. All regular officials friendly & courteous. Formalities finished by 5.30pm.
Second mate from the ferry comes to chat (brings us bread), explains they have to be careful about stowaways, this far west, warns us about ALI-BABA (determined not to get paranoid, just be sensible & lock things up). Offered small fishes by a guard. Our position a clean area (pleasant coastal views). Pity the pilot boats/speed boats think it's a race track (create quite a backwash).
7th Oct
I agree price for drop off in city with taxi driver (no English, pen & paper works fine). At exit gate the guards want a pass, assured them not necessary, sent back to port check-in office. Long wait (many phone calls), told "no pass required". Taxi driver not happy about me being on my own (especially when he sees camera). Decided to be sensible, stay with driver, short tour and some shopping. Lunch aboard, Quick visit by customs (approx 10 minutes). Afternoon visit (by taxi, 1hr, 800DA, say £6) to Fort Santa Cruz & Christian monastery.
8th Oct Oran to Beni-Saf 53.2M 7hr 29
6am call port control (they inform PAF). 6.15 PAF search for stowaways, help us cast off.
Next stop coastguard station, Tie up (one man on quay), comes aboard, a few questions (seemed unsure what to ask us). Remembered to ask our yacht name when letting go.
Light not good for coastline photo's. An enjoyable passage, light to moderate W / SW winds, slight sea. Called in 2M off (a few times), no response Ben-Saf control or coastguard. Nevertheless, coastguard waiting for us inside. 2.30pm tie up, asked why didn't we call in (why don't they listen?).
Coastguard didn't have usual form, I doctored an old one. Handed photocopies of this & crew list to various people (not sure who at this stage), all happy anyway. Coastguard man aboard, we move place.
Position given was opposite coastguard station. Rubber rib removed & we attempt to go alongside (position too small). One or two attempts at stern to, Not happy about position of ropes (unworkable). Another rubber rib moved, room then to tie alongside the quay.
Customs and coastguard search the boat (together), 10-15 minutes maybe? Wine store found again, no big deal made of it. Given coastguard form (didn't use, copied previous). Goodness knows why so many of these forms now circulating? Late afternoon before settled.
People take an interest in us, coastguard keep close watch, we are behind a barrier, nobody allowed inside it except them. Conversations won't develop here then. Early evening aboard, good nights sleep.
BENI-SAF
Smelly with oil sometimes, very little rubbish in water. Boat building plus construction work going on. We could see the exit gate from our mooring, the exodus of people before sundown was amazing (Ramadan, time to eat ). Hardly a soul about (outdoors anyway).
9th Oct
Bike ride along coast (west). That is, after picking our way out of town (encountered a few dead ends first). As elsewhere, building works abundant. Pity most people don't paint the outside of their homes, would cheer a lot of areas up I think. Good road, variable scenery, agriculture, mountains in background, open spaces, quiet anchorage spots.
As we ride around, a wave generally brings waves & smiles in return.
Take on water in the evening (tap on quay), it was a slow process.
10th Oct
Fisherman makes delicate manoeuvre between boats & our stern. Retrieves his nets from quay. I take photos, coastguard want theirs taken (hope I don't get locked up for it).
Allowed a coastguard photo (WOW).
Bike ride out of town (east.). Take inland road, 6- 8 km took us past fairly barren areas, then miles of agricultural land ahead, impressive in size and well organized layout (mountain backdrop). Drive back into Beni-Saf, take photo's of industrial zone, (etc.) & harbour. Back to port. for late lunch (behind closed doors, don't wish to offend all outside).
Later I shop on my own. Walk uphill to town, shop in covered market. Am I lucky or what!, the stall I chose belonged to guy who spoke good English. He was not happy (saw camera in my shopping bag), "take .care" he said. Assisted at the butchers by English speaking customer. Used camera sparingly, kept bag zipped up otherwise. Nobody gave me any hassle.
Bought fish in the very big port market (can buy by box or kilo).
Back at the boat, we bring the bike aboard, using the derrick always creates an audience.
Evening meal aboard, chat with coastguard guys, reasonably early night.
11th Oct Beni-Saf to Ghazaouet 28.7M 4hr. 38
Early start, soldier on duty gets coastguard officer out of bed to give back our documents. No boat search & assisted with lines on depart. Friendly waves from fishermen.
WSW winds, light-moderate, slight sea,. Overcast at times with only 2M visibility. OK passage.
Call in 2M off, friendly response, ship leaving, welcome to enter when it's out of the harbour.
Friendly officials, usual paperwork, no searches. All formalities would have been completed in an hour or so, we kept harbour officials back discussing Guernsey (gave Guernsey CD & leaflet). We asked for port information & got it, no chance for contact with maritime authority (updates on harbours/ports).
12th Oct
Mid morning we visit immigration near the gate. They confirm we don't need exit pass. Short bike ride tout of town, head back to look for fuel. Pass garage with cars & lorries queuing, thinking there was a problem, we drove on. Back in port, chat with fisherman (reasonable English), said "queues at garage normal", "people buying cheap fuel before crossing border into Morocco".
4.30pm, take a ride. Different guard at the gate again, takes our passports to police office (all OK). Becomes inquisitive about bike & camera bag, gets bored with our lack of French, lets us out. Seems to be the time of day for people filling up canisters with water (from bowser's & communal tap at roadside). Donkeys come in handy for carrying water baskets.
Back aboard & painter on fishing vessel brings us soup (delicious). Soup eaten, we pass back container plus boat card/packet of ready to eat vegetable. Told in Tunisia, not polite to give back empty plate.
13th Oct
Morning bike ride. At gate guard takes our passports, takes to office. Comes back shaking his head, saying "no,no". Customs man & other guards looking on, we get slightly impatient (what's wrong with our passports?). I notice the twinkle in guards eye & nudge Tony (he's teasing us). Tony tickles him for his cheek, causes a laugh all round (so these guys do have sense of humour!). Finally, off we go.
After passing fairly scrubby looking land on the outskirts of town, we get to enjoy some beautiful scenery, ending up looking at landscape so vast, it's daunting to carry on. Head for home.
Given soup again early evening, then to town. One or two restaurants close by were closed, others more café's than restaurant. Back to port & eat on board
14th Oct
Brighter sunshine today (25c). Ride inland, onto high roads. Found ourselves heading for Tlemcen (city 800m in Tell Atlas mountains). Didn't make it there, but thoroughly enjoyed the mountain views.
5.30pm we go out to buy bread. At the gate guard not sure about us (office closed), calls on radio, two men arrive in car, one insists on keeping our passports while we are out. No joke this time. Knowing it's wrong to go out without passports, Tony gets a little irate. I persuade him to hand over passports. Out less than 15 minutes, on return, wait for car, given back passports. Painter gives us soup again, will miss this when we leave.
15th Oct
Change Euro at bank (X rate today Euro = 94.94da, £1 = 140.42da).
Fuel up early (avoid fishing vessels wanting fuel). Customs say no document required
At fuel station 10.3am till approximately 1pm. . Fuel man required written request (stamped by customs). On foot back to customs office, driven back to fuel quay. Authority wouldn't allow full amount. Fishing vessels waiting patiently from 1200 hours
FUEL, 3,000ltr x 13.70DA + service, total 41500DA (£296), say 10p litre
I shop, the guard who likes to tease is on duty (we are quite fond of him now). While out, buy box of small cakes (a kilo) for coastguard lads, extra few for painter. (baker spoke English). Onto the market, no women shopping (maybe it's a Ramadan thing?). Return to port..
Arranged for Tony to pick me up at the gate, he didn't hear phone, guard hailed a taxi, free ride to boat. Our painter friend gives us dainty meat pieces (slightly spiced) & potatoes/cauliflower in sauce (all cold & very tasty). Gave him some cakes.
When I gave box of cakes to coastguard, they insisted on giving me fruit drinks & bananas in return.
16th Oct Ghazaouet (Algeria) to Ras-El-Ma (Morocco) 27.8M 4hr 24
8.15am, port control contact immigration. Immigration visit by car, take away passports, stamp & return (no boat search). Our straight faced guard with them, invite him to look, give him Guernsey postcard & tea-towel (that confused him, he's not married). Very friendly handshakes all round. Coastguard lads assist with lines, warmly wave us off (would have liked photo, not allowed, military).
Hazy visibility, light westerly (maximum 3) uncomfortable swell first thing, improves later.
Arrive Ras-El-Ma, radio call not answered, we enter. Tie up north of the fish hall (S fully occupied by fishing vessels), friendly young boys help us. Boys disappear quick as two officials arrive.
No warm greetings here, they look cross (even a little worried). One was harbour master (we think?). No English spoken, but we understand he's arranging a taxi for us (30 Euro's) to Nador Port (for immigration clearance). Customs guy arrives, seems to agree.
2.15 (local time), I'm in the taxi, Tony stayed aboard.
Friendly taxi driver (no English). Visits his home first to drop parcel off. New properties, plain but solid houses, security grills (even on the door bell). No roads around yet, sandy paths,
Just over an hours drive (very fast) to Nador Port, Immigration office in passenger terminal kept me waiting nearly 2 hours before stamping passports. Numerous phone calls between them, the capitainerie (& others maybe?). Passports read & re-read until ink ready to drop off! Wanted me back next day to check out, took pity (stamped next days date for out also).
6.15 back on the boat, evening meal aboard.
Disturbed by military lads asking for passports, Tony lets them look but not take away. After some confusion we allow 2 plain clothes officials aboard, give ship particulars, they take ships registration (returned on depart). By 9.30pm all formalities complete (7.5hrs after arrival).
Our (by now) friendly officials, very taken with the yacht. One of them has 3 children. We agree they can visit. Off they go, back again by 10.30pm with children (children polite, well behaved, with lovely smiles). Gave them small Guernsey jigsaws before leaving.
Heads on pillows by 12 midnight (no rocking required).
17th Oct Ras-El-Ma (Morocco) to Melilla (Spanish Enclave) 27.9M 4hr 46
Arranged 8am, official arrives 7.45 (boat registration returned). He came aboard, was intent on looking at computer navigation (Tony thought, checking our route?), assisted with lines, he & local fishermen waved us off very pleasantly (now we get to see the very friendly face of Ras-El-Ma).
Light winds, slightly hazy visibility. Big swell outside of harbour.
2M out we radio port control Melilla, no response, same when calling marina. Assisted with lines when we arrive (moored stern to). Friendly reception (no English), only basic questionnaire to complete at the office. While I was in the office, Tony was sifting through his many & varied water connectors, nothing fits. Had to pay 20euro (returnable) for connector. This sort of thing annoys him immensely (not necessary). Thank goodness electric connection OK! Lunch aboard
Melilla Marina
The marina is smart & clean. The restaurant, cafés, tapas bars & Casino are fairly quiet during the week, noisy till early hours at weekend. Get to chat with British yachtsman Mike & wife Mo (SY Abhoration). Locals tend to be aloof. If we say holla (hello), they look through us, look away or reply grudgingly. With the exception of man who fed cats on a British yacht while owners away & lady who walked around the marina for exercise.
Nice beach nearby, stretches a long way (bit smelly under the river bridge, suspect some pollution?).
Town
The yacht club we're told is members only, their restaurant open to the public (didn't try it).
Staff in tourist information office were very friendly & helpful (marked shopping etc. on map).
Melilla is Spanish enclave, big, clean, lots of beautiful buildings. Smart central park & you can shop till you drop. Scary how much food costs compared to Algeria. Didn't stop us treating ourselves to a bottle of champagne though (toasted our Algeria cruise & the friends we made). Moderate charges in marina.
23rd Oct Melilla (Spanish Enclave) to Al Hoceima (Morocco) 59.3M 9hr 55
Pleasant passage, light wind, blue sky, calm sea.
9.38am Tony stops engines to check force of tide (1.3knots against us).
10am, military boat 1M astern, no contact, maybe checking why we stopped, satisfied on our way. 12.50pm, lots of big dolphins about
Radio in 2M off, no response. Entering the harbour we have to avoid small fishing boat, fisherman waves & points to NE quay. Rows franticly to meet us there & assist with lines (what a nice man). A few English words spoken, welcomes us to his country. I leave Tony to finish his engine checks etc.
My mission was to find officials, get passports stamped. After walking all around this fairly big fishing harbour, chatting with Spanish fishermen (I don't speak Spanish, we managed), I realised it was a waste of time. This is last day of Ramadan, approx 5pm & not one guard on any of the 3 port entrances (never mind official offices). Suspect won't see officials until Wednesday? Back at the boat we decide it's their turn to come to us.
24th Oct
A nice quiet day, sunny, warm. Won't risk leaving the port without passports stamped. We sit on the stern having breakfast, watching a heron on the rocks eyeing up his (in the water). This end of the harbour the water is clear & clean (can see the bottom). We potter around the boat all day, enjoy the peace & quiet. Early evening some young boys arrive & practice English on Tony (what is your name). Brings back memories of north Turkey. Evening meal aboard.
25th Oct
Walk to ferry terminal, passports stamped (police porta cabin). 2 Maritime Police Officers visit boat, give them crew list, they take boat details. We explained where Guernsey is, showed list of national ensigns. They were interested in navigation system, looked around generally.
Short tour
Inland was very rocky/stony. Small communities, individual small holdings (how do they make a living). Wondered where the grass come from for the many small haystacks?
Turned around, back through town (catching glimpse of west coast on the way). Very short ride on east coast road. Looked beautiful in the distance (not planning a long ride today). We were trying to find viewing place for the harbour. Settled for photos inside, took photos (with my back to the military zone), heard warning whistle (hold on guys, not shooting your way!).
26th Oct Al Hoceima to El Jebha 39.7M 6hr 02
6.45am, had to wake up the guy in police hut (poor man). He sleepily sorts out passport exit stamp & returns boat registration. No search on depart. Light SW winds, bit of a chill in the air early on. Calm sea, almost flat at times. Good views, mountain backdrop, vast uninhabited areas, then small communities or isolated dwellings.
Looked into El Jebha, turned round to leave (no spaces). Hailed over to fishing vessels (3 rafted together), tied alongside. Friendly fishermen, one spoke some English. I take photo, only two men willing (some Muslims object to having their photo taken on religious grounds).
Small police patrol boat moored nearby.
Officials to the boat, One spoke some English. All done & dusted within 20 minutes. Quick look around taken, passports not stamped, no documents withheld (so we can just leave tomorrow then?).
Cheeky young boy tried to lift off a shore line (suitably embarrassed when I told him off).
Short walk around the old fashioned town, surprised by the lack of decent roads. A little muddy today (must be awful if it rains a lot). People respond pleasantly when we nod or say hello. Met one or two who spoke good English. Sweet young woman in small grocery store thought my French (or lack of it) very amusing (don't blame her). Man in street (carrying lots of cigarettes) said "no bread or Internet today, end of Ramadan celebrations not really finished until tomorrow".
After early evening meal aboard, I take a walk along the quay, the light fading fast.
2 armed police on patrol, a yacht came in earlier (found place at end of quay) so extra foreign vessel to protect. Think security also about preventing smuggling of hashish (grown around these parts).
Mistake not taking a torch. Lights unlit on the quay, same on fishing boats (gone home), had to watch my footing (and head) when returning.
Approximate depth 4.6m in our position, 4m reported by yacht at end of quay.
27th Oct El-Jebha to Restinga (Marina Smir). 48.5M 7hr 48
Tony up very early (normal), general preparation, looking at condition of sea, removed shore lines etc.
I get up 6.30am, hot drink, help prepare to leave. A quick look for bread, lots of people about. Café's open for breakfast, buy bread from one of them (our English speaking friend with the cigarettes). The flat bread was fresh, hot & tasty. Inform man on patrol boat of our destination. Depart El-Jebha.
Light SSW winds to start, calm sea, overcast. Wind becomes variable in strength & direction. Last couple of hours tacking to avoid beam sea. Swell increasing, forecast very strong winds in Strait of Gibraltar later. Safe in marina before feeling it's effect.
Restinga [Marina] Smir
Entrance to marina narrower than expected, red buoys laid (presume silting), no problems entering.
Tie up at reception quay, assisted with our lines by friendly harbour staff, slightly cool young woman in marina reception spoilt the effect. All official offices in same building (different entrances). Customs have to be involved if we want to take the bike off boat, decide to leave that for a while. Given berth number, request assistance with lines when coming stern to, cool young woman in office said "well, if you think it's necessary" (well why not my dear?). Cheery marinero Abdul assists (gave him a beer).
Evening meal at one of the marina restaurants (not many open now). Good food, reasonable price, no alcohol served. Others to try later (which serve wine) & Hotel Sofitel nearby.
More Smir
The cheap insurance for bike (mentioned in pilot) didn't materialise. Short trip to the border with marina manager & Customs Officer, long wait at boarder, confusion as to which customs officer would (or should) register the bike. When it was registered, nobody could (or would) insure it. Return to marina office, marina driver takes our papers to insurance co. in Tetouan.
As tourists we were charged many times local rate, £213 = 6mths insurance for 49cc scooter,
We get to tour a little, unfortunately we were brought off the bike one day by dog snapping at our heels, Tony got the worst of it, deep cut to left foot (required hospital treatment). Trouble starting bike, we were rescued by friendly locals. Taxi to nearby hospital (modern, had X-ray) then ambulance to Tetouan Central Hospital (basic but efficient), operation by anaesthetic to remove debris from wound (had to go outside & buy dressings/drugs). Should have stayed overnight, doctor candidly said "more comfort for him on boat". Ripped off by private ambulance on return (learnt charged 3 normal).
A week in bed for Tony, anti-biotic, strong pain killers. Allowed Medic from hospital to dress the wound aboard. He became a friend & his family paid a visit to the boat.
Quiet in marina (winter visitors don't tend to live aboard).Boat should be safe. Strong east winds cause problems & extra bow lines required on visitors pontoon. Southern Flight is moored alongside south base of central quay, Tony took great care with lines (keep boat off) when we left for Xmas in UK/Guernsey. This was regarding wind & debris building up at waters edge (wine bottles, timber etc.).
At the end of the cruise we feel we should emphasize the excellent treatment we received in Algeria. We thought it was a country progressing fast, with warm and friendly people. A program of building dedicated ports to accommodate the large fishing fleets will probably mean more space for yachts? We would certainly go back.