M Y Southern Flight Extracts from Log 1999
Honfleur to the
Mediterranean
Have we

prepared

properly? now we will find out.
Jan to March in Honfleur (France, river Seine).
Moored near the restaurants was handy (inner basin). Impressed with a living sculpture.
Made friends of people at restaurants etc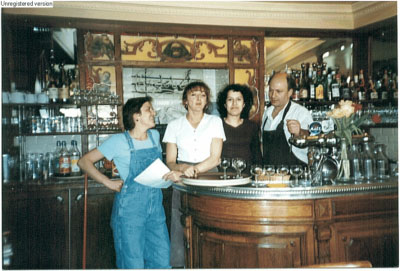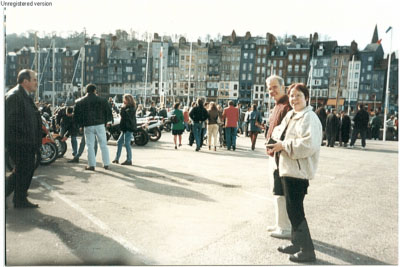 Chris & Pauline Platt stayed with us and we enjoyed some touring.
Arrange with TEC OCEAN / HONFLEUR NAUTIC to slip the boat and work on starboard stabilizer. Head of the firm speaks English & comes with us. The mechanic speaks no English but Tony gets on fine with him using stabilizer manual & body language. I supply the coffee.
Time for a little rest before leaving Honfleur (moored outside of the basins after relaunch).
1st April. Honfleur to

Cherbourg

, stay one night only
2nd Cherbourg to Guernsey.
John and Linda Adams
arrive
in Guernsey and join us on the visitors pontoon, main harbour.
Moored in QE marina, our boat position changed by marina staff (Tony not impressed). Maybe they should have let Denys & Paul do it.
Denys & Paul
18th June, Sea trials and Fuel Up.
While in Guernsey we enjoyed catching up again with many firm friends & get to eat at our favourite place, The Hot Pot.
Works carried out during our stay, Fit Fender Wracks, Handrails to the Canopy. Re-trim the boat with 6 Ballast Blocks.
Q E 2 Marina East Quay
Southern Flight Heads for the

Med
14th JUNE Guernsey to Isle de

Groix

(France)
1735hrs, sunny evening, said our goodbye's. Light winds, pleasant overnight passage.
Tues 15th, sunbathing on deck while crossing the Bai de Audierne. Light winds & no problems on passage. Isl de Groix (port Tudy), Tied between 2 buoys, take a line bow and stern. Never done this before but we worked it out without to much fuss.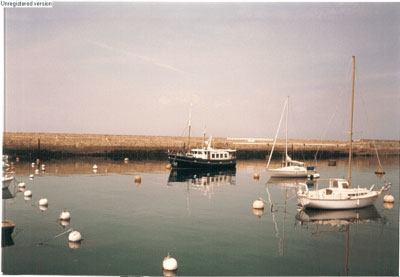 Watched one unfortunate lady get stranded on large buoy when she made the mistake of stepping onto it but not quick enough to get back aboard. Had to be rescued by dinghy.
Enjoyed this island, good eating, good walking and interesting Eco museum. Very old fishing community and the first fishing school in France was here (1895).
17th June Isle de Groix to

Pornichet
Winds F4-5 variable and bright sunny day, pleasant passage. Have vague memory of very wobbly pontoon here and had to crouch low to avoid falling off. Good
restaurants
and sunshine.
Pornichet
18th June Pornichet to Les Sables

d'olonne
Moderate winds and blazing sunshine on passage, approaches d'olonne and strong beam sea.
Tie up at arrivals pontoon
Allowed to stay there for our short visit. Enjoyed looking around this very smart resort.
22nd/23rd June Sables d'olonne (France) to

Gijon

(N Spain)
Tues 22nd, moderate winds, mostly sunny but sometimes overcast.
Gijon, given good mooring (wobbly pontoon again). Felt isolated though, especially with all other spaces around us tied off (was it something we said?).
I struggled in the office with filling in paperwork as only one man speaking English (or was the other one kidding me). Before leaving the marina office I was taught how to pronounce Gijon in Spanish, Tony most impressed when I (eventually) returned to the boat. Liked the atmosphere here and mooching around what's left o f the old buildings and walls. Pleasant in the evenings to see people out strolling, a very popular pastime for locals.
29th/30th June Gijon to

Ria

De

Cedeira

(NW Spain) S/Biscay pilot
Weather forecast was reasonable, winds F4-5 (decreasing). Winds increased and very choppy sea. STRB STABILIZER packing in, Rough seas during evening and
night. On
my watch (late evening & dark) a
Yacht scares me
to death. Had been watching it on the radar for some time, remember a dark sail in the dark night.
Eventually
, it came much to close & after passing our stern, yacht calls on VHF. Yacht requests a tow. I ask what problems they have & told none (but would like a tow). Woke Tony up and he explains this is not possible in such conditions & for no good reason. We also have shipping to watch out for now and yacht leaves us. Not long before we hear them requesting a tow from a small ship, didn't hear any response from the ship. An
awful
overnight passage but we get to rest at anchor for a few days in Cedeira (not charged to anchor).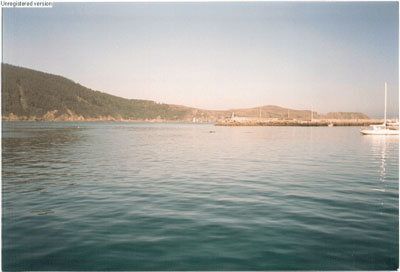 Cedeira, Tony tests stabilizer and convinced problem is electrics. Visit the town and He's really pleased to obtain 4 core electric cable without any difficulty. Good shopping, fresh milk available but not plentiful, Spanish seem to go for UHT. Disappointed when we returned to the dinghy, a pair of waterproof trousers pinched from it and youths hanging around looking smug. Walk to fish market, no sign of fish for sale. Tony impressed with the excellent facilities here for fishermen (not like Guernsey). Harbour invaded by large school of dolphins, enjoyed watching them jump and play (many small ones among them). Lovely sunset later
Watched locals doing life-raft practice. Computer overheating sometimes, Tony said he can sort that out easily. Bread maker performing badly now we need it at anchor, it's not responding well with the electric phasing (works in fits & starts), Tony can't see solution to that as it should respond as all other boat domestic equipment does. Pleasant enough at anchor here and we enjoyed the break. Weather cool sometimes (put heating on early morning and evening). Tony having problems with computer and Nav program. We met another yachtsman called Will (a computer buff), he was able to help us.
7th July Cedeira to

Lage

&

Corme
Lifting the anchor and it's tangled up with net. Drop second anchor and Tony gets in dinghy to remove net (it was also wrapped around all of
strb
side,
inc
prop). On passage, slightly choppy seas, blue skies, cool but pleasant enough. Looked into Lage but Tony not keen so moved to Corme. Tony has sorted
stabilizer
problem,
bread maker
seems to be working
ok.
PORTSIDE ENGINE, return connection leaking. With the help of a dictionary and the engine connection in hand, we pestered some guys working on the breakwater to contact a mechanic. The workers brought a diver (Oscar) who spoke English and he arranged for a mechanic to come to the boat. Mechanic did a good job and charges minimal (approx £15.00), we took Oscar out for supper to say thank you. Oscar chose the place to eat, used by locals, good food & in-expensive. Some days strong winds kept us aboard or we braved them & got wet. Used two anchors but not all of the time, had some fine weather. Bought large black bream one day (local fish stall), ripped off at 1,900pts.
Meet Keith & Collette, S.Y. ALICE GULL (Guernsey).
14th July Corme to

Muros

&

Ensenada

de San Francisco (Bay)
Wind F3-4 W-NW, cool but bright. On route we listen to La
Coruna
radio having a hard time getting foreign ship to place itself in the shipping lane, had to warn the ship about being boarded before they complied with change of course. We were buzzed by helicopter and it makes us jump out of our skin. At anchor in Muros, settled for the night with two anchors down but 2130hrs the wind
v. strong
and we are dragging. Up anchors and Tony goes to the bow while I make attempts at keeping our head to the wind and stay away from yachts nearby. Move to San
Francisco
Bay (only 3.5M). While moving the light is fading fast but two very large dolphins go with us. One either side of the bow, not jumping just playing sentry, they made me feel safer somehow in this fading light. Dolphins leave as we enter the bay, working in the dark now and Tony has to take great care picking his way past small fishing boats etc. Good holding and a nights sleep. Woke up next morning to a sunny day and lovely bay with sandy beach. This
bay
has feel good factor.
Seems mostly Spanish holiday makers here and we enjoyed walking around the shops, Spanish lady from holiday villa helped us out with language when trying to buy meat (T. bone steak) & veg. Remi Martini (700ml) 4575pts £18.30, all Spanish chickens seem to be corn fed and fresh milk difficult to find unless near big supermarket, some thing to do with gov. approval?. Skipper of M.V. (has some similarities to S.F.) swims over to look at us. Tony helps him aboard & they chat. Told the owner of M.V. always drunk and falls off the boat regularly, his wife not fussy if he gets back on (without assistance, he always manages).
19th July Muros (San

Francisco

Bay) to

Bayona
Forecast 3-5, actual F2, cool and 30mins after leaving the visibility drops. Gets worse before it gets better. Sea like glass off
Puerto
de
Aguino
, shoals of fish and small crabs near surface. Dolphins at the bow again (very nice). Arrive Bayona early afternoon,
Columbus
landed here in 1493 (after returning from New World), so now it's our turn. Wait on a buoy until space in marina. Tony plans our
very first stern to
with care. All goes to plan and even though the space was tight, we didn't touch the yachts either side. Keith & Collette (ALICE GULL) arrive later. Enjoyed impromptu party on our stern, Collette plays guitar & sings (very well). Attracted by sweet noise, French family come to join in. We also invite an English couple
(port side),
Tony complimented on his skill mooring up by the owner/skipper, who turned out to be a captain of commercial ships.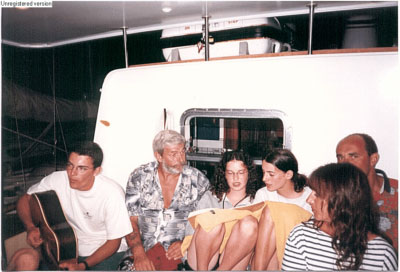 Enjoyed Bayona, good shopping, big fish market. Plenty of restaurants, good food & wine. Lots to see & do, take a look around replica ship (Carabela Pinta).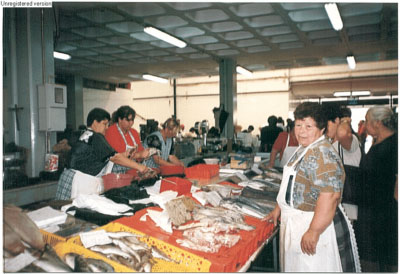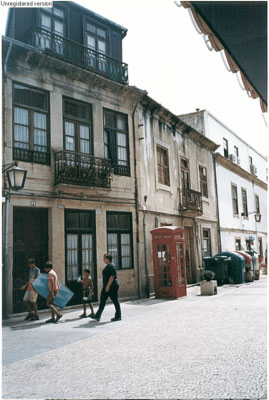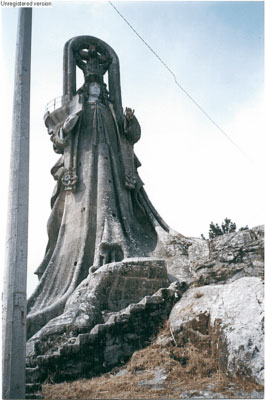 British Phone Box Virgin De La Roca.
Didn't spend any time on the beach, to busy for that. Enjoyed the company of other yachtsmen (women) of all nationalities. Good views from monument at top of hill (Virgin De La Roca). Meet Malcolm & Angela from Guernsey. I enjoyed a day out in Vigo with Angela and had lunch in street famous for shellfish. Sadly it took me a day to recover from upset stomach(should know by now mussels don't agree with me).
Meet a very nice Portuguese family on sailing holiday ( Jose, wife Maggie & sons), they live in Lisbon and interested in UK, we lent them our touring books. Passed an Irish couple one evening on their way out of marina, guy was wobbly on his legs then. Heard later he returned to marina (after eating & drinking some more) for his wallet. His wife waited in restaurant, she waited a long time while he struggled to remember where he left her.
2nd August Bayona (NW Spain) to

Povoa

De

Varzim

(Portugal)
Dogged by patches of sea, mist most of the way but no problems, even though lots of pots and fishing boats to watch for. Thank goodness for radar. Out of mist patches by 1315hr. Fish and small crabs on the surface of water again. In Varzim our 15m boat pressed into 12m space. Can't pay by credit card,
facility
not ready yet. Fog horn keeps us awake (sounds like air raid warning). Visit bank, food hall then Tony back to boat while I go sightseeing. Rained heavy second night (slept OK). Cool & damp during the day.
5th August Povoa De Varzim to

Figueira

da

Foz
Light winds and rain, no problems on passage. Foggy on approach to Figueira, outer entrance to harbour OK. Head for the
sheltered
marina. Christened this place Figueira de Fog. Entry can be
dangerous
in strong winds, while in the marina, the black ball went up one day at the fort (entry not permitted). Could see why, high waves rushing in through the outer entrance would have thrown a big ship about. A pleasant seaside resort, enjoyed good food & wine, walking along beach area and around. Sitting about on beaches isn't what we want at the moment (could do that at home). Always interesting to meet & talk with other
yachtsmen
(women). Not always productive though, Frenchman (J Paul) comes up with an idea ref computers on the boat. Tony tries it & loses Nav programme. J. Paul has no idea how to re-install so Tony will have to sort that out.
10th August Figueira De Foz to

Nazare
Moderate winds, blue sky, always a swell running but no problems. When we entered
Nazere
with fenders ready, signalled to circle around awhile. Other boats moved and we tied alongside hammer head. Meet Mike and Sally Hadley (their boat PINTAS PILOT), English couple who help run the marina. They sailed from UK and fell in love with Portugal so probable wont move from here now. Swedish sailing yacht ties alongside us later and Tony thinks they are too heavy, had to wait (overnight?) for strong winds to die down before they were moved. Other yachts had problems mooring up in here, British yacht got into trouble when caught by the wind, almost went up the banking, many helpful hands pulled them away with ropes. Lone sailor arrives one evening and can't make it around outer pontoon, falls back on us and scrapes the bow. He moves to take easy option alongside fishing vessel. Tony speaks with him and they agree to discuss paint damage later. The French skipper of this yacht does his best to avoid paying anything, tries to ignore Tony when pressed. Mike lets him know we have the right to involve the marina and get his boat impounded. He gives in and pays 150$.
Walking around backstreet's I looked into a church & was impressed with the artwork, much bolder and graphic than I expected. Local pageant during our stay, young and old take part in the final parade. The last group are fishermen and their wives. Traditional costumes, men have hats shaped as boats (that's just for procession day), women wear 7 petticoats under their skirts, they walk without shoes (ouch). Mikes boat is favourite meeting place for people in the marina. Entertain Mike and Sally on SF one night (too well) and next day Mike put a health warning notice on our hull, a protest because of bad hangover. During our stay we ride our bikes round & about, I wanted to see a bull fight but Tony wont go, thinks it's cruel, so do I, but still tempted to see why others go. Visit Batalha Monastery with Sally. Bought little doll models of traditional fisherman & wife.
Mike & Sally Batalha Monastery
17th August Nazare to Lisbon
Asked by very mature American woman (outside marina office) did I speak American English, didn't answer, taken by surprise because the question was so daft. Plenty of good restaurants around. Enjoyed tourist attractions (by tram). Close to marina, interesting museums (especially the maritime). Visit frigate (D Fernando 11 e Gloria, 1843) lovingly restored by the navy. Wax museum very realistic (
historical
& modern), the Spanish inquisition scenes spine chilling.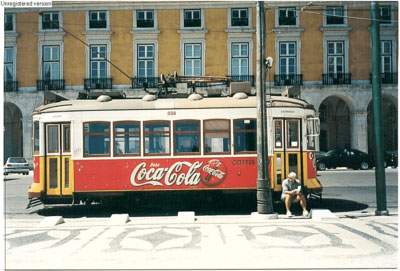 A day trip by taxi, visit National Palace etc. & get to drive through beautiful countryside.
Meet Jose, Maggie and family again. Jose is descended from well known and long standing family. They take us to see their home. It's a farm that's been handed down in the family for generations and Jose is now running it. There are vineyards (the wine label is well respected) as well as livestock. Jose proud of his classic Rolls Royce & special breed of miniature ponies from UK.
The family home has history with a very old personal chapel & ancient fresh water spring which they allow outsiders to take water from. Local people have always used it and the water is reputed to have health giving properties. Lovely gardens around the house, Jose walks us through a terrace section covered in wooden trellis with English roses growing around it. We enjoy a b.b.q. on the patio, grilled sardines, with peppers , potatoes, lettuce & 3 desserts. Plus some special bottles of the family wine.
Paulo (Jose's crew) finds us a computer man (still having problems). Carlos (taxi driver) finds us a plumber (adjustments required on taps). Cost us approx £117 and when tested Tony was not happy with the work. Plumber did return and Tony then reasonable happy with the job.
Note: Laurentina is Good Beer.
28th August Lisbon to

Cascais
Jose and family came with us for the day. Our thank you for their hospitality. Jose insisted on bringing the ingredients and cooking
risotto
, plus some more of the very tasty family wine. Lucky with the weather and the boys had a nap on the bow during the afternoon.
Jose & Family Cascais Bay
In Cascais we pick up a buoy (7pm ) and the family leave us by water taxi. Stayed on the buoy for 2 nights, second night we were roused in the early hours by horn blowing & shouting. All good natured stuff, fishermen needing their mooring back. Moved and set anchor. Second night at anchor we dragged (going astern back out of harbour). Guys fish in this harbour ( small boats using bright lanterns), must have seen us falling back, made no attempt to warn us. Back into harbour again, found another spot, put two anchors down and stayed firm.
Notes : After leaving Lisbon we planned to anchor a lot and fish. Most times we arrived at a planned anchorage, strong winds changed our minds. Tony disappointed.
30th August Cascais to

Portinho

de

Arrabida
At anchor (afternoon), between 12pm and 1am we dragged (strong wind F5-6). Set two anchors, one chain gets stuck in feed chamber (what a life). Otherwise enjoyed this lovely spot.
1st Sept Portinho de Arrabida to

Sines
Moderate winds, poor visibility at times but no problems on passage. Sines marina well situated and good pontoons. Pilot book puts this place down, don't see why. Glad we chose the pontoons, yachts at anchor rolling badly. Enjoyed looking around the village, nice beach close by, noisy beach bar but didn't go on late. Chatting as usual with other boat people.
Tony phones OGARA, they will phone America about e-mail problem (photo's sent by friend & using Inmarsat Mini-M, expensive download).
3rd Sept Sines to Lagos
Moderate winds, again some fog patches, get to see dolphins sometimes. Approaches Lagos, rugged cliffs and lots of caves. Marina de Lagos (¾ mile inside entrance & beyond lifting pedestrian bridge). Purchased Herbert here (potted plant,
Beaucanuea
) & nice bread (
Misturi
). Ride small train to see lighthouse. Meet couple on sailing yacht, interesting people, she is high ranking tax inspector & has had her life threatened at times (investigates large scale fraud). Invite a very nice family aboard Dane, Sylvia & son Ben (they are planning to join arcs). Enjoy the company of yachtsmen from all nations (good job most speak English)..
Take a trip on tourist sailing boat to see caves, rock formations & grottos (by smaller boats).
Lagos Marina Coast outside of Marina
10th Sept Lagos to

Vilamoura
Forecast for light winds but turn out to be strong F5 at times & big swell. Headland before
Albufeira
, small beaches, all sorts of rock formations (very pretty). Vilamoura very expensive and charged for renting electric plug. Tied up at pontoon and one day a
photo shoot
taking place on Chinese Junk nearby. We both watch as
professional
photographer sets up his fancy equipment. Very attractive young lady models swimwear and wasn't long before model wearing nothing. Obvious what sort of magazine these photo's will be seen in.
12th Sept Vilamoura to Monte

Gordo

Bay
Sunshine, light winds & calm sea on passage. Stopped for a while to fish, caught
mackerel
to eat & some for bait. Drop anchor at Monte Gordo Bay. Not much wind but very roly. Sunbathing late afternoon. Dressed boat enters the water and firecrackers going off ashore. Windy overnight but no dragging. Lost one of the big white cushions off the wheelhouse roof.
13th Sept Monte Gordo to

Vila

Real de Santo Antonio(Rio

Guadiana

)
Entered
Doca
de
Pesca
first (supposed yacht harbour), only to find it's no longer used. Moored up in smaller marina back down river (still Portuguese side). Pontoons exposed to the river flow and when entering, this made
manoeuvring
difficult. Tony manages without mishap. Thought Vila Real de Santo Antonio front was a bit scruffy, interesting buildings in and around. Walking to Doca de Pesca, we were
disgusted
at how much EU money wasted there. Marina project, with new buildings and facilities abandoned and left to decay (except for a few commercial premises).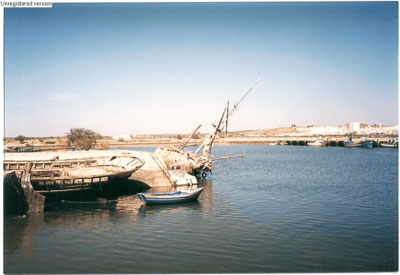 15th Sept Vila Real de Santo Antonio to

Alcoutim

(up river)
Trip up river to Alcoutim, allowed to tie up at pontoon overnight and enjoyed a look around countryside. Met chap living on a yacht, it's been here 8yrs, legal wrangle with the owner. The guy has been 2yrs
on board
(has squatters rights). Some tale of owning a yacht in England & having equipment sold off it (retaliation squat ). Our info on depths
etc.
going up and down the river was minimal, taking it slowly & with care we managed fine (held our breath a few times though). Enjoyed it.
Rio Guadiana
16th Sept Alcoutim to Vila Real de Santo Antonio
Sunday 18th Our friends John & Linda arrive (3pm ). Rains during afternoon, stops for awhile but continues overnight. Brightens up next day. Linda & I stork spotting (birds in flight). Fun trying to catch fish as they swim on mass past the hull, never did manage to net any though. Waiting here for post due to be delivered by DHL.
21st Sept Vila Real de Santo Antonio(Rio Guadiana) Portugal to

Cadiz

(SW Spain)
Light winds, calm sea but dull on passage. John and Linda enjoy talking to dolphins.
Cadiz marina, turned away because boat to big, suspect it was really because we didn't want fuel. Saw bigger boats than ours moored up. Moved on to Puerto Sherry. A better marina anyway, good pontoons & swimming pool available at club. Some areas of marina a bit neglected though. During our stay we took a taxi to Cadiz, the old town well worth the visit. Visit art gallery & Cathedral.
22nd Sept Cadiz to

Gibraltar

(good old British rock)
Pleasant passage, no problems. Going through the Strait of
Gibraltar
, the day was sunny and a calm sea. An exciting experience for the four of us to see N. Africa to strb and Europe to port. Moored up at
Queensway
Quay Marina, John and Linda leave the boat at
Gib
but we are joined by daughter Caroline & grandson Jake (2½
yrs
old now). Grand to see them again and we all enjoyed an afternoon on the rock with the monkeys. Pity about the long wait for the cable car (children exposed to the sun). Visit Siege Tunnels & Moorish Castle.
Caroline s
long time friend (Cathy) lives in a flat overlooking the marina. She's married now with a small son, nice to meet them all. Husband stationed here for a couple of years, works for a bank I think.
Approaching Strait of Gibralter from the West.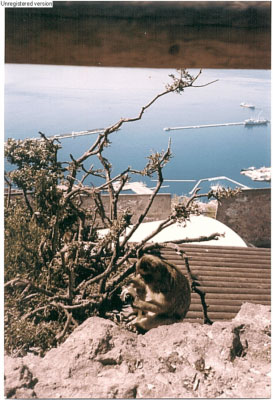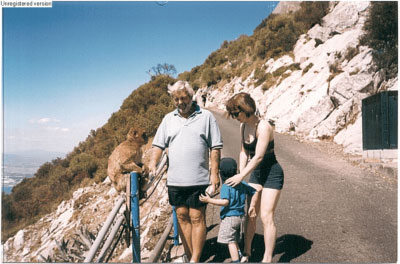 Monkey & Marina Monkey, Tony, Jake & Caroline
27th Sept

Gibraltar

to

Duquesa

(Costa

del

Sol, S/Spain)
Pleasant passage, short period of sea mist, no problems. Caroline & Jake with us, Jake thrilled to see dolphins jumping at the bow as we make our way to
Duquesa.
A pretty marina with good shops (even English butcher) and restaurants. Enjoyed the beach and had some fun. Tony babysits while Caroline and I eat out at smart restaurant in the marina, good food and treated ourselves to an expensive bottle of French wine. Most nights we all eat out, Jake loves it, he takes colouring books & pens. The waiters amused by our little artist.
Jake and Caroline in Playa de Poniente.
2nd Oct Duquesa to

Gibraltar
Again some patches of poor visibility on route. Daughter Annette joins us in Gib. I stay
on board
while Tony & the girls eat at restaurant in marina. The restaurant makes up a meal for me & brings it to the boat (hows that for service).
3rd Oct

Gibraltar

to

Marbella
No problems on passage (no dolphins either). Tony not happy with the mooring in Marbella, narrow space & short bow line (not good if the wind picks up). Nothing else on offer so we will only stay one night. Tony stays aboard while the girls & I go to the beach with Jake. Girls sunbathe, I enjoy entertaining Jake. Look around the shops later and the girls see bikini's that they fall in love with, pity the shops shut.
4th Oct Marbella to

Estepona
Wind F5 easterly, no problems on passage (no dolphins). When we tie up at
Estepona
, Annette getting enthusiastic and shows me a new way to tie fenders (not the best method in the world though, bless her). The blue & white marina office looks like a big iced cake. The girls enjoy a night out on the town, we
didn't
wait up to find out what time they came back
. .
Caroline, Jake & I take a taxi ride to swimming pools, not excellent but enjoyed the swim. Caroline loved the clothes in shops and thought prices low compared to Sheffield. 3 days of GALES, had to take a line ashore & boat to boat. Met Steve and Sandra Perry (English), they live on very small day boat (no fridge, heating etc.). A nice couple, he's mechanic, she worked for a Time Share Company but gave it up. Didn't like being involved in taking peoples savings with promises of good returns & she knew the company would take no interest in the property's after customers had paid. The girls and Jake leave us in
Estepona.
12th Oct Estepona to

Gibraltar
Wind SW4, sunny & pleasant passage, pity
Annette's
gone (seeing dolphins). Arrive
Gibraltar
midday, D6 berth not available so moor up against Main Quay. Kept awake overnight by generator noise, coming from
British
aircraft carrier
HMS Illustrious
. Wednesday 13th
Ilustrous
leaves (thank goodness).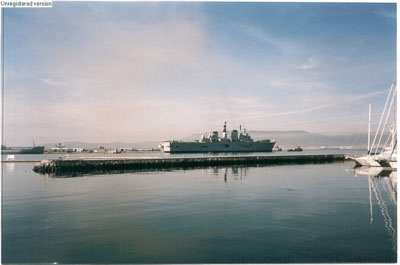 Tony has x-ray of his foot (hurt it quite a while ago). He has a crack in the bone near joint of toes, being treated by Mr C. W. Lees (consultant in Paediatric surgery, The Foot Health Clinic). He will need cortisone injection (ouch), When Tony had the injection it was painful. His foot then taped up, a special shoe fitted and given a crutch for a while. He's advised (in case of after effects ) to rest overnight in a hotel, don't risk climbing on and off the boat.
When we do return to the boat (after one night), no pontoon mooring offered, for days Tony has to struggle up and down from the quay. Steve and Sandra Perry visit us. We both bought special shoe inserts from Mr Lees. I was treated for minor neck problem at Chiropractic Health Clinic (Dr S.J.Crump). Perkins man aboard, ESTIMATE for NEW ENGINE £8,750, exc labour. Bought 2 LAMPS for saloon (£32each).
27th Oct

Gibraltar

to

Benalmadena
Winds F5-7, big swell so hug the coastline, dull day but brightening. Tony & I looking for a winter home and will test out a few more marinas.
Didn't
,t like this one, the inner spaces for small boats, shops and restaurants
etc.
, was meant to be a mini Venice I think. It had no appeal. The only thing we liked was looking at the Mississippi River
Steampacket
(Willow), and listening to the small fishes cleaning the water line of our hull (creates weird sound, thought something wrong with electrics at first).
28th Oct Benalmadena to Marina del

Este
Winds F4 setting off but increase later (gusting 7-8). Choppy but no problems entering the marina. We liked this place with it's rock and restaurants & green hillsides. It's peaceful here. Told they do have winter live
aboard s.
Waiting
for new microwave plate and got a call from
Verano
Bro's
(Gibraltar) it's on it's way, will phone again on receipt.
30th Oct Marina del Este to

Almerimar
Pleasant passage, light winds, sunny & good views of the
mountains.
Surprised we only saw one or two yachts on route. Almerimar marina staff pleasant, met some nice people on yachts but we hate the place. It's big and ugly, told we could have wide space for winter mooring at very reasonable price. Talking to others we understand a wide space necessary when the wind strong and yachts moving with the swell. A yachtsman fills gas bottles on the Q.T. Talking to a guy who's been here a long time, bought a motorbike from a local man, said it took forever to sort out the paperwork.
Told about yachtsman who fell in water (to drunk to get up passeral), suffering from heart attack when getting him out. In the confusion, people slow calling ambulance, it took too long to come and he died. Managed to swap one or two books after announcing we had some on the morning VHF chat line. Met the man who set up first social club in marina, begged for a building and generally put a lot of effort in. Got fed up after a few years with petty squabbles etc. One guy even asked him for precise breakdown of how the (minimal) weekly subs were spent, even though people got more than their moneys worth. Didn't like walking around the yard to find some yachts protected by growling dogs, some very long term residents on the hard we think. The travel lift/crane driver rules the roost in this marina, favourite saying "no cash / no splash".
31st Oct Almerimar to

Aguadulce
Sunny, light winds and a pleasant passage. Arrived Aguadulce midday on Sunday. Tie up at arrivals quay. Arranged our mooring with Jessica but she's not on today, weekend staff don't know anything about it. Two couples on bikes come to chat. Conversation didn't start well when one guy ask "what's that" (referring to our boat). Obviously a stick & rag man, wasn't being offensive but not the best opening remark to make
.
They tell us about B.B.Q. later on the other side of marina. Bring something to eat and drink if we want to join in. Tony more concerned with looking around the marina at possible mooring places, he's still limping around with the special boot. After short rest we take a good walk around and do end up on the other side as B.B.Q. in progress. Woman we met earlier passes and said come over but we
don't
have any food or drink with us (would feel awkward). Still looking around
anyway
at the LACK OF SPACE available for mooring. Both feeling
doubtful
about this marina, road noise from above & suspect the bars & restaurants close by will be very noisy at busy times. Dusty as we walk about, suspect we will be given a space on outer wall and near entrance (uncomfortable if big swell comes in). Decide to leave next day.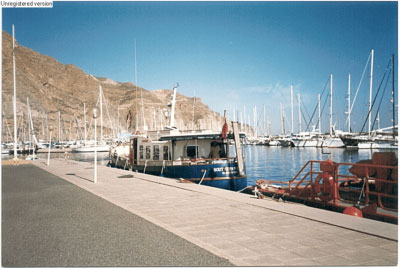 Southern Flight in Aguadulce Marina.
1st Nov Aguadulce to Marina del Este
Sunny day and calm sea for this last passage in 99. So decision made, this is our winter home. It's very pleasant in this pretty marina. At the bottom of a steep hill, away from the maddening crowds but restaurants open through the winter. Lots of things to see and do although out of season. Scuba diving, para gliding etc. Flats to let in marina and
villas
close by, more being built uphill.
Marina del Este looking East.
Small beach near marina and bigger beaches not to far (uphill, in two directions), La Herradura (S) and Almunecar (N). Plenty of shops (supermarkets) in both places. Using the bikes for now but will hire a car later. Eating on the stern one evening and threw some bones to a cat, it ran off so fast we couldn't believe our eyes. After that we sort of adopted it. Fed her every day and although never tame she did like coming on the boat. Proved to be pregnant so kept her well fed (never did see the kittens). Lots of stray cats living in & around the marina. Fed by the restaurants and people in villas but not healthy cats (eye problems etc.).
Met Alex & Joy Collett (and their cat Ee-ho), their SY called Kormoran. They didn't live aboard all winter but we enjoyed their company for a short while.
Stern lines creaking, Tony makes up new ones from 8ply (bought in Gibraltar), no more creaking. Problems with the delivery of microwave plate. Send for another one and eventually end up with two.
Our son Bruce and girlfriend Emma arrive. Take them to restaurant in the marina. Enjoy a trip to the mountains ( Bruce has hire car). Emma and Bruce have trips out by themselves and Bruce gets to do some scuba diving. 22nd Nov Bruce and Emma leave.
Local wild cat. Tony, Kathy, Emma & Bruce.
Playa outside Marina. Cat off a friends boat in our strb cabin.
CHRISTMAS at
Caroline's

house (Sheffield). Good to see the family again. 26th December we both return to Spain.

No other live aboards to talk with so we hire a car to do some touring. Lost a paddle for the dinghy (pre-Christmas) and even though the chandler here sells dinghy's he said he couldn't help. We do a bit of touring in hire car, Motril, Almerimar etc. Told in Almerimar the dealer to see (ref lost paddle) is in Marina del Este, talk about frustrating. I keep asking at the marina office if anybody has seen the paddle and eventually it's returned by marina staff (was in a fisherman's boat). Tony asks for the dory to be painted at the marina. Told they don't paint boats, funny that because we see local boats being painted on the hard.

New year, thought we had booked for a restaurant in the marina, found out in time that it's a misunderstanding (or not very funny joke). The marina restaurants are shut over new year. Had a great time in Italian restaurant at top of hill, special menu and space for dancing (one over enthusiastic dancer bumped our table and knocked Tony's champagne glass over, what a waste). Went by car but intended to walk home, the owners insisted on giving us a lift. Generally we enjoyed our stay in Marina del Este.

Overall a good winter and would consider returning to this marina. It is clean, safe and well run but few other live aboards if any.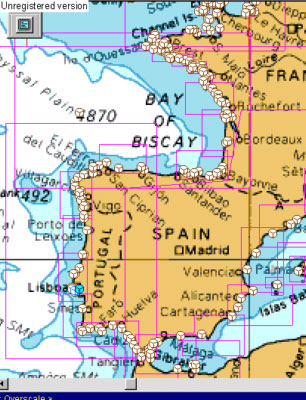 Now time to
prepair

for cruising in 2000.