M Y Southern Flight
Newsletter 2003
A few extracts from the diary, plus a copy of an article we sent to the Cruising Association about our trip from Odessa to Kiev....16 Sep - 17 Oct. 03.
Jan - late March, we left the boat in Malta and went to Guernsey. Enjoyed new year and spending time with our friends. Back to Malta 23 March. - 25 April.
26 April leave for Kantaoui (Tunisia) to collect new crew member (and friend) Mohamed Ali Tamallah. The paperwork involved with taking on Ali as crew was time consuming and we may have given up if not helped by our good friend Captain Habib Bouraoui. 19 May back to Malta (with Ali). Malta-Kantaoui-Malta (a round trip of 400M). Left Malta 07 June and we wont be going back!. Met some nice people but it's not a pretty island and our 2002 season was ruined by bad (but expensive) workmanship and time wasting at Manoel Island Yacht Yard.
Malta to Greece was easy sailing on the Ionian Sea, sunbathing on deck etc., As soon as we entered the Aegean Sea we hit strong winds and rough waters. Took shelter at N. Serifos, a very pretty Greek island (after 3dys & nights at sea, 510M). Stayed 6 days at anchor waiting for better weather. Finally we press on but no time to enjoy island hopping if we want to cruise the Black Sea. One night at anchor off Bozcaada (a Turkish island), then up through the Dardanelles (lovely scenery) heading for Kalamis Marina (Istanbul, Asia). Stop on the way at Canakkale (Turkish port of entry). Agents fees for sorting out entry formalities a bit excessive but worth it. They do, in 2 hours, what could take us a day, considering the language barrier and a general confusion as to where the various official offices are. Enjoyed a few laughs with the harbour master, the restaurant near the quay provided a tasty and cheap meal. Leaving the Dardanelles we were very nearly run down by a cargo vessel (in daylight). It came from behind us and passed our port side but pushing us off our course all the time (perishing cheek).
Easy sailing to the pretty island of Marmara Adasi, decided not to stay but carry on overnight. Arrived Kalamis but no space so sent next door to Fenerbahce Yacht Club. Enjoyed our stay, lots of cheap eating places close by, some of them a very high standard. Ferry boats fairly close by if you want to cross over to Istanbul (Europe). Pity raw sewage is pumped into the harbour some nights and O.Boy does it stink. Cross over to the Europe side, Atakoy Marina for one night. Its easier here to finish sorting out our visas for Ukraine etc. A noisy marina but not smelly , although we are told by long term residents it's just as bad as Fenerbahce some times. Cross again to Asia in order to travel up the Bosphorus on the correct side. What fun being attacked from all sides by ferry boats as we continue up the Bosphorus (Tony enjoyed the challenge anyway). Last stop before the Black Sea, at anchor in Poyraz, a pretty fishing harbour, mosque, beaches and green hills. 29th June we enter the Black Sea feeling pretty pleased with ourselves to have made it at last. A sunny day, no wind and a sea like glass. Next Igneada (N. Turkey, west side of Black Sea).
Turkish military inspected the boat, friendly to us but unnerved our crew (why is a Muslim travelling with us etc.). Feeling homesick anyway, he decided to return to Tunisia. Very nice harbour master here, speaks no English but we get along just fine. The view from a restaurant at the top of the hill is beautiful. A trip by car with the harbour master to town was fun, a laid back place with the odd cow roaming free. So on to Varna (Bulgaria). Tried to anchor for the night at Nos. Korakya but moved on by military/coastguard, very polite but big guns!. Varna "fantastic", a bit of sight seeing around town, park and beaches. Enjoyed the company of Val, harbour & passenger terminal controller. During our stay we had a write up in the local papers (with photo). On leaving Val put the u/jack out on the passenger terminal for us. Next Constanta [ Port Tomis ] Romania, good food & wine, well received but had to move on to meet friends in Ukraine (which also meant missing out Sulina). Arrived Odessa (Ukraine), only to find that the pilot book is out of date and we had entered a port no longer specified as an official "Port of Entry". Causing a bit of an international incident with our flag. Had to be rescued by our government friend (via phone calls) and escorted, with troops on board, to a new marina in Odessa Port. All this was in good humour.
Great hospitality in Odessa Port (the TCF Nautical Club). A genuine interest is taken in foreigners and locals bring the odd bottle of champagne (well their equivalent), or a small bottle of vodka to toast our arrival (or any other thing that requires a toast, depending on the day). Must go back!. Next on to Sevastopol to watch joint Russian/ Ukraine naval show, we are talking war ships (firing their guns), U boats rising from the water, troop carriers and amphibious tanks which came out of them and landed ashore close by us. All very impressive, an annual event to celebrate the formation of Russian Navy (we think?). After this we had a few repair jobs done in a Ukraine ship yard (normal wear and tear, not warship damage). It didn't go well and took more time than expected (that's another long story). We had decided to curtail are planned trip in east Black Sea until next year and just enjoy retracing are steps back to Istanbul. At this point the opportunity to cruise the river Dnipro to Kiev came our way (see encl. article Odessa - Kiev).
After the big event (well we think it was) of cruising the river Dnipro, we get to enjoy Odessa again. Arrived 8pm on a windy and wet evening to be met by a despatcher on duty and a young man who works in the Port but came from his home to greet us. We call him Vova. He and the despatcher help us moor up. Vova stays to drink a little Vodka, eat a few snacks and make us feel thoroughly welcome again in Odessa. A lot of interest at the TCF in our trip to Kiev. During our stay this time we were taken to see a new and exciting venture, a tennis/health complex near Port Illichivis'k (south of Odessa). On the coastline and built to international standards (the Davis Cup 2004 mentioned), it should be a success. We were invited to a birthday party, had a great time. Go to the opera and get some culture (Tony managed to keep still). It was fun to be with our friends in Odessa again but attempts to interest us in staying over winter were pointless, it gets to cold and no shed to winter the boat in (none available to us anyway).
By the time we did leave, Wed 29th Oct, we awoke to frost on deck that was thick enough to slide down. Next Port of call, Varna (Bulgaria), arrived late evening 30th Oct. Next day we awoke to light winds and warm sunshine, it could have been a late summers day, no coat required. Nice to see Val again, let him know how our season went and meet some of his family and friends. Temperature varies over the next 3 days, warm - mild but not cold like Odessa. Wed 03 Nov, we depart for Atakoy (Istanbul). A good passage, light - moderate winds. Lots of shipping to keep an eye on during our night watches but at least it keeps you awake.
Approaching the Bosphorus early morning and as we enter a Health Control boat calls us up to identify ourselves and our flag. No problems and we continue on to Atakoy. Tony gets to enjoy the challenge of avoiding the ferry boats again (I hold my breath). Decided to winter in Atakoy as preparation for the 2004 season will be easier, we will cruise the Black Sea, east - west. It seems more expensive on this Europe side of Istanbul. Restaurants, wine & provisions etc. General maintenance work can be carried out at this marina and Tony "reasonabley" happy with the prices. The quality of work is assured but yet to be proved. Bought a VCR from a local shop, paid up front, promised delivery next day. Ordered other goods, same shop (no payment). After one month, no VCR or satisfaction on any goods. Promised reimbursement on credit card, that may be a battle also?.
On the brighter side, the family joined us for Christmas, Xmas day lunch at the very smart yacht club here, it's restaurant overlooks the Sea of Marmara and into the Bosphorus. Had the place to ourselves and the kitchen did us proud. Soup, local hors-d'oeuvre then turkey (with light sauce) & veg. A lovely cake to finish which was decorated with sparklers. The family went home and New Year, Tony and I were in a local restaurant, a poky table for two and expecting a dull night. A special menu and live entertainment but we didn't know anybody. Turkish people it seems love to sing and dance, quite a few spoke English and insisted we joined in the dancing. Had a great time, back to the boat about 3.15am.
Mon. 05 Jan, it's snowing and the frame and canopy we are having made to protect the boat are not finished. Leaving the boat in February to go to our eldest daughters wedding, hope they get a move on. 09th Jan and it's stopped snowing, the canopy work begins again, should be finished in good time!. That's all for now, we wish you a very happy 2004 and if anybody wishes to join us on our Black Sea cruise this year, get in touch.


MY Southern Flight Extracts from Log 2003
Cruising the river Dnipro (Ukraine) 16th Sept to 17th Oct
Doing it the easy way, "or was it" for crew Tony & Kathy Moore
After cruising the Black Sea, July - Sept 03 , visiting N. Turkey, Bulgaria, Romania and Ukraine, with many tales gathered on the way, we were moored in Odessa, making plans to retrace our steps back to Istanbul. At this point we were given the opportunity to make a passage up river to Kiev. Knowing our keen interest, a Ukrainian friend with government association, obtained permission from the river authority for us to do this. We are reliably informed that Southern Flight is the first foreign yacht (with it's foreign owners in command), to be given this permission. Although late in the season this was a golden opportunity, "not to be missed"
The five books necessary to navigate the river are difficult to obtain and in Russian. A radio with the dedicated river channel is also required. To say nothing of the language barrier when passing through locks etc. Our friend (Dima) was sending his own yacht (Esperanza) to Kiev, with his captain and one man. It seemed sensible to join forces to solve the language problem through the locks. Tony at least had time to copy one sheet from each of the five river books, borrowed from Esperanza. This gave us the basic route (routes) up river with distances between one point and the next. No buoyage, depths or Lat/Long.
16th Sep, OK to leave, forecast northerly F4-5 and decreasing. I rush to do some last minute shopping for fresh milk etc. Those 192 Potemkin steps are a killer.
Potemkin steps, Odessa Port of Odessa
Checking out in Odessa with much delay due to officialdom. The A4 copier we have onboard has been worth it's weight in gold this season. In the Black Sea, Harbour authorities, Border Control, Customs and Doctors all want copies of the crew list (with boat stamp). Cast off 10.50, sea moderate, NE4 and good visibility. The day was without problems although we lose a little speed after Ochakiv and in the Bugsko-Dneprovsko-Limanskiy Canal, due to recent bad weather as the rivers were in flood. We enter the river Dnipro as darkness is falling and careful steering is required. We are aware that not all buoys will be lit. Captain Bronislav (& crew Anatoliy) do not speak English and would have difficulty in warning us of any problems ahead. Esperanza is faster and more manouverable than Southern Flight. No problems but we are tired and both yachts anchor by 21.34. after 67.1Nm.
Wed 17th 06.50 depart for Kherson, nice to see the river in daylight and it's pretty in this section. 09.16 arrive Kherson. Check in at a nearby military base (border control). Have lunch and this takes us until 16.00 before we can move on.
Push pull River tug Naval ferry, Kherson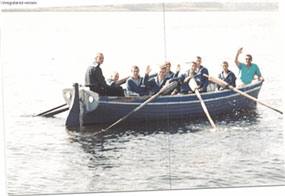 Kherson
At this point we find out that it's the done thing to hitch a tow (to save fuel & work). Esperanza's captain arranges for our yacht's to be pulled by a barge for a while. Obliged to go along with the idea but it was a pointless experience for us. We felt ridiculous and Tony turned the engines on at intervals to avoid the gear boxes running hot. Late evening and shortly before the first lock (Nova Kachovka), we drop the tow. Dima waiting at a nearby quay, joins his yacht. 01.55 tied port side in the lock & onto a hook (amidships). This lock fills from the bottom so it's a quiet one. After the lock we pick up the tow again. It's been a long day.
Thu 18th 07.00 a sunny day, sunshine and light wind. We get to watch Dima exercise on the bow of Esperanza (pirates beware). At lunch time we all anchor together for a typical Ukrainian lunch, cold meats, cheese, salads etc. and toast's drunk with vodka (of course). After we swim, but not for long, the wind picks up and spoils the fun, increases NW6 and heavy rain.
Dima at lesure
Tolly, Tug Captin, Dima & Cpt Bronislav
Late evening we drop the tow for good (hooray). An experience not to be repeated. After midnight we arrive lock 2 (Zaporizzja). The lock keeper is being awkward about yachts going through at night but he gives in. In this 40mt lock, it doesn't do to look up! We tie amidships but this time it's not so quiet. Leave the lock and enter Port Lenin. Tie at a quay, a 20hr day again!
Fri 19th This quay is in a commercial area and a crew list is required at the gate when leaving to shop at a nearby market. Set off again mid morning. Had to be careful watching for nets further up river. It's a sunny day, beautiful scenery, we are heading towards the second biggest city in Ukraine. (Dnepropetrovsk), with it's five bridges crossing the river.
Dnepropetrovsk
15 yrs ago this place was top secret as nuclear missiles were built here. Even ships had to pass through at night and no foreign vessels allowed at all. 19.20 and the light is fading. A pity because now past the city and negotiating small islands which must be lovely in good light. Careful steering required again. 22.31 and we are in lock three (Dniprodzerzyns'k). No problems and by 23.25 at anchor a short distance outside the lock. Bed by 00.30 and grateful for it!
Dnepropetrovsk
Sat 20th 05.50, underway. Turns out to be a sunny day with light to moderate winds. We pass through wide and narrow stretches of river which makes for interesting changes of scenery. Saw herons in the river grasses. Stop for a late lunch at Kremenchuk, a quick shopping trip by taxi to local supermarket and take on water before leaving. Judging by the beaches at the rivers edge, Ferris wheel etc. this area seems to be a popular holiday spot.
Kremenchuk
It was discussed over lunch that we would pass two more locks before stopping, Tony points out, it's another 16hrs and too much to expect. After checking their books again, Dima and his captain agree (thank goodness for that!). Reach the fourth lock (Kremencuk) around 19.00, tie amidships again, the engines needed at times. After the lock, Tony chose a place to anchor. Supper & bed by 21.30.
Kremencuk sluce (lock) a lift of 17.3m
Sun 21st 05.30, up anchor. Wind N5, visibility good, moderate to rough river. Heading for another wide stretch, more like a small sea really. Winds decrease during the morning. Esperanza stops to buy some very big fish, from a very small boat. They pass them to us for cleaning and cooking. 14.00 arrive Cerkasy. Turn to port (just before a bridge) for the small yacht club NAPYC.
Entrance to yacht club
Not a lot of room at the Y.C. and we fall back on our anchor to tie at the hammer head. The pontoon consists of grated steel sheets on top of metal drums (very shaky).
Chekasy yacht club Harbour master & Tony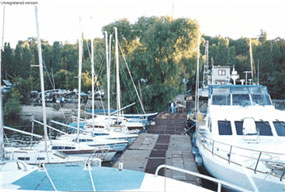 A pretty spot and an interesting place. The dining area is outdoors. Excellent food is served from a caravan.. I particularly liked the home-made sausages. The very friendly harbour master builds small racing yachts (sail). A Ukraine-American joint venture "Master Ltd". We visit a nearby Tibetan Temple. This area is sacred to them (a long story). Pity we had no camera with us at the time.
Mon 22nd Early morning and Tony prepares the fish. Dima and I join forces to make a fish stew. 10.11 depart, another sunny day, light winds SW 2/3. A beautiful stretch of river between here and the next lock, small islands, wading birds looking for frogs and lots of locals fishing in small boats.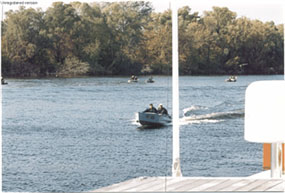 Local fishing boats
Around 15.00 we tie up at a quay beneath the monument to Taras Shevchenko (famous Ukraine poet, writer). Stop for lunch, visit the souvenir shop at the quay and cadge a lift to the monument (& museum) at the top of the hill. Well worth it for the view.

Dima in good form View from Taras Shevchenko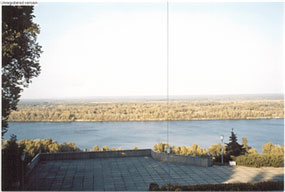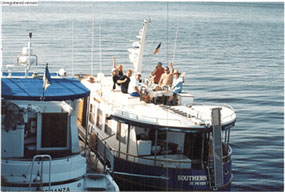 Lunch at Taras Shevchenko
Pity the shop and museum were closed. 18.00 off again and cover the short distance to lock 5 (Kaniv). In this lock we decide to use long lines to tie bow & stern and get to sit on the deck with our feet up as the boat lifts sedately. Exit the lock, a short time later, we hit a fog patch but it quickly clears. Darkness falls and again it's careful steering. At least it's another wide stretch of river. 23.30 the river is narrowing again and we enter the small harbour of Khodorov. At anchor 00.15, a very late supper and fall into bed.
Tues 23rd Lift anchor and away by 08.00. A sunny day and light winds, just the job as we head for the city of Kiev. By 11.35 we are looking at housing estates on the banks (some like mansions). Nice to see some with coloured roofs, bright reds and blues.
Houses outside Kiev
Kiev
We are happy to have finally arrived at the heart of this beautiful city. Much to our dismay we pass all this and the river station. Turn to port before the Moscow bridge and enter the channel for a private boat park. The line for suitable depth is a thin one but we make it. Tie alongside Esperanza., 14.30 and the afternoon to ourselves (bliss). Two guard dogs here and one of them is so fierce it's kept on a long chain. We're warned not to pass them unless with the handler. We decide to spend the afternoon pottering onboard. On this trip up river it was necessary to keep to Esperanza's time table. Although enjoyable, it was also frustrating and exhausting at times. Long hours and lots of night work which was hard with only two of us aboard. Ideally the trip should be made earlier in the season and at a leisurely pace in order to enjoy this diverse and beautiful river.
Wed 24th A good nights sleep, at least this place is peaceful. A local magazine would like to interview us but it's not a good idea for them to come here. Arrange to move soon. Get some oil delivered and spend the day onboard, Tony checking engines, changing oil & filters etc. Thur 25th. During the morning we get the chance for some shopping and Tony has a haircut (about time too!). Early afternoon, we move to a jetty near the Pelican restaurant and close to the passenger terminal (River Staion).
Pelican restaurant at River Station Kiev at last
In the heart of downtown this was just the job. The restaurant has a guard and we arrange to pay (whoever is on at the time) 20griv a day for boat watching. They keep our hand held VHF so that we can call them anytime. No English spoken but shouting "police" would be enough. We feel this is all a little OTT but it keeps Dima happy. We are in a city after all and he's doing his best to take care of us.
Fri 26th Sep to Thu 09th Oct.
Moored in the heart of downtown Kiev we can visit the shops, restaurants and tourist sights. Dima & his wife invite us to their home on occasions and we enjoy authentic Ukrainian food in the company of our special friends. A pleasant day is spent cruising down river to a small island and have a picnic. Other local yachts doing the same, food is shared and a good time had by all.
Pedestrian bridge to Truckhaniv island
We meet one or two locals who have built their own sailing yachts, passionate sailors these Ukrainians. Enjoyed the first Beer Festival in Kiev and generally had a good time. Our jetty looks across at Truckhaniv island (a beach and park area). On this side we make our way to town through a park where the autumn leaves are falling fast. The weather is still mild and this is a pleasant place to be. We've enjoyed our stay. A minor problem, if the wind is strong and the river agitated, the wake from fast boats can cause a nasty backwash on this jetty, but it's rare. Increasing flotsam flowing down river in the form of leaves & shrubs (even the odd small tree trunk). Dima is sending Esperanza for repairs and wintering in Nikolayiv (river Bug). It's time to leave.
Fri10th Oct Goodbye Kiev
Having covered the ground before we only list the basics and the differences.Early afternoon take on water at the Pelican and Esperanza joins us a short while later.
Pelican restaurant
Enjoy a light lunch provided for us free of charge. Typical of Ukrainian hospitality. Used a Russian/English dictionary when at lunch. Anatoliy liked it so I gave it to him. Cast off 1537, after a pleasant 3 hrs, we anchor 18.32, not far from Rshischer. Esperanza ties alongside and onboard Southern Flight we share our suppers. Despite the language barrier we enjoy the company of Bronislav & Anatoliy.
Sat 11th Up at 05.15 Tony discovers the oil filter fitted in Kiev is leaking. He spends the morning searching out a new one and by 13.53 on our way. Light winds, sky overcast. Pass a sailing regatta and although one or two yachts come a bit close to take a look at us, no mishaps and friendly waves.
20.50 in lock 5. Out of the lock it's very dark as we pick our way to an anchorage opposite the monument to Taras Shevchenko. 21.45 at anchor.
Sun 12th 07.04 Up anchor and away, light winds and a bright morning. We pass Cerkasy without calling at the yacht club. Esperanza stops to buy fish again when we are in small sea area. The wind picks up later F4 gusting 5, the river is very agitated (white horses). 19.30 in lock 4. It' raining quite hard. 20.02 at anchor a short distance from the lock and to starboard. An excellent anchorage, quiet, good holding and 14mt depth. Esperanza ties alongside and they treat us to fish soup (excellent). We take some fish to cook tomorrow.
Cerkasy yacht club
Mon 13th 06.37 up and away. Light winds, no rain. The day proves to be overcast. 15.05 in lock 3
Dniprodzerzyns'k sluice ( lock ) a lift of 16.5m
Out of the lock and heading for Dnepropetrovsk again, we get the chance to see those small islands. A fairly pretty stretch this but industrial buildings and smoking chimneys on the banks. 18.05 and after passing a bridge we drop anchor. Esperanza ties alongside again. We treat them to supper, fish in breadcrumbs with boiled potatoes (basic but it was tasty). Bronislav is practising his favourite English word of the moment "cheers". That dictionary is coming in handy! A pleasant evening and early bed.
Tues 14th Not a bad nights sleep despite the trains on this side of the river. 07.10 up anchor and away. 08.02 passing Dnepropetrovsk power station.
Dnepropetrovsk power station Port Lenin
The day varies from bright to overcast. By 13.16 we reach Port Lenin, get the chance to shop again but become very agitated later by the time wasted here. Could have gone through the lock in daylight but missed our chance then waited hours for an engineless barge to be made ready for pushing through the lock (in front of us). 20.14 and in lock 2. Out of the lock we pick our way in the dark again. With the barge in front there's a lot of stop & go. It gets very tedious. 21.58 at anchor at last. Esperanza alongside & we serve supper, ruined fish pie (was ready 18.00 & re- heated once too often).
Wed 15th 08.13, up anchor & away, after waiting for thick mist to clear. Sun breaking through, light winds.
Anchor at Razumovka
Bronislav on the radio practising his latest bit of English "how do you do". 18.37 stop for the night at Big Leptikha. Tied to a quay, we can relax a little. With the aid of a torch we pick our way to a nearby restaurant/bar/disco. No street lighting here and plenty of potholes. Marvellous food, the best pork chops we have ever had, good service and cheap, less than £10 including drinks. The decor out of the seventies but a fun place. Mind you we were glad the disco wasn't on.
Thur 16th 07.13 depart. Mist at the quay but clear outside of the harbour. Light winds and turns out to be a clear day.Interesting church on the shoreline, silver cupolas. 11.50 and we are in lock 1. Exit the lock and enjoy the varied views in this narrow section of river leading to Kherson. 16.36 tied to the quay in Kherson, (paperwork again).
Big Leptikha Nova Kachovka a lift of 17.1m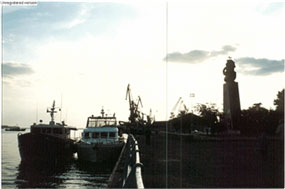 Kherson
Fri 17th 09.30, depart Kherson. A pretty stretch of river as we make our way out of the Dnipro. Shortly after leaving it, a nice finishing touch, two men in a small boat give us a farewell wave
Traffic is closely monitored as we make our way back to Ochakiv and the sea. River control are English speaking, efficient and always ready to assist. We had no necessity to ask for help with buoyage but get the impression they would guide you by radio if required. Midday and Esperanza leaves us to head for Nikolayiv. Lots of hearty waving, we have grown attached to Bronislav & Anatoliy. 16.06 and we are in the open sea, heading for Odessa. Down river has been a bit of a rush but more fun as this time the hours were reasonable. Swapping crew to pass through the locks allowed me to take some photo's of Southern Flight.
Total Log for the trip 1071.9Nm and rising 105.6m, (we never expected Southern Flight to show such an altitude on the navigator despite her name).
MY Southern Flight 2003
Overnight stopping places Odessa to Kiev
16 Nights TCF Nautical Club Port Odessa [Excellent marina ]. [OДесса ] .46°29'·35N 30°44'·55E
Night 1 At anchor Kizomis [Кизомыс ]. 46°32'·89N 32°19'·49E Trip distance 67.1Nm.
Night 2 On the move & first Lock Nova Kachovka [Новая Каховка ]. 46°46'·54N 33°22'·61E Trip 4.3Nm. Total distance 81.4Nm
Night 3 Along side above lock 2 Port Lenin [ Порт Аенин ]. 47°52'·03N 35°06'·19E Trip 50.2Nm. Total distance 231.6Nm.
Night 4 At anchor above lock 3 Dniprodzerzns'k [Днепродзержинск ]. 48°32'·70N 34°31'·92E Trip 70.3Nm. Total distance 301.9Nm.
Night 5 At anchor above lock 4 Kremencuk [Светловодск ]. 49°04'·16N 33°14'·54E Trip 66.2Nm. Total distance 368.1Nm.
Night 6 At yacht club stern to Cerkasy [Сосновка]. 49°27'·61N 32°03'·06E Trip 57.1Nm. Total distance 425.2Nm.
Night 7 At anchor in old port Khodorov [ Ходоров]. 49°58'·54N 31°03'·38E Trip 59.5Nm. Total distance 484.7Nm.
2 Nights Privet Boat Park [Kiev ]. Moscow Bridge [ Москобскυύ мосм]. 50°29'·19N 30°31'·99E Trip 50.3Nm. Total distance 535.0Nm.
14 Nights River Station [ Kiev ]. Pedestrian Bridge [мосм Мемро ]. 50°27'·47N 30°31'·74E Trip 7.4Nm. Total distance 542.4Nm.
Overnight stopping places Kiev to Odessa
Night 1 At anchor Rshischer [Ржищев]. 50°10'·36N 30°44'·93E Trip 20.4Nm. Total distance 562.8Nm.
Night 2 At anchor below lock 5 Kanev [ Канев]. 49°44'·18N 31°31'·28E Trip 55.5Nm. Total distance 618.3Nm.
Night 3 At anchor below lock 4 Kremncuk [Светловодск]. 49°04'·34N 31°5'·60E Trip 88.3Nm Total distance 706.6Nm.
Night 4 At anchor 2ed largest city Novomoskovs'k [ Днеиропетровск ]. 48°29'·10N 35°02'·30E Trip 87.0Nm. Total distance 793.6Nm.
Night 5 At anchor below lock 2 Razumovka [ Разумовка ]. 47°48'·45N 35°09'·33E Trip 53.0Nm. Total distance 846.6Nm.
Night 6 Alongside small quay Big Lepetikha [ Вел. Лепетиха ]. 47°10'·52N 33°55'·86E Trip 75.0Nm. Total distance 921.6Nm.
Night 7 Alongside wall Kherson [Херсон ]. 46°37'·70N 32°37'·43E Trip 69.0Nm. Total distance 990.6Nm.
12 Nights TCF Nautical Club Port Odessa [ Одесса ]. 46°29'·35N 30°44'·55E Trip 81.3Nm. Total distance 1071.9Nm.
Locks [ sluice:- øëþç ] passed on route [ Dnieper river ].
Lock 1 Nova Kachovka [ Новая Каховка ]. Cost 130grv. 46°46'·54N 33°22'·61E A lift of 18.1m.
Lock 2 Zaporizzja [ Запорожье ]. Cost 200grv. 47°51'·80N 35°05'·44E A lift of 37.0m.
Lock 3 Dniprodzerzyns'k [ Днепродзержинск ]. Cost 100gvr. 48°32'·82N 34°32'·35E A lift of 16.5m.
Lock 4 Kremencuk [ Светловодск ]. Cost 100gvr. 49°04'·44N 33°15'·03E A lift of 17.3m.
Lock 5 Kaniv [ Каневская ]. Cost 100gvr. 49°44'·03N 31°31'·09E A lift of 16.7m. Total lift of 105.6m.
Floating bollards set into the lock sides make long warps unnecessary. S/F used one short stout warp amidships and this proved successful..
Payment was made at each lock in cash. It is understood that pre-payment can be made and is preferred by the river authority.
Prices quoted above are for Ukrainian flagged boats. Foreign fagged vessels have to pay up to four times this amount regardless if the owners are Ukrainian or not.
Communication with the Locks is only in Russian / Ukrainian on local VHF radio. [English was not attempted ].
The rate of flow into and out of the lock is mainly gentle.
Facts and Figures
Total Nautical Miles travelled on trip, Odessa - Kiev - Odessa 1070.9Nm.
Total fuel used [ including generator & heating ] 575Gallons, = 2562Lts.
Average speed 7.5Kn. Largely unaffected by the flow of the river.
Charts & Pilot books used;- Admiralty ARCS Nos. 2214, 2232, 2212, 2205 & 4000.
Software was provided by PC Maritime Ltd; Navmaster Professional version No 5.0. 5.1.
Extract from Russian pilot books. 10 x A3 photocopies only but essential.
Travel clearance must be completed in Odessa, Kherson and Kiev. This is time consuming so due allowance must be made. Numerous copies will be required at each station so start with at least 15 copies of a crew list [we have a copier on board that made it all much easier].
Buoyage is excellent but it still requires local pilotage.
No restrictions on travelling at night even through the Locks [ sluice:- øëþç ].
At no time was other shipping a problem. It was unusual to pass more than 2/3 vessels in one day.
When tide-up at night it is required to show an anchor or similar light.
Shopping. Numerous places along the river in well stocked shops taking cash or cards and no shortage of ATM cash points.
S/F did not require to fuel on this trip but fuel can be obtained at fuelling stations in Odessa, Kiev and tug/barge captains on route.
Expenses on trip.
Total cost of fuel used:- 2562Lts @ 1.63grv = 4176grv ÷ 8 = £522.00
Total cost to traverse through 10 locks. 1260grv ÷ 8 = £157.50.
Incidentals;- copying, film, oil, etc.; £240.00
Visas and Ukraine medical insurance $160 x 2 persons ÷ 1.6 = £200.00
Mooring fees:- 13 nights on the river, No system to charge.
1 night at yacht club, unknown, cost in with dinning bill.
16 nights in Kiev. No charge, a gift from harbour master.
We required water on two occasions, first was at Kpemhyyk 20grv = £2.50.
The second was in Kiev. No public supply was found but the floating restaurant [Pelican] was most obliging with 3tons for 50grv.÷ 8 = £6.20.
River water was used for washing the boat.
Security was also provided by the guards at the Pelican. We paid 20grv. per day. For this they had one of our hand radios, watched our boat and us giving us confidence to leave the boat unattended during the day, evening & sleep soundly at night. 14 Nights @ 20grv. = 280 ÷ 8 = £35.00.
Useful contacts
TCF Nautical Club - port Odessa. Andrew Samotkan deputy director. Tel: +38 048 729 4335.
Cerkasy Yacht Club. Alexander Mazin manager. Tel: +38 472 479 390.
Pelican restaurant Kiev. Tel: +38
Ukraine. Egor Petrov. vice president Black Sea Cruising Association Tel: +38
Bulgaria. Hristo Tzvetkov vice president Black Sea Cruising Association Tel: +359 52 692407
Cherkassy Yacht Club
For the above Log we were awarded "The Love Cup" by The Cruising Association