NORTH TURKEY, GEORGIA, RUSSIA,
UKRIANE, ROMAINA, BULGARIA,
ISTANBUL & GREECE in 2004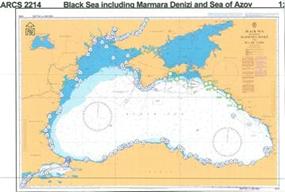 M Y Southern Flight Extracts from Log 2004
Off to the Black Sea & Aegean 14th May to 1st Nov
We hope we are in for plain sailing, it's a good

job

we keep open minds!
After wintering in Istanbul (Atakoy Marina) we were well placed to cruise the Black Sea. In March we began our visa applications. Georgia was easy, we were given 3 mth visas which began from date of issue. Ukraine, some confusion on dates resulted in one mth visa's being issued instead of the 2 mths requested (we extended in Odessa). Russia was a problem, had to use an agent. Because we were not staying in a hotel, a letter was sent to Moscow requesting permission to live aboard. Permission given in writing & we kept this document with our visa's. This caused us a delay of 2 weeks. Our Turkish cruising log & visa's required renewing. This involved a lengthy checking out procedure, accomplished with the assistance of marina staff & a 4hr taxi ride (£30). Should depart Turkey but sympathetic marina staff turn a blind eye & we keep our heads down for 2 days. Then checked back in.
Bought pilot book, Cruise The Black Sea (published by Atakoy Marina). When cruising we used our ATM card in all countries & also, we were surprised by how many people spoke English. A good supply of crew lists, boat declarations & a boat stamp was essential.
We spend time planning and deciding how to handle each situation. The beauty of the Black Sea for us is, stern-to is rare. Despite the lack of modern toys, Southern Flight is ideal for living aboard & has excellent sea keeping qualities. Crew for the trip Kathy and Tony Moore.
We were about to embark on a cruise that will take us to 7 countries, 51 harbours/ports, 4 marinas and 1 river. Totalling 2427.4 Nm; with 9 overnight passages and using 6030Lts fuel
14th May 2004 Begin summer cruise. Anti-clockwise around Black Sea.
Atakoy Marina, Istanbul to Sile. 6hrs 3m. 45.8M
Wind W(F4), overcast but visibility good when entering the Bosphorus. Tony enjoys challenge of negotiating safely across the many ferry routes (strange man). One of the busiest shipping routes in the world, ships present no problems (plenty of space outside their lanes). Interesting sites to see along the way. Into the Black Sea & the sun is shining. Lovely cruising. Green hills, beaches and the odd ship wreck.
Entering Sile, the leading line nearly put us aground. Moved over to port. Local man helps us tie alongside a fishing vessel. It's closed season for big f/vessels (May-July). To tie alongside one is always an option. Man who assisted speaks good English. He takes Tony to see his boat & later brings us lady crabs. We enjoyed Sile with it's castle, many restaurants (some on stilts) & lots of shopping. The local cloth is famous (a cool cheese cloth) & worth buying for the hot weather ahead. The restaurant in harbour (Dener Reis) was cheaper than eating on floating café along the quay.
17th May Sile

to Akcakoca. 10hr 45m. 70.9M
NE (F4-5), choppy sea, sunny day. Approaches Akcakoca, varying depths in bay. Inside harbour we intended to tie at e.quay, locals call us over to old but strong pier & help us tie alongside. Very little to tie to and difficult to get off, but secure. Introduced to much respected old captain by a man with excellent
English
(
capt
spoke a little
English
). Young boys asking Tony his name & age. He said
Busy
&
22
(dream on). Didn't put the boys off & gave the captain a laugh. Go shopping & pleasant walk along front.
18th May Akcakoca to Zonguldak. 5hr 31m. 38.6M
NNE (F1-2). Flat sea & sunny. Pleasant trip. Arrive Zonguldak, looked at main quay, busy with commercial
vessels.
Go to
fishermen's
quay & with the helooked at main quay, busy with commercial
vessels.
Go to
fishermen's
quay & with the help of tug men, tie alongside
f/vessel.
Walk around town, had my spectacle frame repaired (no charge). Pleasant
cafés
in harbour but town too big & busy for our liking. Tug men cameof tug men, tie alongside f/
vessel.
Walk around town, had my spectacle frame repaired (no charge). Pleasant
cafés
in harbour but town too big & busy for our liking. Tug men came for beer in evening and invite us for Turkish breakfast tomorrow. Tug turns in this area of harbour so,
"don't anchor here".
19th May Zonguldak to Amasra. 4hr 55m. 34.5M
Breakfast with tug crew (cheeses, toms, olives etc, drink tea). Given tour of boat. Their engine room could
swallow
up our yacht. Show them around S. F. & prepare to depart.
1030hr & on our way. Sunny, light winds, calm sea. On route, coastguard boat asked our purpose for sailing (said tourist). C.G. polite & friendly. Nice coast line, seeing Dolphins.
Amasra, tie alongside f/vessel. Lots of help. Interesting place this with it's old castle walls, pretty beaches & pleasant walks. Supper at one of the many restaurants around the quay. Coachloads of tourists during the day. Before departing a group of youths were playing drums. Boys & girls, singing and dancing. No trouble, nice to see them enjoying themselves (without blaring pop music).
20th May Amasra to Gaidaros (Sutluce Liman). 4hr 44m. 23.1M
F/man asks if we need anything (water
etc
). We
don't
but it was kind. Depart Amasra. Mod wind (N). Small white horses, sunny. A pleasant passage. Entrance to Gaidaros a little hairy, hard to see, wider than it looks at first. Drop anchor. Attractive bay. One of the two restaurants ashore was obviously not open yet for the season.
Fairly strong swell coming in so supper onboard. Swell died down during the night.
21st May Gaidaros to Inebolu. 5hr 52m. 43.7M
Depart 0805hr. variable winds E & NE (F3 mostly). Slight sea. Buzzed by Jet Planes (fighters). The noise when they fly low over the wheelhouse is unexpected &
horrendous.
Lovely coastline, beaches & mountain backdrop. At Inebolu we tie up at n.quay. Not long before 2 young boys around asking questions (little English but they like to practice). Give them boat card, they follow us into town. Harbour a bit grim but enjoyed walking around the town with it's old fashioned workshops & stores. Young boys leave us after ¾
hr.
or so. Stop for a cup of tea & a cake at very nice bakers/small café. Walk on, joined by a pretty young woman. Speaks reasonable English & we are good for practice.
She's very shy really, it must have taken courage to approach us. After a while, shyness spoilt her concentration, she leaves us saying she was "overcome with emotion". Nice beach. Back to the boat. Coastguard round for quick check of cruising log & are friendly. Supper in town. Book says this is a port of entry but we have our doubts.
22nd May Inebolu to Caylioglu. 4hr 56m. 39.1M
ENE (F3-4) choppy sea, sunny. On approaches Caylioglu, wind a little stronger & sea very choppy around entrance. Tie up at quay in this vast harbour. It's a peaceful place, you can hear the birds sing. Surrounding hillsides are lovely. Goats grazing near the quay & a few dogs who don't bark or growl at us.. Tony not keen on dogs, one
dog takes a shine to him
& insists on following him
everywhere. Buy large Turbot (hut at quayside, some sort of fish co-operative).
23rd Walk uphill in what we thought to be direction of nearest village. Didn't find it, turned back. Wait for Tony's dog to catch a field mouse, dog plays at letting go & catching again. It runs off alive in the end. Cows meandering downhill. Walk around the harbour. Pass a café? (has crates of coca-cola & tables outside anyway). Family outside picking fruit off tree.
Don't speak English but give us fruit & big smiles. Take their photo & return to boat. Tony prints photo. I take it, a boat card & postcard of Guernsey, back to café. Give these to oldest lady in family, she was very pleased. This we found, was a way we could say thank you to people as we continued on our travels.
24th May Caylioglu to Sinop. 4hrs 58m. 39.1M
Winds mostly east (F 3). Slight sea, sunny. A good passage. Arrive Sinop & Errol (local agent) calls to us from the deck of a f/
vessel. H
elps us tie up to it. We didn't require his services but he said any problems, call him. Walk around hrb, it's drab but people friendly. Lots of shops & eating places. Take photo's from café at the top of tower (old city wall). Grand views. Given a drink of orange juice (on the house). Walk in direction of Yacht Club. Much nicer here with gardens, lots of eating places.
Yacht Club has a long quay but no outer brk water. Not viable if wind in wrong direction.
25th May Sinop to Yakakent. 3hrs 46m. 28.6M
WNW (F5 ). Dull day with dark clouds. Gusting 6 later & big swell, more or less with us so no problem, short passage today . On approaches (Yakakent) the
blue tanks
mentioned in book are
now white.
Care required entering with this swell & small white horses inside. More or less pushed onto quay (hammer head). Tie up with the help of local f/man. Other men come to say hello. Give out boat cards. One man swaps photo of himself on his f/vessel for photo of S.F. 1620hr &
school
must be out. Lots of children, some on foot others riding bikes & it's getting rowdy. Ask the girls to quiet down the lads & they do. Favourite question from them "what is your name" (only a few English words spoken). One young lad proudly shows us his school book with English sentences. They all know the "Internet" word & surrounded by boys on bikes, they show me the way.
Tony gets some peace. Drab apartment blocks along the way. After Internet café, find very good bakery. Shopping no problem (point at what I want & smile). I can at least say please & thank you in Turkish. Meet one of the f/men again, he gives me a lift back to boat (on his Moped). He didn't speak English but understood Tony's gestures to come back later for a drink Came back early evening with his wife. Not a young couple (50's?) his wife very attractive. They brought smoked fish, we put out cheese, cold meats. Show them the boat, take & print their photo's. Language barrier no problem, it was fun. During the evening our new friend berated his wife for not drinking any alcohol or taking off her headscarf. She was cross (but not very). They left holding hands.
26th May Yakakent to Samsun. 7hrs 56m. 57.4M
Variable but light winds, overcast again. Pleasant passage. Arrive Samsun,
look for the

Sailing

Club,
it's not there. Apparently
it's moved,
we passed it on the coast. Tie up at commercial quay. Man from
stevedores
cabin asks if all OK. Not pleasant on this quay & we don't' leave the boat for safety reasons. Interesting though, watching ship load up from lorry loads of onions.
27th May Samsun to Fatsa. 7hrs 56m. 61.1M
Depart 0612hr. W (F4-5), overcast. Choppy seas. Arrive Fatsa & tie up at quay (with help of locals). Noisy on this quay, piles of timber being shifted.
Coastguard boat nearby & visited by them. On checking our cruising log, one young man a bit of a nuisance. Obviously looking up old regulations in his manual, indicating dissatisfaction (put right by his companion). Walk into town, buy giant loaf bread (typical of the area).
28th May Fatsa to Yalikoy. 1hr. 5.6M
Light winds, overcast & misty. About to let go, two men arrive from yacht club & disappointed we are leaving (pity they
didn't
come yesterday). Arrive Yalikoy, Moored against f/vessel. We fell in love with this small fishing harbour (has character). It's
raining
& muddy as we walk into the small town.
Occasionally
somebody
calls "welcome"& school children say hello (shyly). Not exactly a pretty town, road runs through the centre. Enjoyed Kofte & wine for lunch (kofte have special flavour here). It's market day, the rain & mud don't put people off. Lots to buy, fresh produce, fish, household goods, clothes etc. Take photo of old building on mushroom shape stilts.
Local yachtsman comes to say hello (speaks good English) & recommends evening meal at Denizcan (a family run restaurant, very friendly). We had an excellent meal there (across the river, it overlooks the coast).
29th May Yalikoy to Efirli. 2hrs 51m. 19.4M
Light winds,
sunny.
Tie up at quay in Efirli, no assistance this time but locals friendly. Given fish & one man brings roses from his garden. F/man wants Tony to go out & fish with him. No English spoken but gestures & facial expressions always seem to conquer
language
barriers. Tony managed to decline without offence. Coast road very close & it's noisy.
I walk to village for bread etc (10 mins approx). On roadside verge, lady grazing two cows & people tending corn. Not a pretty village but houses have nice gardens with fruit trees & veg patches etc. Surrounding area is lovely.
30th May Efirli to Giresun & Tirebolu. 6hrs 56m. 46.9M
Depart 0900hr, light winds, sunny. Dodging bobbers for fishing nets this morning. At Giresun, tie alongside f/vessel (new hrb). Had lunch but didn't stay here. Not impressed with surrounding areas,
no sign of
the
planned yacht club
& young men on f/vessel play loud music. Pleasant passage to Tirebolu. Anchor in hrb. Didn't leave the boat. A good nights sleep & although we like the look of this place with it's
castle on the headland & old part of town on peninsula, we decide to press on.
31st May Tirebolu to Gorele & Besikduzu. 3hrs 26m. 20,9M
Light winds, dull day. Look into
Gorele,
decide not to stay. Small jetty being worked on (or broken down). Harbour
in a state of transition.
Arrive midday Besikduzu. Oh dear, a wreck in the mouth of this hrb. More or less on the leading line.
Passed safely (with care). Owner/capt of a f/vessel moved 2 small boats to take us alongside. He & his crew most amused by the photo's we took of them. Capt came aboard for a look around. We walk into town, ladies on roadside verge tending corn, a stall along the way selling traditional baskets, mats, waistbands. Buy giant loaf of bread (still finding them). Back to boat. I go walking again, across the road & uphill. Very quickly into country lanes & quaint old houses. Some beautiful gardens. Back down towards the road, through estate of apartment blocks (with a mosque in the middle of them). At least the blocks had some colour & style. Wouldn't fancy being that close to 5 calls to prayer each day.
01st June Besikduzu to Iskele Burnu Liman & Akcaabat.
3hrs 32m. 19.8M
Breakfast on the stern, man appears from port side deck. Came aboard without asking (unusual), had at least taken shoes off. Was over-enthusiastic to meet us & practice English. Depart Besikduzu, light wind, sunny. Looking out for nets. Arrive Iskele. Tie
alongside
central quay. Big f/
vessels
in here, lots of men working on nets & maintenance. Photographs we take & give out are much appreciated. Have lunch.
Beautiful scenery here. Selchuk (owns f/vessel) & his nephew Cherket come aboard. We talk about Guernsey & whether Turkey should join EU. Depart Iskele & Cherket comes with us. Not long out of hrb, small boat races alongside. Manage to take photo.
Arrive Akcaabat. Tie alongside f/vessel. Tony teaching Cherket how to tie knot (monkeys fist). Men who raced with us out of Iskele have travelled by road to pick up Cherket. Give them photo's, they are tittled pink. Cherket goes away happy with his piece of rope to practice monkeys fist. Akcaabat is a nice hrb. Turkeys & geese roaming around.& a choice of restaurant's. Built up town & busy rd (still, always the green hillside to look at). Supper at Kofte restaurant (no comparison to Yalikoy).
02nd June Akcaabat to Trabzon,Trabzon Marina & Arakli. 3.5hrs 24.9M
Light winds, overcast. Not a good nights sleep, noisy boats in & out. Early morning call from Mosque. Problem starting the generator
so move to Trabzon for repairs.
Arrive Trabzon, tie alongside Coast Guard quay. CG officer & his men very friendly. They were busy but want to help with genny problem later. Cadet brings us lunch on a tray. (beans with meat, Turkish sweetmeats). Officer returns later with engineer & electrical technician. They work on the genny, declare it fixed (can't believe how kind they are). Show them around the boat. Told we can moor in comm hrb when cruise liner moves on. Tony takes a look. Decides against it. Thank the CG & move on to Trabzon Yacht Marina. Wind picking up, it's raining.
Arrive Trabzon Yacht marina. I made classic mistake, impatient to step off & tie up. Stood on wet rubbing straight, holding wet rail. Slipped, could have fallen between boat and quay. Held on, Tony pulled me back in. Result, badly bruised thigh (ouch). No marina here, just pontoons, abandoned & unfinished. A sports complex & nr small airport. We move on.
Arrive Arakli. Tie alongside rafted f/vessels. Very friendly family invite us to drink tea. Watch from quay as smaller f/vessel brings in it's catch. We were given fish for the fridge then fed grilled fresh fish & pastry's with cheese filling. We take photo's & print. Much appreciated, teenage daughter very taken with her pose.
03rd June Arakili to Camburnu - turn around for Yeniay.
1hr 35m. 8.6M
Light winds, calm sea, a dry & sunny day.
Arrive Camburnu. Tie against quay. A commercial harbour, big boats being built here. Interesting to look around. Depart Camburnu.
Minimal distance to Yeniay. Suspect silting in this hrb. Less depth than stated, Make ready to tie alongside f/vessel (1/2 doz or so, young f/men on it). We approach & two men jump aboard to assist us. Later we entertain all of them. Have fun chatting (two speak English). Take photo's on deck, they return to f/vessel & give us fish.
We visit old tea house on stilts (SW corner hrb). In town people are friendly. Surrounding areas green & restful to the eye. It may have been tranquil here once. Not now. New coast rd (Yeni Yol) well in progress. No electric supplied here.
04th June Yeniay to Of & Iyidere. 2hrs 18m. 2.2M
Light/mod winds, overcast. Approaches to
Of
& vis bad, light rain. No problems entering & tie up at quay. I
nfrastructure
work still going on. Tony well impressed
with the standard of works. Thinks this will be excellent hrb on completion. Garage outside has shop & café. Didn't walk into town to see the mosque (supposed to be a rival to Blue Mosque/Istanbul). We did look at the tea factory. Asked at gate house, can we take photo's. Invited to take tea inside their special tea house.
Joined by 4 directors, one spoke English.
What a treat, lorry's enter piled with tea leaves. Didn't get inside the factory buildings (can't have everything). Skies clearing, depart Of.
Arrive Iyidere. W.I.P on quay inside hrb & small f/vessel taking up most of available space. Land being reclaimed in here because of new coast rd. Can't drop the anchor. Decide to leave. Passing old east/ brkwt & locals frantically gesturing for us us to drop anchor in bay between it & new east/ brwt. Gave it a look, dropped anchor in 10mt. Two mins later f/vessel comes out of hrb, owner insists we take his place inside. Up anchor, follow him. He ties up in bad spot, end of quay. Gets off, helps us tie in his mooring place. Our f/man, other local men & young schoolboys are very welcoming. Take & hand out photo's, it always pleases. After lunch we walk around town. Local man insists on taking us to "magazin" (was chemists & meeting place). Introduced to old sea capt & other guys. Drink coca-cola (pharmacist interprets conversation). A little shopping, back to boat. Supper in town. Kofte, this time served as thin slices beef (no alcohol in this small café). Going back to boat & stopped by taxi. It's one of the guys we took photo of earlier. Can't understand what he's saying. Find packets of coffee on the deck (obviously a thank you).
05th June Iyidere to Rize 1hr 25m. 8.8M
Light winds, sunny & bright. Very pleasant passage. Arrive Rize, no space at small jetty nr CG station. Tie alongside f/vessel. Tony stays aboard & I walk into town. Looking for Dolmus Station to check out tour destination. Find centre, tourist info closed. Policeman nearby asks if I need anything. Explained want to know where Dolmus station is. He & his (fast/terrible) driver, take me to Dolmus Station. Show me correct stop. "What service". Thank you & goodbye Mr Nice Policeman. Taxi back to boat. Supper venue "Envel Laman" (Attaturk Caddesi.). Old style restaurant, live music, place full of antiques.
Good food, popular with locals Next day, genny wont start. Explain our problem at security gate (ferry terminal area). The Port Controller, Ali-Ba- Ba (it's his real name) hears about us & takes over. We are moved to ferry terminal quay. Electricity & water supplied. Generator problem is finally solved (part repaired & Tony fixes back on). Ali visits the boat, brings wine & fruit. Insists his secretary will take me to local hairdressers (he will pay).. His secretary (Ebru) is a sweet girl (heavily pregnant). Hearing we want to tour, Ali organizes car, driver & guide.
Day tour.
Simsirli/Ikizdere (to see Special Mosque). Tour book isbn 975 521 377-5
Drive towards the mountains, through some beautiful countryside. Stop on the way, walk around lovely wooded area with old fashioned buildings & clear water springs. Taste the water (it's good). Drive up & around steep valley with houses facing sheer drops (must be hard work for builders). Road narrows, we still continue to climb. Finally find the mosque. Caretaker lets us in (no charge). Built from chestnut wood, with intricate carving inside & out. What a setting, looking down on a beautiful valley & across to the mountains. Later we buy food, water, wine & enjoy a picnic near fast flowing river. Back to the boat , it's been 4 hrs. & 2 men taking care of us. Ali will not allow us too pay anything.
During our stay:-
Tony assists a member of staff with his English studies.
I go shopping, buy present for Ebru's baby & ornament for Ali-baa-ba's office. Looking for paper to wrap Ebru's present. Stationery shop wrap it but won't charge for paper or the service, have we landed on a different planet!.
Price of a meal, fish/salad/dessert/special cake of area & coffee. 2 persons total £8.
10th June Rize to Pazar & Ardesen. 3hrs 27m. 26.1M
Dull day, mod wind but big swell (after recent strong winds). Viewing
Rize Yacht Marina
from seaward (
unfinished
)
At Pazar we moor up East side of Quay. CG station has gone. Pazar supposed to be important Dolmus staging post, no time to tour. Place does not appeal. Quay is busy & sooty. Have lunch, take photo's & leave.
1400hr, arrive Ardesen. Tie to quay, dredger is moored at side of it & man gets off to help us. Very built up here, supermarkets & shops a short walk. Park (not well tended) stretches around side of hrb. Fish restaurants w.side (past bridge). This was the only stop in Turkey where we felt unsure of the boats safety at the quay. Not all characters seem trustworthy!. Decided to untie & drop anchor instead.
11th June Adesen to Arhavi. 2hrs 18m. 17.6M
Light winds. Arrive Arhavi, moor alongside f/vessel. The sun is out. Sandwiches for lunch & f/men give us watermelon. Tony driven uphill to photograph yacht against f/vessel (for them as much as us). While out, taken to home of young driver, they return with
mum.
We make a fuss of her, show her around the boat. Take a walk later, cross the road & uphill. Views get better as we progress, less town noise, more birds,
cockerels
, cow bells & beauty. Back to boat.
F/men mending their nets & being
cheerful.
Even plugged us into their elect. Supper at roadside restaurant (above hrb).
12th June Arhavi to Hopa. 1hr 16m. 8.4M
Variable winds (northerly), light to mod, agitated sea. A lot of building going on along this part of coastline. Arive Hopa.
Tie up at main quay, between tugs & CG station. CG visit, check papers. Tell them checking out tomorrow, they give us a signed document. Immigration police at main gate arrange an appointment with h/master. His office is outside of port (not far). Pleasant young
h/master,
won't be working
tomorrow (
Sunday
) so stamped our cruising log 13th. Duty paid (approx £5). Given
his receipt
(important),
it's the first time we had to pay anything on this coastline. Shop at Supermarket, back to boat for lunch. No time to explore this town properly, not inspired by the little we did see. Around the port it's busy & built up. Surrounding hills lovely.
Note:- Southern Flight is an unusual yacht & creates interest, this does not explain the generosity & hospitality shown along the north Turkish coastline Only a handful of yachtsmen/ women cruise the black sea each year. Any we meet have similar stories.
This beautiful coastline deserves a whole season.
13th June Hopa to Poti (Georgia). 7hrs 11m. 50.6M
0445hr & Tony to immigration police & customs at main gate. Check out. Had Global Refund
forms. Customs don't know what to do with them. Won't get that TAX back!.
0630hr, depart Turkey. Sunny day, light to moderate winds & calm sea. A good passage.
Arrive Poti, call port control (they speak English). Given permission to enter. Tie alongside quay at yacht club, assisted by the manager, Jumber (Juki) Tsomaia (YacretCLUB@gol.ge). Juki is a round the world yachtsman. He ensures easy work is made of formalities & the yacht is safe. Sit at terrace café (have a beer) while friendly officials check us in We change $ at yacht club.
(Above) Junber Tsomaia [Juki] Proposed HLR
Our family concerned about this destination. In reality we were warmly greeted & felt safe.
Supper at Anchor Hotel (nr Marina). Nice hotel, awful food. Beer at (yacht club). Meet Englishman, works out here. He can arrange car & driver for us if we want to tour.
14th _ 19th JUNE. Notes about our stay.
Walking to town. Broken pavements, once grand buildings looking sad now (told more
investment
coming in & facelift soon on it's way). Pigs & cows roaming around freely but curiously enough, pavements not soiled. People seem surly at first but a smile is always close to the surface. Quite a few people speak English. Indoor/outdoor market covers a vast area. Fresh produce, meat, clothes,
household
goods, e
ven livestock. At a corner shop not far from marina, we bought cheese pizza (local speciality), very tasty. A sweet old lady in shop, loved speaking her one or two words of English & took great care that anything we bought was the freshest.
At yacht club, politely told off (flying the wrong courtesy flag). Flag changed recently.
Introduced to the Mayor of Tblisi & Jemel Inaishvili (Gen Director of port).
Meet team sailing Viking Boat (wwwVitttfarne.com). The idea was to sail/row this boat all around Black Sea. Refused permission for Russian coastline, boat overland through Russia.
Buy local wine (wholesaler nr sculpture park). Average £2 btl.
Enjoyed having schoolchildren (& teachers) on board.
Try local dish, big dumplings filled with meat & juice. Raise dumpling, bite small hole to suck out juice. Then eat, delicious!.
President's wife visits the port. A fast launch ties up opposite our boat. She steps off with her young son, her mother & father. I stand on quay to take photos (difficult with press & TV around). President's wife makes a point of speaking with Tony (lost my chance there).
Her son comments about the on board computers. Off they go to marina reception room. Not much later son re- appears with grand parents (keen sailors), Jemel (port director) & press man. We have the pleasure of showing them the boat. Jemel takes photo's with our camera (kind man). Tony prints photo of son sitting at the wheel. Son is pleased, it makes our day (as if it could get much better).
Batumi (one day tour).
Our driver spoke reasonable English. Some bad roads (cattle often roam across), main route good. Pine forests, rivers, hills & mountain backdrop (a lovely drive). Stopped by traffic police sometimes who check drivers papers & on one occasion, Tony's passport. No problems, they were friendly. Driver tells us, when old regime, traffic police always demanding money etc (bad situation). New president (Mikheil Saakashvili) has stopped all that. Drive through Monte Carlo (part of sign in English). It's a village bought by rich man. He plans holiday resort, up-market properties, restaurants (maybe casino), smart railway station already finished. Arrive Batumi port, big & pleasant enough (but Poti has homely feel). Coffee in smart cafe, let young boy take polaroid of us (just to encourage enterprise), visit park (by the sea), a lovely place. Drive to border crossing (this bit Georgia & that bit Turkey, fascinating!). Turn around for home, stop for lunch on route. Excellent restaurant, tasty food (giant pork kebab etc), drink good red wine. This place family run & surrounded by small holding (grow own veg etc). Before leaving, watch men pushing old banger (children helping). It starts, cuts out in clouds of smoke (suspect it's dead).
Tbilisi (2 day tour)
Driver said picture of our yacht on TV last night, with commentary about our travels, TV crew must have been yesterday while we were out. Juki giving info about us maybe?.
Generosity & hospitality in Turkey, now VIP.s in Georgia (can't be bad).
5 hr. drive to Tbilisi, hills, valleys, flat lands & mountain backdrop. We liked the 2 storey Georgian houses, with balustrade & balcony surrounding 2nd floor. Not all areas pleasant to drive through but lots of interesting sights & truly beautiful landscapes. Enjoyed walking around Tbilisi with it's grand buildings. Lots of ATM here. The city has it's ugly areas, high rise dwellings & so on. By the time our walking is done, it's to late to enter any of the museums. Disappointing for me (Tony relieved).
Our hotel was in central district. Supper time we walk to street known for it's excellent restaurants. Chose chalet style place with small but lovely gardens. Good food & wine.
Mtskheta, (2nd day). Original mother town of Georgia. The Jvari Monastery & the monument to Arsena Odzelashvili (a Robin Hood style hero). Grand countryside all around.
On drive home we pass roadside stalls selling Nasuki bread. It's very tasty, contains fruit & cinnamon. Late lunch, stop at roadside garage with restaurant. Outside looked a bit shabby. Inside, clean tables cloths, good cutlery, good food.
Note: Poti., 7 nights 162 Lari (ave £6.50 day, inc Elec & Water)
Told winters kind here (?), due to protection of mountains & latitude. Sorry to leave this friendly place. Advised keep well off north coast Georgia (still problem area).
20th June Poti to Sochi (Russia). 22hrs 01m. 131.8M
Formalities no problem. 1130hr depart Poti. A bright day. Variable, light - mod winds. Bit of beam swell at times. Enjoyed the night passage (shared the watch time). A few fishing vessels about but nothing much else. No problems.
21st Approaching Sochi, Tony well impressed with Leading Lights. Call port control (they speak English & very friendly). Ask us to anchor until 0900hr. Requested to know our agent & positive merriment when we said we didn't have one. While waiting, we wallow around horribly. Seagull agent on radio, will meet us in port (agreed). 0930Hr, enter port. Tie up inner brkwt (big ship quay). Rows of big tyres, care needed to avoid damage to paintwork. All paperwork dealt with by agent. No point trying to cope ourselves, to much of it. Officials friendly. Customs look around boat. We have double entry visa (or so we thought), we wish to visit Novorossiysk also. Immigration adamant it's only single entry. After this stop we could call in at Novorossiysk but would not be allowed off the boat (unless we purchase visas again). We supply lots of crew lists & boat declarations (no firearms, illegal drugs, stowaways, etc). Declare foreign currency & fuel (declare again on departure). Move to berth No 5, inner hrb. Anchor & stern to. Agent takes lines. Elec & water can be supplied. One look at agents proforma invoice & Tony sees red. Various port dues, immigration fees (why, we have visas?) & 200$ agent fee. At once agent gives 100$ discount but port dues not negotiable. We insist on confirmation from authority & taken to main shipping office. Informed prices correct, went up this year, yes they are high for yachts (more like ships charges). Told old guard still think foreigners are spies & are not sympathetic. We discussed visas problem. Explanation was:- when we take the boat out of Sochi & into another Russian port, we have crossed an "internal border". The boat is piece of foreign country, so we would need new visas & pay all dues again. Quoted example of foreign car allowed past first border but no further, it's occupants travelled freely through Russia by local transport. Sounds like old communist bureaucracy's & would a multi-entry Visa be any use then?
Sochi 21st June - 02nd July.
Swell sometimes bad. On one occasion we put extra lines to quay & bow of local yacht.
Moored opposite popular pleasure craft (come ferry), we get lots of opportunity to talk to holiday makers, (mostly Russian) many with good English. Others (no English) will smile & wave. Some just give dark looks. As in Georgia, people in shops & markets can seem surly at first (doesn't take much to raise a smile). Basically generous & warm hearted people.
Talking with local yachtsmen we get to learn of the hardships of farmers etc.
Meal in hrb café. Salad, bread, veal. Red wine. (2 persons, approx £13)
VIPs again. Interviews for national TV (given copy on VHF tape). Interview for local TV & two newspapers. People get to know about us & come to chat.
Enjoyed evening onboard with one reporter, brings his wife & baby (6wks old). They gave us wine & tasty small cakes. Very pleased when we give soft toy & English book for baby. They like knowing these things belonged to our grandson.
Sochi is very big holiday resort, beaches (beach entertainment), good restaurants. In town, all varieties of hotels, museums, parks, theatre, etc. Lots of Spa's.
(e-mail inflot@sochi.ru). (holidays@sochi.ru) seagull@sochi.ru )
Notes on our touring
Introduced to Alexander & son Andrew by Seagull agent. Alexander drives old Merc (good condition). Head for the mountains, fantastic scenery, stop to watch boats rafting down fast flowing river. Arrive Krasnaya Polyana mountain region. Go to top of ski area (3 stage chair lift). Just our luck, it's a dull & drizzly day (wet seats). Passing through clouds (spoils views) & chilly as we ascend. At the top, views of surrounding mountains not good but we enjoyed the experience.
Don't pick flowers up here (will be fined). Andrew points out border line, Georgia/Russia. Hot chocolate in café to warm up. Then down to base for a thoroughly good feed at one of the restaurants. Bought video of area (in Russian, but will see views missed today).
Drive back, near Sochi we visit ancient tower (told on clear day you can see Turkey from the top?). We did have good views of coast around Sochi.
2nd Tour
Buy BBQ. Food. Onto long winding roads & look at river canyon (very impressive). Pass through rural areas & into forest. Ask directions at place with security fence & guard at the gate. Expensive properties, central swimming pool (holiday hideaway for the rich maybe). Finally find our picnic spot. Park near restaurant that's tucked away in the forest. Settle down at river (near a waterfall). Sunny day, crystal clear waters to paddle in. Good food, wine & good company. This is the life.
Note: Total cost of our 11 day visit (regarding visas, mooring, port dues & agent) 990$.
Breakdown:- Port dues etc 550$ (inc's mooring & elec, didn't take water). Acquiring visas in Istanbul (inc's agents fee) 240$. Sochi agent 200$ (didn't fuss about discount after 11dys). Expensive but maybe contact with agent before travel would see an improvement?.
This isn't the "real Russia", only Sochi & around, but what an experience!.
02nd July Sochi to Feodosia (Ukraine). 29hrs 35m. 212.8M
Before depart, tie up at Customs area. A
British
yacht further back, lone sailor, won't take agent. Had his passport stamped in. Decides not to stay & trying to check out. With no agent it's a problem. We learn he crossed
unauthorised zone on Georgian coast line
& was "escorted" by patrol boat into Batumi. You can't mess with the rules in these areas.
Customs come aboard us, quick look around, very friendly. Agent completes all paperwork & gives us clearance declaration. Good shake of hands all round.
0855hr. Depart Sochi. SE (F5), 2mt swell. Bright day, good vis. Winds decreasing, expect conditions to improve. After leaving (2 cables off), port cntr on radio, please head more westerly course. We did. Same request later (said restricted area). Not on our chart, maybe local safety zone (fast cruising boats etc). Follow instructions & no more calls. Conditions improve (even enjoyed some sunbathing on deck). Night watch rota, no problems.
Feodosia (Ukraine) arrive mid afternoon 3rd After being treated well in Turkey, Georgia & Russia, we were now looking forward to "coming home to Ukraine". Cruised Odessa to Sevastopol 2003, no problems checking in & made lots of friends. This time, Down to earth with a bump. Call port cntrl, they are polite (excellent English.) & try to be helpful. Can't allow us to enter until speaking with H/master. Wait around & finally port control confirm we can't enter unless we take an agent. Our response (polite & without agitation):- with respect, have spent 30 hrs. at sea, cruised Ukraine 2003, never pressed to take agent. All port authority helpful to foreign yachts. We have Visas & necessary paperwork. We don't understand this restriction in Feodosia.
Port control try h/master again but no change. Agent calls us & quotes 200$ fee + hrb dues etc. Thank him but decide not to enter (have spent 1hr +, shunting up & down). Port cntrl give permission to anchor off overnight & advice, "go to Yalta". No sleep until 0130, noisy fairground, uncomfortable sea swell (noise & swell die down).
04th July Feodosia to Yalta Passenger Port. 8hrs 35m. 66.4M
Light winds, calm sea & sunny. Pleasant passage.
Call port

control

Yalta,
no response
until
inside. We are called over to Customs Quay & getting on OK with two
officials
(they speak a reasonable amount of English). An agent arrives & officials go away. Explain to agent we cruised
Ukraine's
2003 & won't need his services "thank you". Saw local Super Yacht ("British Reg")
moored nearby. The cap't & crew (who speak English.) are known to us. To cut a long story short, we spent hrs. talking with agent & officials (assisted by cap't & crew on local yacht). Only to be told
unless we use the agent,
we must
deposit 65% value of our boat in local bank
as
surety
until departure. Money then reimbursed!. This is
complete & utter rubbish,
we contact a
Ukrainian
friend (with access to written regulations). He confirms this is very old & outdated regulation. Sends us e-mail to quote correct regs, sadly computer wont open his attachment (SCREAM!). We give up & won't check in here. Ask permission to stay on quay overnight. Allowed but can't get off boat. A local man who came to greet us, is kind & goes off on his motorbike to buy bread. Another noisy fairground here so no sleep until late on.
Note:- This port supposedly in process of being privatised?.
05th July Yalta to Balaclava. 4hrs 35m. 31.1M
NW (F3), slight sea, sunny.
Advised
by Yalta officials,
go to Balaclava.
It's
not port of entry, as far as we know
but
will give it a try
. At least the weather is being kind to us & a pleasant passage. Nice coastline, holiday resorts etc. Swallows Nest (small castle, now restaurant) hanging over edge of cliff. Mountain backdrop. Chan 16, hear
our yacht being discussed,
we presume by Lebed (Coast Guard).
They call us Seven Flight, mention Yalta & Balaclava, yacht tourist etc
Balaclava approaches, call Port Control, no answer. Inside we call marina, asked to wait. Again spend time shunting up & down. Finally a patrol boat leaves it's mooring & approaches us. Men on deck making very positive & aggressive gestures for us to leave port. Chase us out & when outside, still gesturing for us to go away. Tony calls them over. I am getting upset & a little scared, Tony being worn down by the worry & frustration. Both thinking maybe we should phone British Embassy. Patrol boat came close. Man who looks official & speaks English, seems suspicious of us at first. Is surprised only two persons aboard & becomes very friendly, he would like to help but can't. We must go to Sevastopol. Said be sure to contact Lebed CH 7, on arrive & depart.
05th July Balaclava to Sevastopol. 2hrs 59m. 21.8M
Cont'd:- Approaches
Sevastopol,
1Hr 30 out &
contacted by port

control.
Very friendly, do we require pilot. Explained here last year & they advised "proceed to Passenger Terminal" for immigration. Wait at passenger terminal, all officials gather together before coming to boat.
No agent necessary, no hrb dues.
Formalities dealt with efficiently & fairly quickly.
Officials helpful & considerate,
Sanity at last,
this is the Ukraine we know & love.
Tony's crew lists, declaration & equipment list accepted. Fill in their customs declaration (with assistance). They give us immigration cards to keep with passports & copies of our 3 documents. Also original customs declaration form (blue), declares value of yacht & stay in Ukraine no longer than 1 year (to be handed in on leaving Ukraine).
Mention our previous ordeal, they can't comment!. Now we can choose our mooring place.
Used Russian Navy Yacht club last year (floating pontoon). Dodgy stepping off (corrugated sheets on top breaking up). Stern- to available at pier. Bit of a hike to centre.
Looked at Yacht Club Sevastopol. Too noisy, problems with wash of ferries & sea swell.
Moored at Ushakova Balka. A bit drab but nice enough. Steel pontoons make up inner swimming area, inside a compound, watchman day & night. 2 big dogs (soft & daft) who make a fuss if locals swim close (small public swimming area nearby). Victor is manager (very little English). Called his English speaking daughter (Olga). She explained charges etc, 10 $ night (inc water & elec), Victor (or guard) will call a taxi if we want to get to town.
About the area
Railway line close by, the train runs slow & noise is light. Outside the compound is wooded area. Uphill to housing estate & bus stop. Drab apartments & houses etc but people very friendly. Plenty of shops when you look around. Bought ½ loaf (cut in front of us), eggs (put into paper bag, not box) & smoked mackerel. Small kiosk's sell anything from tel cards, beer or frozen chicken legs. Onto main road & downhill, takes you to Malakhov Hill (defensive tower & war museum), bigger shops in this area.
Town & Around
Our favourite restaurant, end of quay (near Kiev ferry). Good food & reasonable price.
Museum of Panorama. Battle of Malakov Hill depicted (1854-1855). Painted "round" canvas, more than 5,000 people shown. Very life like, fascinating, disturbing. Bridge of Love & sure enough, young couples crossing it, holding hands (Ahh). Chersonesus, site of ancient Greek city, on peninsula (entrance to hrb). Lots of museums here & St Vladimir Cathedral, the historical sights are endless. Fun also to walk at waters edge & watch young men diving from precarious rocks!.
Central Market. All manner fresh produce, clothes etc. I bought duck which turned out to be mis-shaped chicken (that's my excuse anyway).
Meeting people
Through Olga we meet Ura (ex seaman). Evening onboard with him, wife Helen, young daughter & her friend. Helen wants our opinion on, genetically modified foods, coca-cola being bad for you, politics etc (never a dull moment). The young girls are shy but thrilled to have photo taken on boat.
Pavlo, taxi driver (yachtsman). Speaks English
Enjoy talking to people who are sunbathing on jetty (adjacent compound).
Touring Ai- Petrie Mountain
Enjoyed going up in cable car, misty at top so view's spoilt. Drink hot chocolate at restaurant. Tony disgusted with carnival atmosphere of stalls & shops. I was equally disgusted with outdoor toilet facilities (should have tried the restaurant's). Old tradition, people tie ribbons etc to trees here for good luck. I found something suitable & tied small bow. Enjoyed walking around woodland.
Lunch at terrace restaurant overlooking Swallows Nest & lovely coastline.
Livadia Palace-Museum (Former Tsar's residence). 11 Feb 1945, Yalta Conference held here. Roosevelt, Stalin & Churchill. A long wait to see inside (30 mins), instead we spend time looking around the Italian Courtyard & beautiful gardens. Glorious views of the coast.
Massandra Winery (oldest winery in Ukraine). Wine tour very interesting. Wine tasting enjoyable but for us, disappointing. 10 wines to taste, mostly sweet (we prefer dry). Bought brut champagne instead (OK that name belongs to the French, try telling a Ukrainian that). White Champagne (approx £2.5btl), Red £3
Inkerman Winery. Interesting drive for Tony. He's just finished a book (Battle of Inkerman) & gets to see the area, even helps driver with directions. Rugged coast line, deep canyons & inland valley. Bought dry wine here. Back in Sevastopol, Driver takes us to reputable wine store for particular label we like. Care needed when buying alcohol in Ukraine. Don't buy wine or spirits from stalls.
13th July Sevastopol to Yevpatoria. 5hrs 25m. 33.6M
Call Lebed (no response). Call port cntrl, given permission to leave & they will inform Lebed of our departure. Victor says strong wind & rough sea today (
Internet
forecast light winds for 3dys). 0900hr depart Sevastopol, NNW F3, sunny & slight seas. Good
passage,
get to sunbathe on deck.
Arrive Yevpatoria & call Hrb Control. Can't give us permission to tie up at pier & no explanation (local yacht tied there & plenty of space?). Told to anchor. Tony beginning to think our boat must look suspicious in some way?. Drop anchor & not much later a big tug boat comes close (immigration officials aboard it, they want to check our papers). Tug ties it's stern to ours (highly dangerous), officials come on board SF. Polite & friendly, check doc's & we ask why can't we tie at pier (they don't know). Rain early evening, wind picking up & swell in hrb uncomfortable.
14th 0800hr Call hrb cntrl & request permission to depart. No, they can't allow us to leave, strong winds expected & dangerous seas, stay in hrb. Put a little strongly but never the less, much appreciated instructions. So Victor was right (but a day out). Conditions very bad in hrb as day progresses. Strong winds rushing in, big swell. Rains most of the day. Anchor holding well. Overnight wind changes direction, less roll so get some sleep.
15th Another day in hrb, stay on board & catch up with misc jobs. Winds slowly decreasing.
16th July Yevpatoria to Chornomors'ke. 9hrs 21m. 60,4M
0610hr call hrb cntrl & given permission to leave. Variable winds, F3-4, bright day. Slightly rough passage as winds pick up during the day, die down later. Taking
photo's (with fancy zoom
lens
camera) as we pass well known tourist spot (
Mis Tarkhankut
area).
There's also a naval base around & we hear ref to photograph's & yacht on CH 16. Surely with all the cruise liners passing this coast & thousands of photo's taken, officials cant be that touchy?. Put camera down for awhile anyway.
1530hr arrive Chornomors'ke. Call Naval Base, no response. Call port cntrl, they are friendly (very little English). CG call us (good English.). This 3 way conversation means we spend a long time moving slowly around the bay, waiting for permission to enter Naval hrb. Not easy for Tony while keeping his eye on swimmers, pedalo's & jet-ski's. Local yachtsman calls to us from dinghy. Forget radio, he will take us into Naval hrb. Goes back to his sailing yacht (charter boat, at anchor nr beach). Lifts his anchor & guides us to pontoon in Naval hrb. Waves goodbye & back to his anchor spot. This pontoon is private concern, not navy. Two young navy officers do come to speak with us (+ other ranks). Just checking who we are & where from. Immigration check passports & woman collects her fee for mooring (5$). The steel quay is drab looking but secure. Lots of wrecks around, old ships left to rot into the water. I go shopping, exit gate has security box & watchman (sometimes woman). A funny scarecrow stands opposite divers huts. Dogs about but docile enough. Outside, rough lanes & long walk to nearest small shop. Lots of smart houses being built in this area. Return to boat, the two young naval officers, now off duty, have come for a beer. They phone their wives who come to the boat with wine, vodka & food. Nice girls (one 6mths pregnant). Enjoyed their company & gave soft toy to pregnant wife when leaving.
17th July Chornomors'ke to Odessa. 18hrs 01m. 102.9M
WNW (F3), Sunny & bright (hot day). Slight sea. Lucky with this long passage, some rain but get to sunbathe on deck again, "great". No particular problems on our night watch rota. Care needed on approach, lots of traffic.
18Th 0800hr arrive Odessa. Call port cntrl & given permission to enter marina (TCF Nautical Club). Warm welcome from dispatcher who remembers us. Friendly & efficient officials come to the boat. Get told off (nicely), no Lebed (CG) stamp on crew list when leaving Sevastopol. People always vague about this but we now think, original crew list should be stamped by Lebed (CG), in & out at port of entry. And again, in & out of any major hrb. Never let go of it & insist on copy if any station wants to take it from you.
Meet Andrew Samotkan again (deputy director of TCF), a friendly & interested listener, he was disturbed by our treatment on east coast. Our visas need extension & he arranges this with Immigration (100$ total).
Andrew Samotkan [left], Proposed HLR. With Tony Moore of Southern Flight. & Valery Kravchenko owner of Mozart Hotel & friend.
Last year we met yacht owners, capt's/crew. Made lots of friends This year we get to entertain them (& be entertained by them). Happy days.
Enjoy hot weather. Odessa has a beautiful Opera house & other fine building. Lots of tourist attractions. Good market, it's a long walk but you get to see how locals live. People are generally very friendly. Loved the monuments & sculptures in parks.
VIPs again!. TV programme about us (local channel). A regular programme about special visitors to Odessa. Our long marriage (38yrs) is considered romantic & our lifestyle interesting. When interviewed we try to be "romantic & interesting".
One day tour. Arranged at reception Odessa hotel (Driver & car 150$) 9am -6pm
Good car (Mercedes) & driver speaks some English. Heading for Belgorod. Hot day, drive through miles of farmland. Corn fields, sunflowers, vines etc. Pyramid piles of watermelons being sold at roadside stalls. Visit the Fortress of Belgorod-Dnectrovsky.
Not all section of ramparts are safe to walk on.& some towers bricked up. Loved the interior with it's big yards. Tony getting quite carried away & would like to live inside these walls, make use of all this space, have lots of animals & beautiful gardens etc. Drag Tony away from fortress!. Onto Shabo (wine making farm approx 50 miles from Odessa). Find it's closed for renovation. Our driver lives near "The Wine Institute" & testing venue. Takes us there. Institute looks very grand, but it's by appointment only. Not to be deterred, nearby is restaurant which does wine tasting & sells in reasonable quantity. Excellent meal, could have tried 15 wines (mostly sweet). Explained we like dry & tried 4. Bought wines (£2-£2.50 btl). Adding to our winter stock (well, tucking in as required!). Return to marina, "what a good day".
Note: T.C.F charges Approx £10.50 day (inc water & elec).
04th Aug Odessa to Ust-Dunaysk (Danube Delta). 14hrs 91.5M
Wind south F2-3, Good vis. Not as hot as past few days, overcast sky on occasions. A long day to simply enjoy being at sea. Lots to do onboard & watching shipping keeps us alert. We met a Ukrainian friend at Ust-Dunaysk & followed him into the river. He's cruised this area previously. One overnight stop at Vilkovka. We would strongly advise
anyone
without experience to collect more information than provided in a basic pilot book (even for leaving buoyed channel & entering Ust-Dunaysk harbour). We thoroughly enjoyed our time on the river and a trip on local boat into smaller river channels. Amazing scenery, the interesting way of life for locals, all manner of sea & water birds.
Mooring 50$ night, no water or elec supplied (suspect overcharged). Back to Ust-Dunaysk, check out of Ukraine. Officials helpful on arrive & depart.
05th Aug Danube to Constanta (Port Tomis). Romania. 20hrs 129.9M
Forecast NW (F3-4). Evening when departing Ust'Dunaysk (getting dark), negotiated channel without incident. Will meet our friend again in Bulgaria, his yacht faster than ours. Slight sea but gets rougher overnight, thunder & lightning but no problems. Tony takes most of night watch.
06th Winds down to F2, hot & bright. Arrive Port Tomis. Pleasantly surprised when entering. Breakwaters extended, improved elect supply & told pontoons to be installed soon. Fishing vessels have moved elsewhere. Tied alongside breakwater. H/master (Port Tomis, not Constanta) to boat. A pleasant blonde lady, she takes basic details of yacht & charges for engines (2x115=10Euro). Immigration, customs & harbour officials arrive later, they are friendly & helpful.
We enjoy 2 days rest. Locals are gregarious & like to stare at and into the boat. Man with family said "we have come to visit" (would have been gutted if sent away). Nice family, wife & 2 small daughters. Gave them cold drinks, they took photo's of boat & went away happy. Old town around Tomis is a little drab. Close by is interesting Museum & Roman artefact building. Supermarkets & ATM machines. Much more of everything in main town.
08th Aug Port Tomis to Varna (Bulgaria). 13hrs 13m, 79.1M
Prepare to depart. Inform Port control & arrange time (CH16/ 67). Officials to the boat, Constanta h/master, customs & immigration.
Quick
& efficient. Ask how much we owe for mooring. H/master laughs, "pay who", they don't take money, Tomis h/master should have taken it on entry, just go he says. They leave, very quickly followed by young man from security gate. He sorts out fee (approx £16 night, inc elec & water).
1757hr, depart Port Tomis. Light-mod NW winds. slight seas. My watch late evening. Tony takes most of the night watch (he actually likes night watch, especially if plenty of traffic). 09th Aug, morning warm but overcast, wind picking up a little. Watching out for nets.
Varna Port arrive 0710. Warships/Submarines at anchor outside hrb (recent celebration/125yrs Bulgarian Navy). Tied at passenger terminal. Our 3rd visit & Valentin (manager, passenger & yacht terminal) has become a good friend. All officials are friendly & helpful.
Valentin Kitanov Manager of Passenger & Yacht Terminals, Proposed HLR.
09th Aug to 14th Sept.
Mostly hot & dry days. Dory off the bow, canopy up & enjoy a short holiday.
Visit our Ukrainian friend who was moored at Golden Sands Marina. A holiday resort with no end of hotels & beach facilities. Our visit coincided with bad weather, torrential rain (not often this time of year) & fairly strong winds. The swell in this marina was EXTREMELY BAD. Marina is expensive, approx £17 dy (15mt yacht) exc elec & water.
We stayed in Varna but still get to enjoy the company of our friends. There's a restaurant at passenger terminal. Varna is holiday resort. Miles of beaches & beach facilities. Not as smart or well tended as Golden Sands but we enjoyed them. The park is vast with many excellent attractions. Good shopping in centre & lots of tourist sights.
About our stay
Our daughter & grandson visit for a week. A good time had by all.
While out & about we get friendly with English speaking taxi driver (Tony). Agree a price for touring in his reliable & comfortable Mercedes. Val approves so must be OK.
12th Aug. Interesting ship comes in. Armenian "Replica merchant Sailing Ship" (13th century ). Built by "AYAS" Nautical research Club (ayas@freenet.am/www.ayas.am).
Enjoyed an evening on board with them. Ate dried meat & fruit (very authentic of the era).
3 Day Tour Of Bulgaria.
Bulgarians have great respect for their monasteries. When oppressed by the Turks, the monks kept history & culture alive (also helped liberate the people). Dryanova monastery, an overnight stop. Monastery complex has accommodation, museum, caves, ancient buildings & lots of healthy walks through woods. We take rooms at chalet style hotel. Basic but comfortable. On-suite with strange but excellent shower (middle of room, no curtain & floor gets soaked).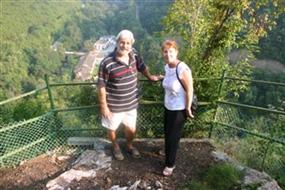 Also visited Arbanassi (ancient small churches, monasteries & pretty village). Etur (village where craftsmen use water powered equipment), Shipka National Park Museum.(site of famous battle). Kazanlak (Thracian Tomb). Plovdiv (Roman Theatre)
Bachkovo Monastery (wonderful artwork). Overnight at village nearby (tranquil hotel).
Nessebar, a holiday resort. & could moor here. Look around but too big & busy for us.
13th Sept Varna to Atakoy (Istanbul, Turkey). 23hrs 21m. 152.9M
Arranged check out 5pm. Officials arrive 7.45pm. Depart 8pm, Back in Varna 9.30pm. Didn't leave the bay before realising something wrong, couldn't pick up speed. Turn back & Val arranges diver for next day. 14th Sept, diver goes under & scrapes props, shafts etc. After one month in hrb the barnacle's thick on props & practically blocking skin fittings, we had moved around in hrb once (soundings being taken at quay). Authorities gave us this emergency time (no checking back in).
15th Sept. Depart Varna 11.20am. Fairly strong winds & uncomfortable swell most of the way. We plan to enter Bosphorus early morning.
16th Sept, lots of traffic about on approaches to Bosphorus. In Bosphorus Tony gets to enjoy wading through ferry lanes again & arrive Atakoy 10.40am. Two seasons cruising the Black Sea & would not have missed the experience. Time for a change. After a short stop in Atakoy, will press on to enjoy cruising Greek islands. Stopping at Crete (November) for the winter.
A few photo's of our stops on the way to Crete.
WELCOME

TO CRETE
For the above Log we were awarded the
Yachting World Family Cruising Trophy