M Y Southern Flight Extracts from Log 2001
Kantaoui

Tunisia
Time to catch up with family

matters

& enjoy Tunisia
Southern Flight in Kantaoui Hotel gardens opposite our mooring place.
Faycel cleaning the boat (temporary work).
20th Jan I go to Sousse with friend Edith. We have serious discussion with man in shoe shop about girls coming out of school at 10yrs old to begin earning money for the family. Family's with bright girls will try to educate the girls better (if dad is in favour & they can afford to).
Tony is in Kantaoui busy starting deck re-corking.
22nd Jan Supper on SY Navaho. Delicious pork & good company, Nick, Jenny & son Harry.
S Y Navaho
23rd Jan Tunis with Edith to pick up visas for Tony & I to visit Ukraine. Take a walk around the Medina & a park with very big zoo. Didn't see it all, saw big cats in restricted cages & didn't like it much. The park itself is lovely. Back in Kantaoui I realise visas have wrong dates on.
In Tunis with Edith
26th Jan I go back to Tunis & change dates on Ukraine visas. Find a travel agent who takes cr cards. It's raining heavily, lunch in self service café. Chat with nice young man on train home, he's from Amsterdam. Talking about Russia & EU. Belgium objects to Holland having same EU voting rights (voting by populace), less people in Holland than Belgium.
31st Jan Tony still working on the deck & I sort out paperwork etc.
2nd Feb Raphial (manager of Maha yacht ) sends sailor to assist with the deck work. Tunisian carpenter (Gallas) also helping. Raphial always ready to help, he & Tony got on well.
3rd Feb Brahim orders primer & Sekoflex.
6th Feb Gemlee comes to work on the boat (cleaning external). She left feeling unwell. Her first day. She's a pretty & intelligent girl, speaks good English. We thought that all our paperwork was correct regarding her working on the boat (approved by capt Chafik). Gemlee only with us a few days when we were called into the marina police office. They said her papers not correct for working in the marina & she can't carry on. They may have relented but Gemlee told, somebody had accused her of making abusive phone calls?. She was so upset by this that she didn't want to work in the marina any more. Suspect some guy annoyed a girl has the job & stirring trouble?.
We later employ a girl called Nabiha who has correct papers & works more inside the boat than out (inc some cooking). This frees me for polishing paintwork etc.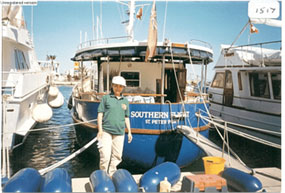 Nabiha
14th to 21st Feb Annette, Olly & Jake supposed to arrive Tunisia. I go to meet them at Monastir. Only Annette & Jake arrive. Olly found out his passport out of date at M/C airport. He drove 400 miles to amend & arrived a 2 dys later.Enjoyed their stay & had some fun
Jake about to jump overboard Jake with new found friend.

Has Olly knocked down Jakes friend? Well it is February
During our stay in Kantaoui Tony met a Ukrainian man (a tourist) & this resulted in a firm friendship. We kept in touch by e-mail & were invited to his home in Kiev.
25th Feb Overnight in Istanbul (on route to Kiev). Stay at hotel (½ hr from airport). Take a short walk but no time for sightseeing (early start tomorrow). Evening meal in hotel.
I was in the back of mini bus when preparing to return to airport. Feeling cornered & squashed when the driver closed the side door. He's waiting for more people even though the vehicle is full of luggage & most seats taken. No windows open & the air gets stuffy. It panicked me & until a window was opened I was ready to jump out at any expense. OK when I got some air.
26th Feb Arrive Kiev midday, met by our friend Dima (plus chauffeur). We drive out of the city in thick snow.
Driving through snow Cold but pretty
Dimas has a beautiful home in one of the housing estates built alongside the river Dnipro.
Met wife Elana & 10yr old daughter Anna (off school/broken arm). We were treated to a typical Ukraine reception (Dima's words). First a salute with Vodka (drink it back in one), followed by eating piece of onion dipped in salt, then a piece of smoked pork on black bread. This combination makes what we can only describe as an explosion of flavours in the mouth. Repeat at least three times for various toasts to us (the guests), GREAT STUFFF. The Vodka is served in small glasses & must be followed by food. For lunch we ate various salad dishes (tasty dressings), cold meats, cheese etc. A hot meat dish then cakes. During our stay we are treated to many delicious Ukrainian dishes. Later we meet son Sasha & his girlfriend.
When we visit a supermarket my shoulder bag is sealed in plastic before I am allowed entry. I go with Elana to visit her mum, sister & brother in-law (very friendly people) They live in a big block of flats (a lot of security). I receive some instruction from Elana's tennis coach (I still can't play).
8th March is women's day. Flowers & gifts are exchanged. Men giving to women & women giving to women. Pupils give presents to female teachers. All round a good day for women. We bought gifts for the ladies of Dima's house (& Anna of course). I receive gifts from them (what a nice day).
We enjoy a trip to the bowling alley & various meals out, a German pub, restaurant by the river etc. Go for a walk one day with Anna & she takes us to a restaurant for lunch (out of the housing estate). Not long before a chauffeur turns up to escort us home. Not before Anna has had her fill though (she loves her food).
We were given tours of the city by Dima's lovely mother (Natalie) & friend (Gregory). Both are professor's in physics & Natalie's mother was famous pianist & teacher of same. Gregory's knowledge of the city & Ukraine history was better than any guide book.
Natalie (left), Anna, Kathy & Gregory St Nicholas church (17th century)
Beautiful Kiev Anna (left), Kathy, Natalie & Tony.
We were treated to a night at the Philharmonic, a solo pianist on stage.
A little champagne before the performance (good idea)
Anna was our interpretor when we went shopping or for more walking around the city. Kiev has beautiful & interesting buildings, it's a clean city. Sasha drove us around sometimes & we enjoyed his company. His girlfriend is very sweet.
History museum, Anna & I look at the Empress Elizabeth's coach
Sasha & his girlfriend (a night out at the bowling alley).
Tony takes a dip in the freezing river with Dima (ice broken & small pool prepared ). The same evening they are invited to a Russian Sauna (banya). Held in the home of Dimas friend (a house nearby), it was a men only night. They sit in extremely hot sauna (cloth cap on head a necessity), then a dip in the freezing river & food (plus vodka) to follow. Then start all over again.
On the morning of our departure, Tony & Dima take a dip in the river. The thick ice is broken again & pool prepared, the idea is to fully immerse your naked body in the freezing water (head under at least 3 times). It's supposed to be good for you (?), I opted for taking a few photo's instead (discreetly of course). No vodka this early in the morning, it's breakfast & a fond farewell.
The pool has been prepared Where's Dima gone?
Three time head under please Where's Tony gone?

We had a great time, were treated like family & we promise to try & visit them again (by boat maybe). Tony starts thinking this over seriously, maybe we should cruise the Black Sea?
It's time for a fond farewell.
10th March Two nights in Istanbul (on route to Tunisia). Visit Atakoy marina (not impressed), visit Dolmabahce Palace, we were both very impressed. Night out at Orient House, folklore & belly dancing. A good show & four course meal. Hefty price (75 $), even though the Turkish currency is depressed, they quote in American or German currency & make a good profit.
A night out in Istanbul
12th March Return to Kantaoui. Catch up on a few boat jobs etc.
13th March I go to Sousse to pick up parcel containing my HRT (giving away my age). After messing about finding the right customs office & explaining what the drugs are for (embarrassing), I am sent to the pick up counter & told "sorry, the package has been returned to Guernsey".
24th March Tonys birthday & friends help us celebrate
Tony is having a good birthday The cake arrives
Candles blown so make a wish Nick, Jenny & family (yacht Navaho) help us celebrate
4th April To Sousse & pick up engine part, show passport & explain to customs what part is for.
12th Aug After visiting family in UK I return to Tunisia from Manchester. John Adams & Jake with me. John thoroughly enjoyed mooching around Kantaoui & Sousse. Jake loved the beach & we were sorry to see them leave (19th August).
27th Sept Brahim shows us his mothers home & then takes us to his house which is in the process of being built (his brother helping). His mum's home is in a street which I notice is meticulously clean. It's a traditional home (63 yrs old). A passage through downstairs rooms & then into the kitchen. The kitchen opens up to a small courtyard, with a lemon tree at the centre. A covered well under the courtyard (near the kitchen). Bedrooms off this courtyard & a further room up some steps. Then an open roof top. It seems to me a nice family situation. Brahim's new home will be more modern I think, with a garden rather than central courtyard & 3 floors high. Still with open roof top (necessary maybe in this climate). Building progresses as money allows (normal in this country). His brother is building a home next door and this close family situation, I think, is also very usual (& a good idea). Suspect open roofs also mean an extra floor can be added later.
A day out in Sousse with Edith. We are joined by a young Tunisian man she & Gunta have become very good friends with. He's intelligent & it's interesting to hear his point of view on Tunisia's past & present situation. Enjoyed looking around the interesting sights of Sousse.
Gunta & Edith (top). SY Antonia A day out in Sousse
Doors in Tunisia are symbolic(sanctity of family inside)
Tradition in still life (weaving). Wedding preparation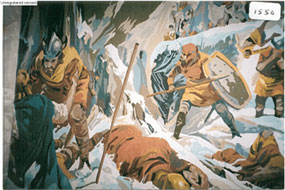 Is that a Viking I see? (left)
One day in Kantaoui, school children arrive in traditional dress. A special day in Tunisia maybe?.
That's a Jake pose (boy in black) School children in traditional dress
11th Sept & we are in Kantauoi. Locals as shocked as we are.
11th Sept on TV.
4th Oct FUEL UP. 2000Ltr x .415 (830 Dinar), plus 2 x 5 Dinar delivery charges.
Oct to early Nov. We spend some time in Guernsey catching up on friends etc.
5th Nov Return to Tunisia.
6th Nov Dinner at Sousse. Ribat Building. Special function to celebrate 07th Nov (Presidents Day). Excellent buffet/BBQ, cabaret of Caribbean dancers & belly dancers. Lots of people from hotels present. Thanks given & also prizes for tourists who visit often.
Enjoying special function with friends from the marina.
8th Nov Exercise class at the Port Beach Club with ladies from other yachts. Good showers & sauna, not so good class. No mats so we lay our towels down on the hard floor to exercise (ouch).
Bit of a tussle with French couple on our port side. They live in Tunisia but own a trader. They come very early in the morning (6am most days), make a lot of noise entering their yacht & then starting the engine on their small boat tied nearby (used for fishing). They speak no English & we don't speak French. We put our complaint through Mr Chafik who then tells us they say we are interfering with their liberty (very French, watch out for the guillotine). We become friendly later & all is forgiven.
Christmas this year is spent with our family in UK & new year we are in Guernsey with friends. Lots of festive fun
Misc Notes:-
Salad/potatoes/chilli's/tuna & harissa (Tunisian sandwich, 1 dinar).
Premier train ticket is best (not just first class)
Direct flights to Manchester a problem, no charter flights. & fly from Tunis (a long drive). To Tunisia it may be easy (M/C to Monastir, only ½ hr away). Some prices ref 3mth ticket.:-
Mesda travel, Tunis-Lyon- M/C 818td (rtn), 674.5td single.
Tamarin 859td, no apex.. Tunis Air 784 apex (both Sousse).
Moon travel, 3 Rue d'Algerie, Sousse. (YES) Tel: 73229555 / 73228822(F)825 (Hatem).