M Y Southern Flight Extracts from Log 2000
Costa del Sol,
Islas

Baleares

, Sardinia & Tunisia.
Is the Med going to be all it's

supposed

to be.
We enjoyed Marina del Este as our winter stop (Nov 99 to May 2000), It's a pretty place.
Other yachts in for long & short stay. SY Kormoran (Alex & Joy Collett). S.Y. Jsola Bella (Greta & Hans). S.Y. Cassandra (Hendry & Rita). MY (?), moored in the marina all winter, owned by Richard & Pam. Tony helped them with pump problem & we enjoyed a meal out with them. S.Y. Rallentando (Ketch, reg'd Jersey), came in for fuel.. Freedom, a catamaran being taken to UK for sale (Michael owner & Dirk crew). They left the marina but returned (big swell & high waves).
11th Feb. Caroline & Jake arrive. The Inmarsat Mini-M is removed by States Marine. We've been unable to access certain systems within the computer with regard to Mini-M. Told the equipment at fault (will be sent back to manufacturer for testing). Caroline goes home on the 13th & leaves Jake with us for a week. His first holiday without mum. He misses her but is confident enough to stay on the boat & we all have fun.
Tony & Jake play pirates.
17th Feb. Hans (SY Jsola Bella) amused by the pirate antics & gives Jake a yachting cap. We liked this couple.
14th Mar. The wild cat which had been expecting kittens, turns up looking slim but hungry. We were beginning to think she was dead (hadn't seen her for a long time). Gave her a good feed.
18th Mar. We finally get the Mini-M returned & re-installed (co. Electronica Trepart). Fitter with us 3.30 - 11.30 pm. Manufacturer could find no fault with the equipment. We still have the same problems & in addition, the fitter doesn't know how to restore our E-mail access. I finally sort out the problems via support call to France Telecom (our L.E.S). Thought the calls were free but told using pre-paid sim card, "they aren't". No software in the world capable of translating Inmarsat free support calls via pre-paid sim, also our computer access problems (to files ref mini-m) will be same basis. We arrange with our air time provider to pay by monthly account (owner level). Ditch the sim card & all problems resolved.
29th Mar. Black & white cat makes an awful mess on Kormoran. It's after Ee-ho's food, we decide to feed Ee-ho on our boat. She keeps us awake trying to get into the cabins so we let her in (before she scratches the varnished doors) . Next day she's under the covers in the strb bunk. Next night she tries to come in with us & we sent her back to strb cabin (saucy madam).
7th April Tony chatting to fisherman on the quay. Quite a swell in the marina (strong winds) & the passerel shifts below the quay. Tony just to far away to reach it in time, passerel lifts & the joint is bent. Same period when Kormoran stern was damaged.
30th April Caroline & Jake have been with us on holiday & during this time Caroline took a Padi diving course. Last dive today & she passes all elements (Hooray). Sadly they leave today also.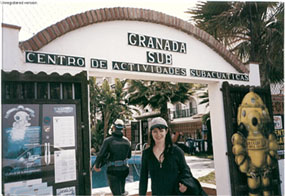 Caroline looking happy/passed her diving course
May. Tony & I do some touring. Nerja caves well worth a look, discovered in 1959 by youngsters trying to catch bats. Many different chambers, & some full of colour. One chamber has space laid out for dance/music festivals (seats 600). Visit various villages & enjoy mountain drives.
9th May. A two day tour, along coastline (east this time) & then to Trevelez in the Las Alpujarras (southern side of Sierra Nevada). Our lunch stop was the interesting village of Salobrena (on the coast), with it's narrow streets and castle way up high. The drive into the mountains was great. Spent the night at Teide Restaurant/apartments, Carretera (Bubion). The proprietors pleasant but it was very basic accommodation & not particularly comfortable. After paying for the night we take a look around. Turn a corner in the village to find a lovely small hotel with beautiful views from it's terrace. (typical!). Late evening & overnight it was cold so we switch the heating on, the pipes were very noisy. Arrive Trevelez, this is the highest village in Spain (according to our tour book) & famous for it's cured ham. Lots of tourist shops etc. in the mountain villages but still they remain generally unspoilt.
Patience required on this tour. Farrier at work.
20th May Marina del Este to Almerimar
Overcast, slight sw winds & calm sea. Wind against tide & slightly choppy sometimes. Saw boat with divers down & no flag showing. Almerimar we try to get the big gas bottle filled but John has no gas (he fills on the QT).
25th May Almerimar to Las Negras (anchorage).
Bright sunshine, light sw winds & beam sea. Rains later & dull.
Strb
stabilizer not working
, Tony suspects it's
seized
up. No problems at anchor, pleasant scenery & a peaceful night.
26th May Las Negras to Cartegena
Sunny, light se winds. 2pm, Celtic Crusader (bulk carrier,
Nassau
), changed course for us & we get friendly waves on passing. Entering Cartagena marina was no problem & we were allowed to tie at the quay. This proved to be handy, we noticed a mechanic working on a local boat close by & asked him to check the
strb
engine. Only a few English words spoken but sign body
language
& engine manual sufficed. The Banjo (return on fuel connection) had a
minuscule
crack He
made & fitted new Banjo,
an excellent job (reasonable price). Enjoyed Cartegena, lots of history, interesting buildings & good food. Book swap with other boats, one woman (glad for this opportunity) said, "so low on novels, she'd resorted to reading pilot books"
.
Cartegena
30th May Cartagena to Puerto de Santa Pola & Puerto de Villajoyosa (Alcoco).
Sunshine & light winds but hazy. Entered Santa Pola but restricted spaces & didn't like the look of the place. Liked Villajoyosa
generally
but couldn't understand the lack of response to our enquiries at the ship yard about slipping. We wanted them to work on the strb stabilizer, they said "local boats only".
1st June Villajoyosa to Calpe
Light winds & calm sea, no problems. Tied to hammerhead at the marina but moved to a space near the boat yard. The yacht club were not helpful regarding mooring, explained we required works carried out at the yard and needed a mooring before & after. They said "expecting a rally so it's difficult to give us a place". We were ok until going up the slip. The yacht yard had to put us back in the water before completion of all the work we would have liked (commercial vessels to see to). We could have gone back up later, but pressured by the yacht club, we left. As it turned out the rally was cancelled anyway.
We had various works carried out at the excellent yacht yard of Belliure (www.belliure.com). They build MY's & SY's here. Works still require owners supervision (nowhere is perfect!). Ex: the strb stabilizer replaced, Tony noticed the fitter putting it in with grease & stopped him, took it back out to clean but we were concerned about it's integrity?. Anti-foul started without primer until Tony stepped in. Stainless steel boarding ladders made. Stainless steel plate made & fitted at the bow (to stop damage from anchor chain lashing), both excellent work.
We enjoyed Calpe with it's rock to climb, on a good day you are supposed to be able to see the Balearic's (I didn't go to the highest point, 332mt). Lots of beaches & fish restaurants galore.
Southern Flight at Belliure yard Plate made to stop anchor chain whipping the bow
Peak of the rock. Calpe marina & beaches as seen from the rock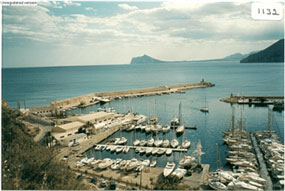 Calpe marina as seen from the rock.
11th June Calpe to La Grandadilla (anchorage).
Horrid swell & a roly poly night.
12th June La Grandadilla to Ibiza (San Antonio Abad)
Clear sky & sunny, light winds at the start but variable during the trip & sometimes strong.
Tied to a pontoon at San Antonio, we liked this marina & the people friendly. Enjoyed our stay on the island very much, one day we took the bikes & cycled uphill then down to a lovely valley. Small holdings & orange/lemon groves etc. A beautiful area. We stop for lunch & a rest for the weary legs. As we sat, a petite tourist train passed on the road (it had come from San Antonio). We enjoyed the exercise anyway & took a different route home (over looking the coast ).
Which way shall we go then Tony. No not that way
15th June San Antonio Abad to Ensenada de la Canal (anchorage)
A pleasant overnight anchorage.(S. Ibiza).
16th June Ensenada de la canal to Puerto del Espalmador (anchorage)
Espalmador is small island north of Formentera & no port there really. Surrounded by other yachts, we enjoyed our time at anchor. Didn't go to the beach but swam & rested. No noisy beach bars here (great). Watching a French yacht dragging it's anchor, we called out to the yacht it was dragging towards. The skipper of the French yacht managed to avoid a bad collision, but did get close. To our amazement, he convinced the other skipper to up anchor and move, he re-anchored more or less where they had been!. We are feeling over dressed most of the time as people fond of going nude.
21st June Espalmador to Puerto de Ibiza
After going around the island of Formentera, we make our way to Ibiza Port. A sunny day & very pleasant passage. Ibiza Port (Nueva) was all we expected it to be, busy & buzzing. Ibiza is Annette's
favourite
disco island, not looking for disco nights ourselves, we simple enjoyed the variety of restaurants on offer & mooching around. We found the port pleasant & not
particularly
noisy
Approaching Ibiza (Botafoch lighthouse) Southern Flight in Ibiza (Nueva).
23rd June Ibiza Port to Cala Boix (at anchor)
Short & pleasant passage. This inlet has rocky cliffs & a pretty but small beach. The first night at anchor we ate on the stern, sea flat as a
pancake.
Second night was roly poly.
25th June Cala Boix to Cala Portinax, at anchor (NE Ibiza).
Short & pleasant passage.
Popular
tourist spot, 3 bays so 3 lots of music at night. At least the music didn't go on all night. Picked anchor spot (west) not to close to any beach, the anchorage is lovely, dropped two anchors & they held. Also enjoyed our time off the boat, looking around the shops etc. Lots of good eating places. The only blot on this happy situation was when we tried to leave. The first anchor up had it's chain twisted around the second chain. With the second anchor still dug in (fortunately), Tony got into the dinghy, tied a rope to the first anchor & I secured the rope on deck. He then had to release the anchor from it's chain (in order to untangle the chains). The anchors (admiralty) are heavy & not easy to handle, it took two hours to sort out. I then pulled up the first anchor (using hand gear). All went OK, thank goodness!. We liked Ibiza.
30th June Ibiza to Mallorca (Puerto de Andraitx).
No problems on passage. Given a berth in Andraitx and we relax for the afternoon & evening. Next day we cycle to the old town (exhausting but enjoyable). The family joining us soon so we decide to cruise around & see where would suit them best. Looked at ¾ of this island, it has
beautiful
anchorages but lacks safe landing places for dinghy's. People a bit surly (a rip off the tourist attitude).
2nd July Andraitx to Puerto El Arenal
Pleasant passage, mod winds & sunny. In Arenal we are given a berth alongside the quay (west), a long walk to the club office. Didn't find this a friendly place (impersonal). Given the impression the pool was for members only. Lots of noise from the bay. A strong flow in & out of the entrance produced swirling water
3rd July Arenal to Cala Mondrago (at anchor)
A nice place, spoilt by superyacht with jet ski's & fast small boats. One guy almost lost control of a small boat when passing our bow. If he'd hit us at the speed he was going, I don't think he would have got away without serious injury. Not to mention the damage he may have caused. A roly poly night at anchor.
Southern Flight in Cala Mondrago
4th July Mondrago to Porto Petro to Cala Llonga (Calo d'es Pous) to Cala Ferrera (at anchor)
Porto Petro (cala morts), nice beaches (disco noise not bad).
Cala Llonga (Calo d'es Pous). Anchored off the small bay, fairly pretty , nice houses, good holding.
On leaving we looked into Cala d'Or (it was roped off), Checked out Cala Gran, it has good beach, quite a few yachts in & shelter looks reasonable.
Cala Ferrera. Very pretty anchorage & beach. Hotels, pedalos' etc., but not too noisy. Liked it a lot.
5th July Cala Ferrara to Cala Mitjana & Porto Colom (at anchor)
Mitjana, a rope across the bay, no good
anchor
space.
Porto Colom, excellent anchorage but thought the harbour looked drab. Didn't leave the boat on this occasion, thought better of it on later visits (good restaurants).
7th July Porto Colom to Puerto de Alcudia
Alcudia a big & pleasant enough marina, tried one or two eating places. A beach side restaurant with pleasant views was OK. A
paella
in harbour restaurant gave me stomach cramps (service was bad also). A hired SY yacht tied next to us was being used to shoot a few episodes of a German soap opera (based on the American soap
Friends
). A scene being shot on their deck about a birthday celebration & Tony was reading a book on our bow (the camera pointing his way sometimes). About 11 young people sleeping on the decks of that yacht, they were pleasant & respectful.
Some of the cast of German soap opera. Alcudia
11th July Puerto de Alcudia to Porto Colom (at anchor).
Going back on our tracks & looking into the Calas as we go. The winds fairly strong today (gusting 6, se) & a swell running, it would make most of them
uncomfortable.
We settled for a nice calm anchorage in Colom. Preparation in progress to lay mooring buoys here (west side).
12th July, bright yellow mooring buoys now put down in neat rows & we prepare (as other yachts) to pick one up. Bringing in the anchor we also picked up a lot of string, it must have been left when the area was being marked for the buoys. Yards of it around the anchor, easily sorted out later. We pick up a buoy and can't believe our luck. A buoy, specially for us, in summer, IN MALLORCA!. The winds are fairly strong again but now we don't have to worry about the anchor dragging.
Mooring buoys being fixed, Porto Colom
A Scottish guy in small SY is anchored near the harbour channel (also near a buoy for larger vessel's). Tony suspects he has weights down. Two larger vessels try to persuade him to move but he wouldn't. When he did move next day, he left his gear on a float.
13th July An English guy in a dinghy was dragging the area around us with an anchor, he lives here & owns a SY . He'd left anchors tied to a bobber, the bobbers gone. He found his anchors (happy man). This harbour looks better close up & we enjoyed our stay here (very good restaurants). We both spent some time cleaning & polishing the boat.
14th July Porto Colom to Porto Petro (at anchor).
Winds still strong & now SW, a short passage to Petro & anchor south of Cala Morts. I got told off for letting the anchor chain out too fast (quiet rightly, chain probably piled up). We dragged a little before feeling the anchor bite in. A yacht anchors & falls back past us but not far enough. Tony kept a wary eye on this yacht during our stay. We never touched but it would have been better if the other yacht let out more chain (they
wouldn't
). Watched a French yacht put a pole across his bows while another French yacht dropped anchor & fell back past him. This precaution was a bit drastic we thought. The joys of cruising!. 22nd July, visited by owner & crew of superyacht (can't recall name). They were curious about SF.
Tried to beg a place in the marina but no joy. Caroline & Jake arrived while we were here & we picked them up in the dinghy. Charged to tie up the dinghy, can't remember how much but it was expensive. We liked the harbour very much, it has atmosphere.
18th-25th July Porto Petro, Cala Gran (at anchor) & Porto Petro (at anchor).
Some enjoyable cruising with Caroline & Jake.
Don't' squirt that in Tony's face Jake. Tony encouraging Jake to swim.
Marina Cala d'Or - Porto Colom - Cala Ferrera - Gran Cala.
Back & forth with the family, enjoy some anchoring, swimming & being together.
I tour with Bruce for a day in his hire car, a monastery, secluded cove for lunch.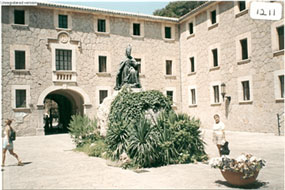 On tour with Bruce
Gran Cala (at anchor). Problems starting the Dory & we tow it to the Cala d'Or marina for repair. We have the dinghy so still able to enjoy trips to the shore. Dropping off points & pathways are quite treacherous here so care required. Excellent beach & lots of places to eat. The family have to leave from here & Tony transports bodies & cases by dinghy to the shore. Before departing we collect the Dory from marina, they couldn't fix it but charged for the lifting out/back in & inspection (£123), no choice but to pay or they wouldn't release it.
5th August Gran Cala to Porto Colom. No buoys free, at anchor & resting.
9th August Porto Petra to Menorca (Cala Santa Galdana) at anchor.
Sunny & moderate winds. A good passage, no problems. Looked at Cala Canutells but didn't fancy this anchorage, cruise the south coast a
little
& settle for Cala Santa Galdana. High rise hotels, jet ski's etc. Apart from the noisy jet ski's we enjoyed our stay at anchor. A lovely place, walking around was a pleasure. The bridge across the mouth of river Barranco gives pleasant views. A busy holiday resort but good atmosphere.
11th August Galdana to Cala de Algayerens (at anchor)
Cruising around we were
disappointed
, some anchorages we liked the look of were buoyed off. Others were too full to accommodate us. We settled down in Algayerens. A pleasant overnight spot.
12th August Algayerens to Fornells (at anchor).
Our time here was a mixture of pleasure & frustration.
Tony tried to buy a standard morse cable in the harbour (for the Dory). We took the old one with us to the harbour. We don't speak Spanish and a guy in a shop/porta-cabin didn't speak English, looking at our cable he shook his head for no, we could see what we wanted on display (scream!).
I tried a test scuba dive. Some basic instruction at the centre was in English but no English spoken by the young lady in charge of me in the water. I found that a bit scary, even though only sitting down in shallow water (off the small island of Sargantana). Later, I tried a deeper test dive. English spoken on the dive boat when we went out, my personal instructor spoke non. The dive went well but I had trouble with my ears. Own language tuition/supervision is a must I think for a novice. I was put off & decided not to take a course.
Enjoyed long walks & a visit by dinghy to look for lizards on Sargantana Island (in the Cala). In this very big Cala a strong wind can make good practice for the local sailing school.
We meet up with our good friends from Marina del Este, Hans & Greta (SY Isola Bella). Enjoyed a meal with them at the harbour.
Meal out with Hans & Greta. SY Isola Bella.
Get to know (& like) Arnold, a lone sailor for many years (SY Pelius). He comments that yachtsmen generally are not as open & friendly as in his early cruising years. Despite this & I suspect a growing loneliness, he carries on. Invited aboard & chat with Brian & Julie (SY Selina), Brian has sailed for many years & Julie is writing a book, Woman for Sail.
23rd August Fornells to Cala de Addaya (at anchor).
Slight winds & sea, a pleasant passage. Picking our way into Addaya was not easy, some buoys not in place. No problems & when in, it's a lovely anchorage. Lots of choice & we anchored not far away from the marina. A walk uphill & we found a chandler who spoke English, purchased a morse cable & other bits and pieces. A good choice of restaurants & a supermarket.
Lone sailor Arnold is also anchored here (SY Pelius).
Cala Adday (marina left).. SY Pelius
Met Peter & Trisha (SY Judy Anne). Judy Anne is referred to as the Mermaid Yacht, Peter & Trish are naturist, Trisha makes a pretty picture on the deck when they cruise around. Tony makes no objections when Trisha rows over to us wearing only a small thong. I was relieved that they were both fully clothed when we visited them (I might have found it difficult where to look!). They treated us to tapas & drinks, the tapas turned out to be a mini banquet (Trish is a good cook). Peter plays classical Guitar. Invite them for lunch & watch a video (Full Monty). We tow their small wooden boat out to Illa Gran d'Addaya (it's a long way to row), a small island with rocky bay tucked inside a narrow opening. Good snorkelling, a small cave to swim into, lots of colour. On our way back to harbour a diving rib crosses our bow & picks up speed to create extra wash. They were teasing us a little we think, not falling for that & Tony turns to cross their wake with ease.
Giving Peter & Trisha a tow. Leaving Illa Gran d'Addaya.
Most of the time we enjoyed light winds & sunny days. Did have a very windy couple of days & one evening we dragged two anchors. It was dark & re-setting anchor more difficult. A Swiss yacht dragged anchor during the night & his trip line bobber was tap, tapping on our hull.
6th Sept Cala de Addaya to Mahon.
Sea rough, only a short passage & no problems. Tied at Isla Clementina, surrounded by other yachts (Judy Anne included). Enjoyed our time here, good facilities & atmosphere.
Isla Clementina, Mahon Looking towards Clementina
Had one or two trips to town with Trish & Peter. A restaurant, Flamenco dancing & celebration time in Mahon. Celebrations include giants parade & horse parades. The beautiful black horses are trained to rear up & it's lucky for people to touch their hearts (lucky to stay alive I think!). Horse racing through town streets, lots of ambulances & first aid people around (no wonder!). The festivities are ended by fantastic firework displays on Isla Pinto.
The giants parade
The black horses Tony, Peter & Trisha
Tony & I enjoying the festivities
Brian & Julie (yacht Selina) in Mahon. When anchored outside of Mahon, Brian suffered a heart attack & Julie had to call for assistance (suspect his sailing days may be coming to an end). Tony used the dinghy to help them move to a buoy while waiting for a diver to remove ropes from props. They'd got into a pickle when leaving a mooring place at the quay (very strong winds that day). They were transferring to Port d' Hivernada (west side Mahon). Enjoyed their company.
The gin tastings in Mahon are free, best not to try all the variety's on offer if in charge of a dinghy!.
We hired a car & did some touring. Mountains, caves, ancient historical sights. We liked Menorca.
Megalithic Burial Mound. Megalithic T shape monuments.
The liner leaves Mahon (& so do we).
23rd/24th Sept (overnight passage) Mahon to Sardinia
Wind fresh F4-5 ene then e. Sunny & good visibility. Sometimes a beam sea & the
strb

stabilizer
not working. Not a big swell so no problems. In Sardinia we moor up at Porto Turistico marina, Torregrande (Golfo di Oristano). Met by dinghy and assisted into the mooring, this was a very pleasant change. Struck by how friendly people were compared with Spain. Enjoyed a bike ride through pleasant countryside. In small shops we had no problems, despite the
language
barrier. People good humoured & they want to help. Tony amuses the locals in a
café
, he moos like a cow to ask for milk in my coffee (it worked!). Tony cleans sand from pipe to stabilizer, all o/k now.
28th Sept Torre Grande to Portoscuso
Move to the south of the island. Meeting friends at Portoscuso & they will join us on the boat.
During our stay a freighter was wrecked on the rocks, a crane removed it's cargo of coal. Heard later it was heading for the commercial harbour here. It had come from Russia, so near it's destination then wrecked during a gale. You have to feel sorry for the captain.
New covers made for hatches & dory prop (small local firm). No English spoken/no problem.
Visit beauty shop (full leg, bikini, & face wax. Eyebrow & lash dye. £24). Sunny/efficient service.
Hire a car, visit very big supermarket in Cagliari. Stock up on general provisions & very nice wine. Pick up friends Bob & Dot up from the airport. During their stay here it's Dots birthday and we celebrate in very smart harbour restaurant (Egon Ronay recommended). Enjoy a visit to Cagliari with them & touring the south part of the island (some very beautiful areas).
Smile Bob. I am windswept in Cagliari.
13th Oct (overnight). Portoscuso to Tunisia (Bizerte).
Afternoon & evening reasonable, but overnight the winds were much stronger than forecast & very choppy sea. Dot was very sea sick, I was a bit sea sick, Tony had a cold & Bob was fit as a fiddle. Bob & Dot impressed with how well the boat goes in bad conditions. In
Bizerte
we moor stern to at the quay. Guy on the quay picks up a lazy line to pass to me & it gets caught around the prop. This is the first time it happened to us (it would be when friends from Guernsey aboard!). Customs visit & one saucy guy departs with a bottle or two from our drinks cabinet, "presents for me" he asked (nicely). A diver quickly removes the rope from our prop (reasonable charge). Their always seems to be
somebody
who
speaks
English but if we get stuck, Dot speaks good French (the second language here). Dot & I go out to do some shopping, the Tunisian guy at the gate was very taken with Dot & her lovely blonde hair. Didn't
'
stray far, enjoyed looking around. Not a smart place but interesting & very different.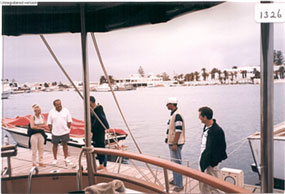 Bizert, Dot left, Bob right & diver centre.
15th Oct Bizerte to Sidi Bou Said
Moderate winds & a sunny day. A pleasant passage (Dot still a bit sea sick). A small bird landed on the boat, it was being chased by a seagull, nice for us to be of help
.
Tie up at central quay, Sidi Bou Said. A picturesque place with all doors & windows painted blue. A family passing the boat lifted their young daughter onto our deck to take photo's of her. They didn't ask & we didn't stop them. Being friendly people themselves we don't think they would have understood a rejection.
Sidi Bou Said.
17th Oct Sidi Bou Said to Kelibia.
Sunny, good visibility, slight seas & Dot not sea sick. At Kelibia we tie against
a fishing
vessel
, no room for us at the yacht moorings. The fishing vessel was very clean but a guy fishing from it with rod & line He left bits of bait lying around, this encouraged swarms of flies. We had to keep all doors & hatches shut tight. It was then hot & stuffy inside. Only took a short walk out & about. Not an attractive area around the port.
A street near the port
18th Oct Kelibia to El Kantaoui (our winter home).
Again it's bright & sunny. Light winds, a pleasant passage. Winch fan belts rattling (disconnected).
Tie up at the fuel quay Kantaoui and wait for a berth. Visited by customs & port police. Directed to a berth at Hannibal quay. Tony chooses to pass it then go astern to turn. Others dropping loose the bow lines on a yacht to allow us into the narrow space. As we pass this yacht a bow line is lifted too soon, it gets jammed in & wound around our port stabilizer. Impossible now to manoeuvre into the space we try to free it (no luck). Call for a diver who cuts the rope (later we realised the shaft of the stabilizer had been bent). Second attempt at mooring, Tony lines up to go astern (no problems).
Before Bob & Dot have to leave, we hire a car & driver for some touring. Kairouan (the Holy City & Great Mosque), El Jem (Roman amphitheatre) & back. A long & interesting drive. We were sorry to see Bob & Dot leave, it was great to have their company.
Kairouan Mosque (come on now, be serious). Kairouan Mosque (beautiful interior).
El Jem
Time for Bob & Dot to leave.
We take a day out

to

look at Monastir.
Monastir harbour & marina (left) Monastir beaches.
Monastir, mausoleum of former president Bourguiba (white dome, left)
We've visited Kantaoui before (holiday by plane). It's much more built up now but we still like it. Marina staff & officials are all pleasant & helpful. Lots of restaurants/café's to choose from, including the hotels. Plenty of live aboards to talk to. Lads in the tourist shops press you to buy (but you get used to it). Vitamin bar on this quay a healthy option (fresh fruit drinks). Request a wider berth & move to position alongside pirate ship (same quay). We become friends with the owner of & some of the lads who work on a the pirate ship. Most lads here are very friendly.
Tie up next to pirate ship
Asadin & engineer (working on private yacht) A sunny day in Kantaoui.
We enjoyed the company of other yachtsmen/women. Capt. Chafik Rziga, in charge of the marina, arranged the odd rally & social get-together (a very pleasant & always helpful man). Entertainment to be had at Hannibal Palace Hotel nearby (enjoyed their Bedouin Night).
23-30 Dec, the family join us for Christmas. An excellent meal in restaurant Mediterranean. Not a traditional English Xmas meal, but turkey at least. We took Xmas crackers with us & even though son Bruce was reluctant, we all wore our paper hats.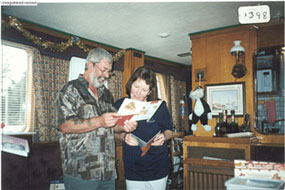 Tony & I enjoying our Christmas cards.
OK Jake time to open those Xmas presents. OK I will wear the hat (Bruce).
Tony & Caroline in festive mood.
Bruce & Caroline get to do some scuba diving & we look after Jake. I have a day out in Sousse with Jake & we pop into the Oasis Park (Kantaoui) on our way back. Tony & I take Jake on a camel ride. Then sadly it's time for the family to go home.
A day out with Jake in Sousse. The headgear suits you Jake.

We round the year off with a new years eve party on Southern Flight.
A few faces at the party.