M Y Southern Flight Extracts from Log 1997
Guernsey, France, around the UK & Southern Ireland.
Our first year living aboard and cruising with Southern Flight
START LIVE ABOARD
30th APR GUERNSEY to POOLE 0500 - 1725
Pick up Arnie Brehaut from Cambridge Berth, engine problem outside SPP, turn back and call Geoff. He changed regulator. 8am re-start trip, Geoff joins us. 1740 all secured at Poole. While in Poole, Jack from MASTERVOLT checks our new electric system (installed in Guernsey). Tony writes fault list.
Southern Flight on Town Quay
3rd MAY POOLE to GUERNSEY 0645 - 1620
A pleasant & uneventful trip. Back to QE2 marina.
15th MAY GUERNSEY to CHERBOURGE 1115- 1606
Tony & I, Arnie B & Mike Chaddock. Choppy seas but good trip generally. Met by Arnies
French
friends. Nice meal out in the evening.
16th MAY CHERBOURGE to GUERNSEY 1105 - 1650
A pleasant &
uneventful trip.
26th MAY GUERNSEY to POOLE 0721 - 1611
Crossing OK, Tony & I , Arnie B. evening meal Tandoori, Arnie's first and he loved it.
27th MAY Jack from MASTERVOLT completes installation.
31st MAY High winds so stuck in Poole, visit steamship S.S. SHIELDHALL (skipper Allan), it was enjoyable & interesting. Chief engineer and two others visit us in the evening.
3rd JUNE POOLE to GUERNSEY 0810 -1730
Moor up at Guernsey in the pool. New Lifeboat on our QE mooring, it's waiting for naming ceremony by princess Margaret
5th JUNE We had a good view of the naming ceremony, potted plants placed around & a diver checks the marina for IRA devices. Lifeboat named SPIRIT OF GUERNSEY. Princess Margaret looked glum and didn't speak to the crew. 6.30 we move back to mooring.
11th JUNE FUEL UP at Boatworks 3076ltr x 17.5p. SEA TRIALS: Tony, Geoff Tucker & I. We launch the Dory & pick up a buoy using new heavy duty clip. No time to test the anchors. Just got back in time to get over the sill (before low tide) & enter the Q.E2. marina.
Time spent in Guernsey for re-fit has been frustrating but Arnie B very supportive and no complaints about Geoff Tuckers work. Roy Taylor likes the boat a lot and has enjoyed some time on her, what a pity he and Arnie don't get on.
START PLEASURE CRUISE
14th JUNE GUERNSEY to CHERBOURG 1110 - 1540
Light winds 2-3, sea slight, dull day, Choppy going
around Cap
de la Hague
Very sunny on arrival, I made a mess of ropes, tied up with short spring, OK but went to the stern next when the bow was more urgent (then managed to get the bow rope wrong side of a fender). No space on pontoons so we tied at the visitors waiting jetty. Didn't get to shore (not worth the hassle of launching the Dory) Tony disappointed (no meal in Cherbourg).
15th JUNE CHERBOURG to BRIGHTON 0502 - 1712
No
problem
casting off. Light wind, sea slight. Muggy weather, visibility was bad. G.P.S. not interfacing but radar & computer visuals were excellent for leaving harbour. Crossing the channel no problems, weather improves and so does visibility. A freighter, one mile or so away and passing us on our port side (
previously
passed our bows, 4 miles off). They called on VHF (checking us out maybe?), quoting a position and heading, Tony out of the wheelhouse and I was unsure, so didn't respond (what a lemon). No other boat heading our way so it had to be us they were calling. Arrive Brighton late afternoon, mooring up with the wind blowing us off. Throw ropes ok but people always try to pull her in. She's to heavy for that but some people won't listen. Once bow rope tied, all ok. Brighton is excellent marina, shops, cinema, restaurants etc. and friendly welcome.
16th JUNE Looked at Autohelm. Problem was contrast and easily sorted. In the afternoon, open top bus ride. With commentary, lots to see, very interesting.
17th JUNE BRIGHTON to RAMSGATE 0700 - 1820
Leave pontoon no
problem.
F5, sea moderate. Sea very choppy (Beachy Head/Dungeness) but SF coped with ease. Arrive Ramsgate late afternoon, moor up. Good pontoon but creaky and covered in sea gull droppings. Ramsgate marina in ugly part of town (did not explore further). Meal in noisy pub/restaurant, pontoon covered with sea gulls on our return.
18th JUNE RAMSGATE to LOWESTOFT 0744 - 1549
Journey OK, light winds, sea calm. Arrive Lowestoft in the afternoon. Narrow entrance to the harbour and racing water. Inside not much better, dredger working in the yacht basin so we moor up to a sausage (at the pier). Told we can't stay their because a crane will be working from this pier. Nobody from the yacht club to advise (despite prior warning of our arrival). Tony went to look at the commercial berths. We move to commercial berths and moor up alongside beam trawler St Simon. Getting off the St Simon was not to bad but at low tide, getting on was dangerous (gap between pier and boat, wide and low).
20th JUNE LOWESTOFT to HULL 0444 - 1919
Get up 4am. set off 4.40. F4, sea slight. When on route we thought Cromer looked well set out and pretty, all buildings sloping to shoreline (worth a visit sometime). Approaching Hull in high winds and poor visibility. River HUMBER threw the boat about and we missed the marina entrance because the lights were not as in the Almanac. This was no real problem but when we
finally
went into the Dock Basin, we were tossed about like a cork in a bottle. Waited a while for the lock to open. Once in the lock, because the water was high, the stern could not be fended off from a gap in the wall (where old turntable is). We got away with just a small scratch. Waited a long time for the gate to open but when we got into the marina it was no problem mooring up to a good size pontoon (hammer head).
21st JUNE Marina staff very friendly and helpful, marina well set out and surrounding quays with pubs and clubs/restaurants, looking bright and cheery. Hull centre has some lovely old buildings and plenty of shops (no close supermarket). meal out with Bruce in the evening. Daughter Annette visits on 27th. Lovely to see her again.
03rd JULY Tested Southern Flight on 50 Ton Crane. All OK.
07th to 11th JULY SF Lifted out for Anti foul
12th JULY HULL to BRIDLINGTON 1225 - 1800
12.25 leave lock (no problems in the lock this time). Mod wind and sea. Anchor at Bridlington, problems letting down starboard chain so dropped port instead. Tony set up the black ball & a
uto helm
anchor alarm. Pleasant evening, sunny, we stayed up late and went to bed with wary minds about the anchor.
13th JULY
Anchor held well overnight. Tony had problems lifting it, I was helping by laying the chain (with broom) into the chain locker. Tony bringing it up
manually.
Depth & speed indicators still playing up, Tony suspects wiring.
13th JULY BRIDLINGTON to BLYTH 0815 - 1730
Set off 8.15, dull weather but brigher later. 4.20 dark clouds, 4.45 clear again, 5.30 moor up at pontoon Blyth. Easy harbour to enter and marina well set out. Met by Gordon (Gaff Rig). He was friendly and
helpful
as were all RNYC members. Clubhouse is old light ship.
14th JULY Morning bike ride into Blyth, noticed how white the net curtains are in majority of homes. Not much to see in town but pleasant enough. Ride through a park on the way back to marina. Go for a drink in yacht club and buy pilot book for NE.
15th JULY BLYTH to EYEMOUTH 0900 - 1600
9am leave harbour, w-sw wind, 3-4, increasing later 4-5 (sunny). 12.15, Dunstanburgh Castle on coastline (a bit further up from Craster). What is left of the walls and towers looks very impressive from out at sea. Dolphins chase the boat (playing at crossing our bow) we took some photos (hope they turn out). We think maybe 4 or 6 Dolphins.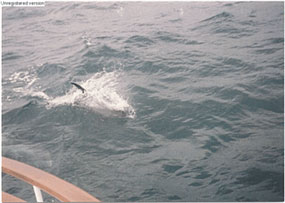 Dolphins playing around the boat
EYEMOUTH, narrow entrance but not bad, visitors berth taken up by sailing yacht. Look to the opposite side and head for the fishermen's quay. Moor up against wall, fisherman took our lines, they are very friendly and helpful.
Meet John Johnson harbour master, a really nice guy, old sea salt, very knowledgeable and helpful. Meal on-board. Early evening (7pm) we watch the fishing boats going out. NOTE: New fishing Quay and market being built at Eyemouth (port side as you enter). We have a drink later at the Ship Hotel, pretty barmaid (Tony very chatty). Return to boat and chat to a couple on the yacht in front of us. Tony gave the guy a flag, he was very pleased and put it up in place of his. The flag we gave was old but in better condition than his.
16th JULY EYEMOUTH to MONTROSE 1004 - 1752
From 6am, we watch fishing boats coming in. A fishing boat that moored up behind us was full with prawns.


Eyemouth fishing vessel brings in prawns
We walked down the quay towards the fish market and watched others offloading white fish. We are not allowed in but can hear the auction going on. John said the market closed at 9am, so what late boats do with their catch I don't know. Two of the fishing lads join Tony in the wheelhouse to look at computer navigation. At every stop we have people taking interest in this equipment. John comes to have a good look at the boat, he liked the engine room best, he brought us fresh haddock fillets (his son is a fisherman). As we leave the quay, he keeps a lookout for us in the narrow channel (we had to wait for a fishing boat to come through first). Dry, overcast but warm. Wind F5 westerly. St Abbs on coastline looks lovely, pity we didn't visit. Coastline is beautiful, rugged cliffs with very green tops. Lovely green hills and valleys on the way to Dunbar. 1.30 (choppy sea but good visibility) we pass close to Bass Rock, it's covered by thousands of Gannets. South side is lighthouse. 2.10 Isle of May. We spot a few Puffins when we are nearing Montrose. This has been a pleasant trip despite some choppy seas. Not a friendly reception at Montrose & awful mooring position, overnight rest only.
17th JULY MONTROSE to PETERHEAD 0800 - 1600
8am Depart Montrose. Weather slightly cool and overcast. F2 S/SE.
Beautiful
coastline again, rolling hills (very green). Saw puffins and seals on route. When approaching Peterhead the weather was bad and visibility poor. No problems though on approach and entering harbour, marina entrance visible when you look past oil rig service terminal.
Doubtful
about depth on hammerheads of pontoons so tried going stern to, on one of the arms. A guy took our stern line and Hugh Dugdale (off Sarah Dee, an angling boat) took our bow line. After a bit of a tussle (stern coming in but bow being pushed off by wind), we tied up. Sarah Dee on our port side. Marina staff came down and said inner hammerhead had more depth so we moved their. Nice and easy tying up. All secure by 5pm. Meal out, good restaurant.
18th JULY Tony phones Autohelm, (equipment under warranty). Their agent Ian takes details and comes to the boat, orders new transducer, he will come back again when it arrives. After lunch we take a bike ride into town. Mostly granite, not pretty houses but some buildings very impressive. Big harbour, lots of fishing boats and work being done on boats, but too busy to fit us in (if we have to come out of the water to fit transducer). Shop at Presto (bags are Safeway so who owns who?). We take taxi back to boat as too much shopping to cycle back with (bikes fold up & go in boot of taxi). Evening meal on board. Tony tries his hand at fishing in marina but no joy, we saw a jelly fish close to the boat and it put on a beautiful display of opening and closing up again. A cormorant was following a seagull about in the marina to pinch what it was catching (at least something was catching fish).
19th JULY Day on board for Tony, various jobs to do inc splicing for life raft and start splicing for hammock ropes. I go to town after lunch to see what's going on (first day of Peterhead Scottish Week ). Missed crowning of Buchan Queen but saw her anyway, plus pipe band and Scottish dancing. It was all very well done and enjoyed it.
20th JULY 9am Ian comes to boat again but problem cannot be solved until she comes out of the water. Visit Maritime Heritage Centre (which is opposite marina), have lunch there and look around exhibition. The video, narrated by an older member of the local fishing community, was a bit difficult to follow sometimes It was all about the history of whaling and herring fishing and information on Peterhead, past and present. Tony appreciated the boat building section. Other displays were good & we enjoyed it all (even though Tony nodded off during the video). The lido in front of Heritage museum is a big part of Scottish week . The radio show was a bit noisy for Sunday afternoon but not to bad. On the beach in front of lido, sand building competition (also fun run) were this afternoons attractions. Tony still working with ropes and having a go at fishing (no luck).
21st JULY Day on boat, John Buchan and Nick Wilson (work on marina life-raft) came to have a good look around our boat. Late afternoon they brought us a big bucket of lady crabs, I spent all evening boiling them.
22nd JULY Ride to town, Tony looking for a net (for fishing) and rings to finish 2nd hammock, no luck with either. Lunch at Mad Hatters Tea Room (nothing to write home about). Visit Arbuthnott House (Exhibition of Nostalgia). Lots of very old slides / videos and photos of fishing and community history (school photos, church outing photos etc.). Local people looking around were saying things like ... theirs my great-grandad/grandad/grandma or old friend etc.(enjoyed it).
23rd JULY PETERHEAD to BUCKIE 0750 - 1510
0750 slip from pontoon. F2/misty, poor visibility out at sea (1.5- 2M). This is very disappointing because we won't see the coastline clearly, which should have been well worth seeing and Tony altered the passage plan for that purpose. 9.15 getting mistier. Tony spots a seal (Past Rattray Head ). 9.30 drop speed and Tony tries a bit of fishing (no luck). 9.40 I spot a seal close to strb/bow (close enough to see it's whiskers but not quick enough for photo). F1 & sea like glass when passing Fraserburgh but still poor visibility, although it had been improving a little. 10.50 mist coming down again and now very thick so sounding fog horn (Kinnaird Head). 11.30 fog (pea soup). 12.10 fog thinning, thank goodness. 12.35 (2.5M off) we can see coastline but only tops of hills are clear, sea visibility is much better. 2.05 passing Cullen we can now see coastline, also sharks (we think) in the water. Pretty coastline, green hills, scattered dwellings and a very expensive looking hotel (?). 2.10 raining. Approach BUCKIE harbour around 3pm. Tony gave
Middle
& West Muck a wide birth. Narrow entrance but no problems. No mooring available so moored alongside Seagull (exercise ship for air force, 120ft, tows targets for tornadoes, crew are civilians).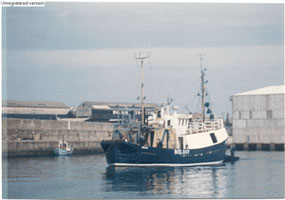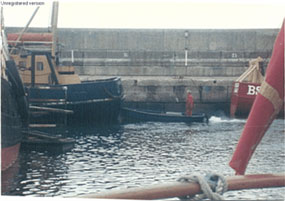 A fishing vessel being moved by small boat in Buckie Harbour
Assistant harbour master comes on board for a chat & has a drink of whisky (suspect not his first today). Sailing yacht moors alongside us, we saw it before in Peterhead, new and expensive but Tony doesn't think its sails have been used yet. Tony goes to boatyard, Jim Farquhar (manager) said sorry, he can't slip us for transducer to be fitted. He gave us details of a boatyard in Inverness. I took boats drawings for him to copy sections & fax to Inverness boat yard, this was time consuming, Jim was very patient and helpful.
24th JULY Chatting to crew of Seagull about their work, apparently sometimes the tornado firing gets a bit close to the ship. This ship is waiting to go up the slip today for repairs to a hole in the hull (just how close do the tornado shots come?). Tony watching the tide drop on harbour section marked PAD (maybe we could dry out their). No luck, the pad was removed when lifeboat used to moor their. They have a dedicated mooring now with a posh building but pad not reinstated. After lunch on board we visit Buckie Drifter (fishing history museum). Not as good as Peterhead museum. Evening meal at Marina Hotel, table looking out to sea. Tony had a mixed grill and could not eat it all, two meals (inc starters) a bottle of wine and pint of lager shandy for less than £30. No complaints about the cooking (Tony really enjoyed his home made pate). Friendly service, what more can you ask. We look at new fish market and pop in for a chat with guys in harbour office before returning to boat.
25th JULY BUCKIE to INVERNESS
10.30 Leave harbour. F4 w/nw, overcast but clear. 11.35 clear views, Lossie Forest and Lossiemouth (beaches look good, west and east). Past Lossiemouth (before coast guard lookout tower) their is a small stony bay with a large and very tall rock that appears to have legs. It was so spectacular that we were surprised it's not mentioned as a landmark. 12.30 in sight of Hopeman, pity it dries, it looks interesting and
old
fashioned. Harbour used by Duke of Edinburgh and Prince Charles when at Gordonstone. 12.50 watch what looks like a sister ship to Seagull speed away from, then go back to a dinghy in Burgead Bay. Probably rescue exercises.

Approaches Inverness (Kessock Bridge)
2.10 looking into the mouth of Cromorty Firth with a mountain backdrop (very impressive). F5 w/sw winds at South Channel approaches. 3.15, when phoning Inverness harbour office they advise us not to go under the Kessock Bridge because a trawler is on it's way out. Tony slows right down and approaches very slowly. 3/4 of an hour later the trawler appears, by this time we had been turning around and roaming up and down to spend the time. The Pilot boat thanked us for our patience.
Under the bridge and into Inverness channel without problems (mouth of channel was a bit confusing at first glance). 4.50 we moor up at Thornbush Quay, part of Taylor Marine boatyard. Meet Roger Taylor (& his two large but quiet dogs). We arrange to see him at 7am on Saturday and he will help us dry out against his slip.
26th JULY Roger turns up 6.30. the sun is shining and off we go. 6.45 we are tied up against slip. 7.00 Colin turns up (he will help us to fit transducer). Roger gives us a lot of assistance in preparing Southern Flight for drying out, when he leaves at 9.45 Colin is starting on the fitting of transducer. Colin leaves 10.30 but will be back at high water to help us slip off. NOTE: Roger won an award for his design of a round (concrete) Salmon Feeder Pontoon. His yard is more for Ferries, Trawlers, Tugs etc., rather than pleasure boats. At the moment a tug boat is on his big slip. It was swamped when its fenders got trapped under a quay and tipped it over. It's heavy topsides took it over all the way. What the crew were doing I don't know?. 3.15 Colin returns to our boat with his girlfriend Sue, tide on neap and we waited until 5.00 before tide was up, Colin had forgotten to pull out strbd blocks so he fetched a tractor and pulled the block rope with that. 5.30 finally off slip. Moor up at Thornbush. New transducer O/K.
27th JULY 8.15 Colin and Sue come with us to Caledonian Canal. 9.00 in first lock. We moor up at Muirtown quay, near the Marina and Canal offices. 4pm, a sunny bike ride along canal bank to look at Muirtown Locks and facilities on the far side of Tomnahurich bridge. We watch a row boat race in canal & ducks with gosling's going up and down.
28th JULY Shopping at the Co-Op (use their trolleys to bring a stock of food and drink to the boat, we take them back again of course). Have lunch and move on under swing bridge and through the 4 Muirtown Locks, By this time I am getting much better at handling the ropes in the locks. Pick up water at Tomnahurich and move on to moor up on pontoons before Dochgarroch Lock. There's a road and camping site further up. This pontoon has canal banking either side, with cycle path and trees beyond (nice and quiet).

Pontoons before Dochgarroch Lock
31st JULY Help young couple moor up and then take morning bike ride to look at a mooring in Lock Dochfour (opposite a hotel). It tuned out to be full of private/local boats and one of the canal trip boats. We would have fitted in but they place the boats to put others off we think, a council mooring but badly kept. Tony rides back to boat. I visits open gardens, Dochfour House, lovely grounds and pick strawberries for tea.
1st AUG Pass through lock and move on to Temple Pier mooring, opposite Urqhart Castle Ruins. Only two other boats on pontoons when we arrive and they left later. Afternoon bike ride to the castle, busy road at first but Drumnadrochit is a pretty although very touristy village. The rest of the ride to the castle is uphill and what a hill (we walked up). The castle is expensive to enter £3.20 per adult and although it's history is fascinating, it is a ruin and not a castle (what a rip off).
The interesting ruins of Urquhart Castle
Riding down the hill was fun. Afternoon back on the boat and relax. Lots more boats on the pontoons now and some very nice people, family from Sunderland and an American couple, to mention a few. Tony relaxing in the hammock, sunshine and beautiful scenery, what more can you ask, shame the hammock broke (Tony not hurt).
2nd AUG 9.45 Move on, 10.01 noted Loch Ness 231mt deep. Rather windy and Loch Ness is a bit choppy. Arrive Fort Augustus midday, the entrance is not clear until we get close. we moor up opposite the abbey and decide not to go through the lock today.
Have a look around in the afternoon and chat to the lock keepers, little Ed and big Tony. Five locks go through the very quaint village and the favourite pastime is to watch people struggle with throwing ropes to the lock keepers and very often getting in a mess. At one point we saw 12 boats go through the locks together (talk about sardines only). Tony back to the boat and I go to the Clansman Centre for a very enjoyable and informative exhibition on 17th century highland family life. Kilts were not skirt like then but one complete cloth that covered top and bottom of body, pleated at back of waist and tied with a belt. It had lots of practical use. An average highlander was only 5'.7" and had dark hair (not red). In the afternoon our American friends visit the boat, with a bottle of wine. They were thrilled with the navigation programme. Tony and I eat out, it was fun (chatting in the back court yard with German couple) but food not very good. Funny little Scots lady serving, told us about how drunk she had been the night before.
3rd AUG 8am move under swing bridge and through the locks, Tony using engines into first lock and when water level up, a lock keeper takes stern line. I had to stay on the land & take the bow line, to walk the boat into second lock (but still with engines running). Lock keeper (Ed) seems determined to prove that we can walk this boat through the locks without the engines. He takes over the stern line after the second lock (he's on land) and insists Tony turns the engines off. It did work but Tony was grateful the stabilizers didn't shift position (Ed might have had a hernia). Stop and tie up at top of locks. Have a cup of tea with Ed and Tony (lock keepers). Chat to other boat owners inc the American couple,
SF tied at Fort Augustas (top of locks)
Then move on. Lovely sunshine, a narrow but pretty section of the canal. Moor up on pontoon in front of Kytra Lock. Quiet spot and cycle route close by again. Put washing in the machine and Tony sorts out a w/line on the bow. We had lunch on top of the wheelhouse, very hot, lovely views all around (green hills, forest & mountains). Help a young couple (with children aboard) moor up. Their position is a little way in front of this pontoon. Chat to them, watch their children play in their Dinghy. I catch up with the diary etc.

SF tied at Pontoon in front of Kytra Lock Tony lends a helping hand.
6th AUG Tony back to Fort Augustas to pick up the mail. He spots a stag crossing the canal as he returns to the boat. Move on to Loch Oich. Weather still hot. Stop at well of the Seven Heads pontoons.
Bit of gory Scottish history, apparently seven murderers were caught, killed and their heads washed in the well before handing them over to the clan chief. Pretty spot but near a road and picnic area. Youngsters running off the end of pontoon and having a swim (rather them than us, the water's cold). Chatting to a couple from Bradford who travel by car. They are staying in a hotel & having a great time messing about on the loch with a small boat that they were given (it had an outboard motor). Meal on board, roast lamb (Scottish,very tasty).
7th AUG Move on to Loch Lochy, weather very hot again (it's been hot and dry for days, smashing). Moor up at pontoons off Letterfinlay Lodge Hotel. Sunbathing, read etc. I go for a short walk to hotel. We meet German chap (Fritz) and his lady, they own a sailing yacht Henry Rose (a Golden Hind 31). They live at Kytra during the summer, he wants to buy a motor yacht because she doesn't like sailing. They both looked around SF and were thrilled with her. Evening meal at the hotel, not very good considering their shop specializes in venison and salmon. No venison or salmon on the menu and the Buckie haddock on the menu was changed to plaice fillet (the convenience stuff in breadcrumbs).
8th AUG 10.00 move on. I have a problem with the rope (a knot at the end of it) and fell onto the winching gear in my efforts to slip it. One hell of a bruise develops and sitting is uncomfortable for a few days. 10.35 Tony smells fuel and on investigation the fuel return system has a small leak (port side). He turns off the engine and we run on one until we moor up at Gairlochy Lock (11.15). Tony to a local repair shop and they promise to come to the boat after lunch. 3pm, he went back to the repair shop, they gave him a nipple for the repair but were to busy to come out (thanks a lot). Tony made a temporary repair which didn't leak (great). Meal in small café/shop. Cardboard food again but at least you expect that in such a small place. The lock keeper at Gairlochy won the national competition this year for the best kept lock.
9th AUG Cool again and light rain. 9.30 move on to Banavie Lock and hope to get permanent repair done, also it's time for engine service so we may be able to sort that as well. 11.00 Ben Nevis shrouded in mist. 11.20 moor up and Tony goes to find a fitters tel number. Arrange fitter Monday, after lunch. Meal at Moorings Hotel, booked for 7.45 but our order not taken until 8.45, 4 courses for £26. Tony's starter was breast of wood pigeon (two pieces so small he nearly missed them). All courses fairly small, food ok, but doesn't merit the fantastic write up (Fort Williams best restaurant).
10th AUG T.V. reception is lousy here (old mountain Ben at fault I suppose).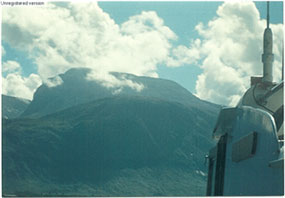 Ben Nevis Mountain (4,406ft)
We decide to move back to Glen Loy Lodge jetties to watch Hungarian Grand Prix. 9.50 slip the ropes and move off, when we arrive at the jetty it's full up (damn). Move on to Gairlochy. Sunny and dry again today, very hot. Meet Jan and Ellen Yrouwe (catamaran, Witchcraft), a friendly couple. Sunbathing after lunch and at 3.45 I walk to Clan Cameron Museum. Made it to the very long drive way of Clan Cameron and was told still 1/4 mile to go and they would be shut when I got there. Turn around and start back (I should have taken the bike). Back to the boat by 5.50. Lovely walk on a summers day but my feet are sore. Still hot early evening & Tony is having fun catching at least 70 flies by sucking them up in the vacuum cleaner.
12th AUG Hot, hot, hot today. 11.30 Fitter turns up (same company, Edgars Auto Service). New banjo for port side engine and oil change for both engines (£65). Move back down to Glen Loy jetties, nobody on it so we tie. Although not marked shallow we realize we must be on a shelf of mud and we get off their pretty damn quick. At Laggan Locks by 4.30. The yacht Alotria offers us a beer but we went to the café/boat for a coffee instead, dark, dingy and monotonous Scottish folk music. We should have accepted the beer and friendly company.
14th AUG Tie up at Fort Augustas, have lunch. We put fenders over the free side of boat before leaving it to visit the Highland Games. Although the basin was practically empty a yacht came to raft alongside (he thought we had done it especially for him). We had seen and helped him before. Tony amused by this but told him to moor up in front of the lock (he was waiting to go through anyway). It's hot, hot, hot again. The games are in the Abbey grounds and very little seating or shade. Heavy events were, shot, hammer and caber. Watched highland dancing contests. & a falconry demonstration. One of the birds was reluctant to obey when called back (came eventually). We enjoyed it all. Buy a cool beer and stop at the B B Q stall for Lobster Tails. Stall owned & run by fisherman Gordon, he lives in Oban and may come out fishing with us if we call there. Tony back to the boat and I go to the Abbey. £5 to go around the Abbey but very in depth history of Scotland's geology, it's people, flora, fauna (and the Abbey itself). Headset to guide you around (gives sounds to match slides). Evening meal at Gondolier Bar/restaurant. Good food but lousy service, we waited an hour to be served even though we booked.
16th AUG Tidy up and prepare for Chris Platt and family coming on board. They arrive after lunch and we retrace our steps along the canal.
16th- 23rd AUG
Gen Notes. :- Meal out at Inverness with Chris and family. Spend the next week travelling along the canal, two or three
barbecues
, Chris cooks a mean sausage/chop etc. He tries his hand at fishing sometimes.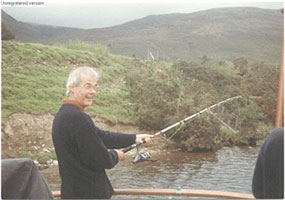 A fishy tale from friend Chris
One or two good meals out and the odd roast dinner on board. Mostly good weather but boring for the girls when the weather was dull. Lizzie tried fishing but was disappointed not to catch anything during the whole week. Foyers Pier was a good stop, Chris and family go for a short walk. Tony and I on a long walk to see Foyers Falls, it was a steep walk, lovely woods (felt a bit like Switzerland) and the falls were impressive. A drink of hot chocolate on the way back (at Foyers Bay House). The view of Loch Ness from this hotel is beautiful. The picnic area near our mooring had good tables so we go to town on this B.B.Q. (table cloth and best dishes etc). At Fort Augustas (the Clansman Exhibition), Tony was wrapped in the traditional clansman costume, Filleadh Mor (in English - the belted plaid). Pity I didn't have a camera on me. At Gairlochy Tony and I took a bike ride to the Clan Cameron Museum, it was raining off and on but a lovely bike route and interesting museum. When we returned to the Lock we took a ride on the other side of canal (but walked up the very steep hill). At the top we could see the Nevis Range (well worth the walk up). Smashing ride back down the hill. Back to the boat for lunch. Chris and family had a walk to the river and were thrilled to see the salmon jumping.
23rd AUG Chris and family leave, Bruce joins us.
24th AUG FORT WILLIAM to LOCH ALINE
8.00am go through
Neptune's
Staircase. Bruce a big help but lots of missing hooks on these locks, which could have been a problem with just two of us. Bruce (on land) was able to reach a bollard each time (only one of those available at each lock, for the bow). We locked through with Jean De La Lune, a very long and wide tall ship, she was on our port side. A bit dodgy, she went first and we held our breath each time (
until
our bow was fixed). We placed fenders at the
port side
bow but when S.F. swings out, her weight against another boat is a worry. Very often our stern was too near the closing gate due to lack of hooks.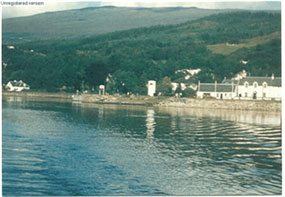 Fort William.
Then out to sea at last. Sunny, with blue skies and clear views of the mountains and Fort William. Slight winds as we continue towards Loch Aline.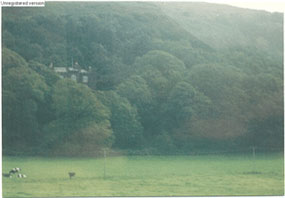 Number one (& only) son, Bruce. Loch Aline
1530hrs we set anchor in Loch Aline, a sheltered mooring, tree lined hills all round, a small village and a castle at the head of the loch. Pity about the slightly noisy Silica Mine on the west side. Pleasant evening on board.
25th AUG Cool but sunny and warming up slowly so we put some washing out. Launch the dory, again Bruce a big help, all this practice will make things easier when Tony and I have to do it on our own (or maybe we should buy a dinghy as well?).
Bruce lends a helping hand

A trip to the village for lunch. Soup and sandwiches at a local Pub/Hotel. Back to the boat, pick up a bike for Bruce and take him back to the village for a trip to the castle etc. Tony and I back to the boat, bring in the washing and put out the hammocks. Relax on the boat for the afternoon. The sun on the hills to stern makes beautiful variations in colours (black, light and dark green etc.). Pick up Bruce at 5pm and meal aboard. Rain and thunder/lightning early evening but clears up quickly.
26th AUG LOCH ALINE to TOBERMORY
Bright day and reasonably warm, 10am lift the anchor. Still a bit sticky on the rewind and broom needed to ease it into the chamber for stacking. Heading for Loch Sunart we receive gale force warnings so change our minds and moor up to a buoy at Tobermory. Weather ok at the moment. This buoy is a large can and could be commercial so we move to a smaller one. Launch the Dory after lunch and go to the harbour for a walk around. Problems if tying up all day at the harbour as most areas dry.
Neap's
at the moment so should leave us just enough water. Back to the boat and Bruce goes for a swim, he didn't stay in long as the water is very cold. A sailing boat moves us off this buoy saying he shares it with someone. Pick up yet another buoy. All blue visitors buoys taken up and some of them clearly are local boats. No point in trying to radio the harbour office as they didn't answer when we came in and we are now told they never do answer visitors. The wind has picked up and it was a bit of a problem when bringing the dory back in. Evening meal aboard. The wind picking up all the time. We plan to go to the harbour early in the morning and drop Bruce off with a bike (to go and see the mountain Ben More).
28th AUG Weather cool but dry, Bruce goes for a bike ride to Calgary. Tony and I take a walk up the hill at the back of town. Beautiful views overlooking the harbour and out to sea. We visit the whisky distillery and enjoyed it, the free taste after prompted us to buy a bottle (plus cheese, marmalade and a hat for me). Back to the boat and Tony tries fishing again, this time he caught a lot of good size mackerel, which he left in a bucket on the deck (we had to go back and pick up Bruce). The seagulls were busy nicking them as we returned to the boat, but they only had a few (thank god). If they had got them all, Tony would have been gutted (pun). By this time the wind is slight and the sea like glass. Evening meal out, expensive but worth it, good food and wine.
29th AUG TOBERMORY to CORPACH (FORT WILLIAM)
I take the bus to Calgary. Nice drive, hills, valleys, heather, ferns, pine trees, rough grasses and lots of sheep. Some fields for cattle, I only saw two ponies. Had to stay on the bus at Calgary because of quick turn around, so didn't get to see the beach. Enjoyed the ride and the rain has stopped. 1230hr we slip our mooring. Back to Corpach (Fort William) as Bruce needs to pick up his car and leave on Saturday . The trip was without problems and slight wind, but by the time we reached Upper Loch Linnhe the rain was lashing. At Corpach the wind seems to increase in the basin but at least it was pushing us onto the pontoon.
30th AUG CORPACH to LOCH ALINE
Say goodbye to Bruce after breakfast, we will both miss his company and help on the boat. 9.30 we leave Corpach, F4/5, cool and it's raining. again. The weather forecast isn't good for the next few days so we will head back to Loch Aline. Tony could do with a rest now anyway.
31st AUG Pottering in the morning and after lunch we take the tender and head for the stone jetty near the castle. Buy fresh veg from the castle gardens and pay £2 per head for a walk around the grounds. No maps in the box by the gate and acres of gardens/woods to see. We were unsure where we should be walking. It was raining off and on and the grass was very wet, so we settled for a short walk around the front of the castle.
1st SEPT Shopping at the village in the morning and visit Simon and Lorna & her dog Quailly (swaheli for dear one). Their sailing yacht is called Badu. We were supposed to be popping in for coffee but spent at least 3hrs drinking, I was sipping whisky, Tony drinking Calvados, Simon and Lorna on whisky. Also on board was Roddy (from the boat rafted alongside Badu), he brought his own beer. A real good chin wag in good company. Simon smokes like a chimney, they have a pot boiler fire on board which adds to the smoky atmosphere, Tony wouldn't normally be able to cope with all that smoke (maybe the Calvados helped).
2nd SEPT Oil change for generator and replace anode. Invite Simon & Lorna for supper (steak, onion & mushroom pie, with potatoes & veg. Lemon meringue to follow). Lorna brought Quailly with her & he sat under the table all evening (was as quiet as a mouse). Enjoyed their company and it was a successful meal.
7th SEPT 8.15 we slip our mooring and tie up at the village quay to take on water, the tap is broken at the quay so we used what we think is the ferry connection (further up the banking). Simon lent us extra hose in order to do this. Back to the mooring before 12.30 to watch the Grand Prix on T.V. Still raining, but the winds are due to die down, quite calm in this Loch at the moment but still a bit dodgy if out at sea. While staying here we have spotted the odd heron and seal in this Loch.
9th SEPT LOCH ALINE to CRINAN CANAL
The sun is shining (hooray) but dark clouds around still. F3/4
increasing
F5 later
10.30 tender on board and ready to go, leave Loch Aline channel at 10.45. As we skirt around Mull the views of the island are terrific, with it's mountains and castle's (Torosay and Duart). A road goes all the way up one hill to a radio tower (at Lochdon).
Mull (pity about the poor light).
Before having to turn between Seil and Luing we were having a choppy time in a beam sea but the turn sorted us out. The channel between these two islands was hard work for Tony because of extreme turbulence, but he held onto the wheel and got us through. No reply from Crinan Canal as we approach the sea lock, gate open so we go straight in. It was a long way up the ladder to tie the ropes and the lock keeper appeared after this was done. Very expensive, 4 course meal at the Crinan Hotel in the evening (32.00 per head). Undrinkable house wine, and Tony sent his steak back. Small courses and definitely not worth the money.
10th SEPT 9.am go into next lock (14), Steve and Sandra (SY Hi-Flyer) come in after us. These locks are smaller than the Caledonian and it was a problem at times avoiding each other.
Yacht Hi-Flyer inside a Lock The lovely Crinan Canal
From lock 13 we are helped by Ian, the pilot that Tony and I paid for. We pass through all of the locks, there was a Mink chasing and eel around in one of them. Ian was very careful opening the sluices and we liked him. On reflection though, Tony thinks it would have been better to have come through on our own and stayed half way at a transit mooring. The basin at Adrishaig is not exactly pretty and the canal was.
11th SEPT Passage planning, shopping and enquire about fuel. We were quoted 25p Ltr. The office said they would call us with a better price but they didn't. Evening meal at waterside hotel. Good food/reasonable price. Sunken sailing yacht brought into the canal basin (Rebbecca of Dartmouth), she went down on the rocks, a very big hole in her side.
12th SEPT CRINAN CANAL to TARBERT
Leaving the basin was
awful
, the water level was well down in the basin when the sea lock had been filled. S.F. would not come off the wall at the stern, suspect we were going aground. Tony managed to move her and we go through the lock
without problems.
Leave the lock 11am. Light winds, raining on and off. When the rain comes it lashes down. 1110hr, the starboard engine overheats, Tony cleaned the filter. It must have been all the mud we kicked up getting off the wall. We are met in Tarbert by
Malcolm
McKinnan. He was skipper of S.F. for 20yrs ,
employed
by Mr Hall.

Malcolm McKinnan (left) & Tony
He is very pleasant and chatty. Moor up at pontoons, meet Martin (harbour staff) who informs us we are to heavy for the pontoon and moves us later to the fishing quay.
14th SEPT Malcolm Mackinnan picks us up 11am and takes us on a tour of Tarbert, the views of the Isle of Gigha and Jura were not good because of poor visibility. The scenery was great, forests, hills, small farms. Most of the land is privately owned and not many dwellings. We saw deer, pheasant and hawks. The heather in this area is multi-coloured and when it catches the sun (yes there is some now and again) the hills light up. We note that Stonefield Castle Hotel has beautiful views and gardens (it also has moorings and anchor facilities in the bay). 3pm James and Miff Hall (her maiden name was Smith?) come to S.F. and are thrilled to see her again. They used to own SF and say they are sorry now that they let her go. James was very impressed with Tony's work on the boat and the new technology in the wheelhouse.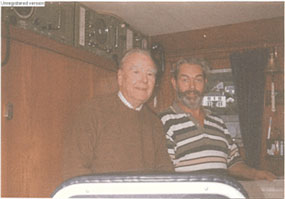 James Hall (left) & Tony
They take us by car to see their cottage and property (overlooking Loch Dyne). The grounds have been turned into a small golf course by Malcolm, with one hole across a small bay. We enjoy a drink and a long chat about S.F. etc. They cruised on SF to the open golf championships and enjoyed entertaining on her (she was known as The Open Boat). James drives us back to SF. On the fish quay we are treated well by the fishermen (who start work at 5am). One morning they moved SF without waking us, but it's not fair on them, so we move to a swinging mooring.
17th SEPT TARBERT to INVERKIP
9.15am Leaving Tarbert
Sunshine, F3-4 winds. We both enjoyed this trip. Fairly calm seas, sunshine and beautiful scenery. The Kyles of Bute and north Island of Bute have it all, forests, rugged hills, farmland and interesting towns. 11.55am pass Nato fuel jetty (area of Achafour Hills and Glen Fyne), it's tanks on the hillside are discreetly hidden from view with mounded grasses.



Tarbert to Inverkip Discreetly hidden fuel tanks
We call in on VHF as we approach Inverkip but no reply. By 1.20pm we are tied up alongside Kismar in Inverkip but we have to move and the harbour master takes our lines at another pontoon. He said his radio was on the wrong station and if he had heard us, he would have said, don't come in, harbour full up. As it is, we are ok. for one night only. Evening meal at marina bar/restaurant, on the way we meet two ancient mariners who have been fishing in there very small (bullet shaped) boat. They offer us free mackerel and tell us about how this fast little boat gets them out of trouble if the weather turns. One of them smokes like a chimney and was not very steady on his pins (it's not just fish they keep on that boat). Friendly characters and we enjoyed the chat.
18th SEPT INVERKIP to LAMLASH
In the morning Bill Mackay
,
who skippered this boat for Lynn
Industries
, came on board to have a chat. Bill is navigator for around the world speed boat race in 1979. He was pleased to see the boat again but sad to see how the previous owner had let her topsides start to show. He told us how in the past S
.
F. had been mother ship in yacht sailing races and about the good times he had. Around 2pm we leave the Marina for Lamlash. Bright sunshine, F2/3, pleasant trip.
Inverkip to Lamlash.
The mountains (south Bute) are impressive. The wind picks up by the time we arrive at Lamlash and the large buoys we expected have been removed. I pick up a smaller buoy and notice it's faded markings. Tony ask me to call out when I can read it and after bringing it close I read: private (damn). All other buoys seem to be private so we anchor off Holy Island. The sun going down over Lamlash / Kintyre, made a beautiful red sky effect.
19th SEPT LAMLASH to BANGOR
The weather forecast is F3/4 and slight seas. Tony looked out to sea with his binoculars, past Holy Island and said it was more, the trip could be a choppy one. We both wanted to leave the bay so off we set. Tony was right, the F3-4 predicted, turned out to be F5/6 and even F7 at times, with a beam sea. The crossing was very rough but as usual S.F. coped well and we just put up with it. There's a song about people having A LOVELY TIME ON THE WAY TO BANGOR, I did sing it but I
don't
think Tony was impressed. Arrive Bangor 4.30. Tight turns into the marina. On our way in Tony spotted a seal, which we found out later, is very old and the fishermen keep it well fed. We moor stern to without problems, plenty of room to manoeuvre and two men take our lines. Good pontoons, smart marina.
20th SEPT A bit of a lie in, tidy the boat and go out to look for lunch. The marina and quayside are very modern, with quayside walks, gardens, children's play areas, swan paddle boat pool and miniature railway train (with it's own station).
Park around the marina. Bangor (N. Ireland)
The town is spread around all this, lots of shops and restaurants etc. The streets though are dirty and spoilt by graffiti. Supper in restaurant with Tom and Judy Martin. Tom was a friend of Arnie B's. We were joined later by Toms friends, Allan and Sue. A poor meal but good company.
21st SEPT A walk around the quay in the morning and in the afternoon Tony stays on board. I go to the Heritage Centre to soak up a little Bangor history. The ancient abbey, invasion by vikings and much later King James the first sent his scots mates. 6.30 pm Tom and Judi take us for a drive around the coastline, Donaghadee, Portavagie, Strangford Lough and back to Bangor. On route we popped in to see Allan and Sue's damaged boat (broken Z drives). Bar meal in Bangor later, again, poor food but good company.
22nd SEPT BANGOR to PEEL (Isle of Man)
No problems leaving, reasonable weather, uneventful crossing. Poor visibility when approaching Peel and a few problems identifying the harbour. When entering we were met by the harbour master, because we didn't wish to dry out, he helped us tie up against the north breakwater (outer end so that we didn't interfere with the fishing boats ent/exit).
Peel Harbour (Isle of Man)
He and the fishermen were friendly and helpful. We are lying against chains covered by thick rubber sleeves. When the wooden rubbing straight meets this sleeve, the noise is a mixture of creak and whine (loud and awful). Our fenders keep us off these sleeves ( most of the time anyway). During the night the noisy sleeves have Tony out of bed, 2.00am. he moves our fenders again and we manage to fend off the noise for the rest of the night. It's windy and the boat is also moving with the rush of tide around the breakwater. Not a peaceful night
23rd SEPT Bikes out in the morning and a ride to see the waterfalls at Glen Maye. We saw the stream running down to a pebble beach but no waterfall. Lots of rubbish in the stream though. Went for lunch at the Waterfall Hotel. Bar meals were being served but we were positively ignored so we walked out without asking for food. Ride back to Peel, countryside a lot like Guernsey but larger scale. We went into a smart seafood café, only two other customers in. The man behind the counter asked us if we had booked, we hadn't. He gave us a table for two, next to the other couple. The lady next to us took out cigarettes so Tony got up to move to the window (a table for four). The man behind the counter wouldn't allow us to do this even though the table was not reserved (and still only four of us in the café). We left there and had lunch at a cheaper café next door. The service was friendly, food ok. A guided tour of Moore's Traditional Curers (Kipper factory and Museum) in the afternoon. They say they are the only kipper smokers who don't add artificial colour to the brine before smoking (means smoking the kippers longer, to produce a natural colour and better taste). The German machine they use for kipper preparation is no longer being built (what about repairs then?).
24th SEPT PEEL to LIVERPOOL
Up 5.30, depart shortly after 6.00. Getting off the wall was a bit tricky, with the wind blowing us onto it. Tony managed fine though and letting go of the lines was no problem. The forecast is fair but Tony has his doubts. As it turned out the winds increased (wind & tide against us nearly all the way). This created a very rough sea, with large waves that sent spray over the wheelhouse windows. We couldn't slow down (or tack) to make the going easier, as we had to be in Liverpool in time to get over the sill and into the lock. S.F. coped well but for us it was 12hrs of purgatory. The bell was ringing (by itself) in the wheelhouse (indicating the fierce motion of the yacht). Arrive Liverpool (around 6pm) & bad reception on the VHF when trying to speak to the lock keeper, narrow entrance into the lock and out of it to the Marina. A bit of a struggle for Tony as S.F. doesn't handle well with low speed & slack water. The lock keeper was friendly and helpful (he's only 17). When tied up Tony hoses S.F. down and I tidy up. We are both shattered after this
awful
trip, The restaurant at the club house is closed so we have a quick bar meal (when the chef is removed from the T.V. in the lounge) and an early night.
25th SEPT Caroline and Jake arrive in the morning. One of the Marina staff brings her down to the boat to make sure she was able to hold onto Jake while he took her bag. Jake remembers the boat and is happy to run around her decks again. A bit of shopping in the afternoon, evening meal on board and Annette arrives late evening.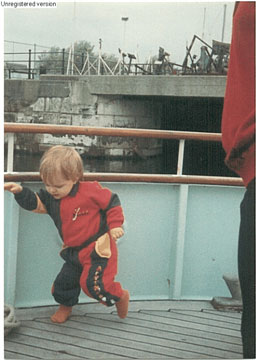 Daughter Caroline & grandson Jake

Tony playing with trains (instead of boats)
27th SEPT A visit to the Merseyside Maritime museum, Caroline and Jake are with us, There's so much to see, we can't get round it all in a morning. Part of the exhibition was about the ship building during the second world war (over 100 hundred battle ships built, approx one every 20 days). Tony stops in this evening to babysit while Caroline and I have a bar meal at the club (only because we were there before 8pm). The restaurant not open again (a wedding on, we gate crash it later for a dance).
28th SEPT Friends Edie and Arthur Roberts arrive & stay on the boat for an hour or so. Before they leave we are joined by Peter & Christine Williams (& son James).

Friends Peter & James Williams Eileen Oakes & Geoff arrive.
30th SEPT LIVERPOOL to HOLYHEAD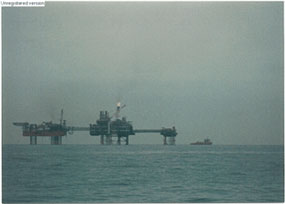 Liverpool to Holyhead, buoys, ships & oil rigs
9.50am we leave the lock. F3-5 s/se. 2pm the visibility is poor but winds still moderate. 3pm visibility a little better.
5.45pm approaching Holyhead and visibility is very bad (pea soup). We call in & the harbour master said ok to enter, call the yacht club and they tell us to pick up a buoy. The promised yacht club launch didn't come to meet us and no light showing on the north breakwater. Tony carefully picks his way in, watching the radar & computer. Pick up a buoy (6.40pm), then the Y.C. launch turns up to move us to a stronger one. The ferry arrives (before 6am), creates a swell and is very noise'y.
1st OCT Launch the dory and visit the boatyard to get a price for painting the hull and topsides. Martin from the yard comes back to the boat for an inspection and to pick up some drawings. We take him back to the yard to work out a price. Move the dory to yacht club slip. Go shopping. Lunch at a local hotel. Back to the yard and pick up drawings, no price yet. Evening meal on board. Early morning call by the ferry again.
2nd OCT HOLLYHEAD to DUN LAOGHAIRE (DUBLIN)
9am, move to the
fisherman's
quay. FUEL UP, 4840ltr x 14.5 p. (incs approx 2.5% duty). £6.00 mooring fees (2 nights). 10.35 set off, forecast F4-5, N-NW, mod sea. 2pm (in Irish waters) the sun is shining, moderate seas, 3.10 sunshine and calm seas (lovely). Pleasant trip. Arrive Dun Laoghaire around 5pm, no launch to meet us but two men on the pontoon ((NYC) call us over. Very friendly and chatty (Martin and Gerry) they take our lines. Only just enough water for us here at low tide. Evening meal at the very smart club house. Excellent food, service and only £19 (4 courses).
3rd OCT Pick up petrol for the dory in the morning then wait for the club to tell us which buoy they want us on. They need the pontoon now for sailing races. Martin and Gerry came out in the launch to assist. Gerry comes aboard and jumps at the chance to take the wheel. I think he fell in love with SF (he kept saying, she moves like a dream). Tony does the close up work when we reach the buoy. Martin (in the launch) picked up the line for the buoy. Gerry & Martin back to shore. We launch the dory and tie up at the pontoon (at the end, out of the way). Go walkabout. Lots of shops, churches and interesting buildings. Streets a bit dirty though. Massive Stena ferry terminal. Go to the tourist office & book a coach tour for Saturday. The ferry comes in fast (it's a massive cat), spins around and creates a hellish wake, which tosses us about like a cork in a bottle (from 6.00am, every 4hrs, until late evening). There had to be a down side to this place(!).
4th OCT 10.00am, take the dory and tie up at the pontoon. Join the coach for a tour of Wicklow county, it covers areas like Avoca (Ballykissangel) & Glendalough. St Kevin founded a monastery in Glendalough in the 6th century. Finally destroyed in 1398 but the round tower is in tact. Remains of stone chambers are also there. The visitor centre shows slides of how it might have been and tells it's history. Apparently a scene from the film Braveheart (about Scots & Scotland) was shot at the shore of this beautiful Irish lake.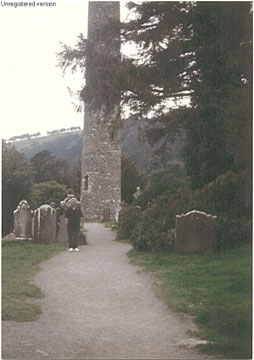 Glendalough round rower
The coach driver narrating & was also dropping names as we passed through coastal and inshore villages (Damon Hill lives up there, the U2 drummer lives here). Tony got fed up with it as he wanted more info on Ireland, not famous names. The driver explained about the goats on Dalky Island (they are a menace to picnickers). The drive around and up Sugar Loaf Mountain was spectacular, the valleys were all shades of green and Ireland definitely lives up to it's name, the Emerald Isle. The peat bogs on the way to Dublin were interesting enough (the driver did talk about them when someone prompted him). Tour ends & we take the Dart train back to Dun Laoghaire, a very efficient coastal service (every 20mins). Evening meal at a smart Bistro, really good food. One waiter was most unimpressed by our not being dressed for dinner, he pulled faces at us, so we made sure our tip went to a pleasant waiter. Back to the boat and settle down for the night (or the part that the ferry allows).
7th OCT DUN LAOGHAIRE to WICKLOW
9.am get ready to leave. No mooring fees charged here. Drop the buoy and set off. Pleasant and short trip. Wind F3-4, sunshine and clear views of the coast.
Sugarloaf
mountain looks like it's name from the sea aspect. No problems entering Wicklow and we tie up against the east pier. Long lines needed here. Lunch
on board
and a stroll around Wicklow in the afternoon. Narrow streets, lots of small shops, all varieties of goods. A lot of pubs and two guys taking photographs of them. Every corner we turned they seemed to be there.
9th OCT WICKLOW to ARKLOW
10.30am slip our lines, Weather slightly overcast but dry. Wind F4 sw. Pleasant and
uneventful
trip. 1.00pm we are looking at the entrance to Arklow, the swell looks bad, but going in turns out to be no problem. The turn into the dock is sharp and the entrance narrow. Tony handled the boat well. Lie against a disused F.V. Two men take our lines to the shore, very friendly and
helpful.
Shortly after, a pleasant & chatty guy comes
on board
for our mooring fees (£7 per week). After lunch Tony goes to the boatyard, they will come and see the boat tomorrow (ref painting).
10th OCT Waiting around in the morning but no sign of anybody from the yard. Tony gives them a ring (somebody will come 1.30). After the painters have been to see the boat we go to the heritage museum. Watch a video of Arklow seafaring history. Two rooms with misc equipment, photos and papers about Arklow ship building, fishing & lifeboats. Models of boats built in Arklow, including Sir Francis Chichester's, Gypsy Moth 111.
11th OCT It's raining hard & no signs of it stopping. Off to the shops we go. Tony buys filters for the generator & engines. I ask a shop keeper where to buy a Lotto ticket, he directs me to a shop further down the road. His parting remark was 'keep going until you get there'. Tony was amused by this and I think it will prove to be one of his favourite remarks for the future. Lunch on board. Later I book a meal at Kitty's, asked for no smoking but they don't have no smoking areas. She said 'I'll put you down in the book as no smoking, that should work'. I am confused, but this is Ireland. In the restaurant, we sit at a table in the centre of top room, a good space left all around us (the other tables are allowed smoking). The meal was expensive & the food well presented (but not really worth the price). The service was so warm and friendly, we really enjoyed the evening in our isolated (non smoking) area. In fact, the people in Southern Ireland are generally very friendly. Strangers in the street make a point of saying hello.
13th OCT Shopping, walk across the Nineteen Arches Bridge (crosses the Avoca river). It's the longest arched bridge in Ireland, nothing but shops etc on the other side (unless you want to walk miles (which we don't). Visit the Arklow Pottery, shop open but no factory tour (out of season). Some beautiful dinner service designs and for a house, I would have had to buy a set, but nothing appropriate for the boat. We did buy a salt & pepper pot. We went into the Wicklow Vale Pottery. The pottery shop/tearooms are in a restored 1860 schoolhouse. Lots of political history there, some Irish preacher (I forget his name) trying to bring the catholics and protestants together. He held meetings at the schoolhouse and caused riots. Excellent value in the teashop (less than £4 for two hot chocolate & large helpings of cake)
14th OCT ARKLOW to KILMORE QUAY
0845hr, leave the harbour mouth, good weather forecast 4/5 at worst. It's overcast but dry. 0930hr, F2/slight seas. 1047hr, wind increased F4. Tall ship off Cahore Point, all her sails up, she looks magnificent. She is a training ship (70+ft), built in Arklow (we saw a model of her there). 1249hr, F5. 1345hr, passing Black Rock (south coast), F7 and very choppy
indeed
(got warning of this on the radio, but not much further to go).
The bells ringing again,
rough seas all the way now, lots of rocks to beware of on the approach to Kilmore but Tony was well prepared with his route. The boat was very difficult to hold in the entrance (with a sharp strb turn after the mouth). Met by Johnny Sinnott (harbour constable) at the pontoons. He directed us to come around to the side of a pontoon where the wind would be pushing us off. S.F. was having none of it, the wind was so strong we were simple blown onto the nearest hammerhead and
that's
where we tied up. No problem, Johnny was happy with that (a very cheery and friendly chap). Mooring fees £45 for 6 dys (winter
charges
).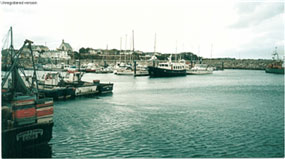 SF tied at hammerhead, Kilmore Quay marina
15th OCT Very sunny today, catch up with the washing. Afternoon walk on east quay, fishing boats tie up here. The fish and chip shop opens at 7pm & I go out for fish and chips at 7.20. No luck, she has sold the last fish to the customer in front of me (the only other customer). I get the impression that this state of affairs is quite normal, it is an Irish fish & chip shop (in a fishing harbour?).
16th OCT Wet & windy in the morning (gales forecast). At least dry in the afternoon so we go for a short walk. The village has thatched roof cottages, a few shops, 3 pubs and a couple of restaurants (good food in all). The harbour office is in a new community centre (built with EC assistance). The lifeboat looks brand new with a smart building to house it & expensive cat tractor to move it. Tony spends some time in the afternoon tying up other peoples halyards (very noisy in this wind). Evening meal at fish restaurant, a bit pricey but the food was good, friendly service and Tony was amazed at the size of the Turbot we were presented with.
17th OCT Dry and less windy today. Take the 10.30am bus to Wexford. We saw the new bridge being built. The last section of the old bridge was being craned out as we watched.
18th OCT Sunny and light winds. shopping in the morning, bike ride in the afternoon. The countryside is fairly flat, lots of farmland, nice to see fields with plenty of hedgerows Evening meal at a local pub, good food, pleasant atmosphere and flying divers. The owner used to be a diver. His suit is on a model hanging from the ceiling (with all the gear). The tables are doors from boats and portholes etc on the walls
19th OCT Very windy today, lazy morning on board. Later we visit the Maritime Museum (in marina). It's the lightship Guillemot. Lots of maritime pictures/paperwork, model ships and sea antiques. The ship itself is rotting away though. At 4.45 we heard what sounded like a gun & then fireworks. It was the signal for the lifeboat to be launched. Even though it had to be brought from the shed and sent down the slip (pushed by tractor), it was in the water very quick. 3 divers and their boat were picked up from Saltee rocks.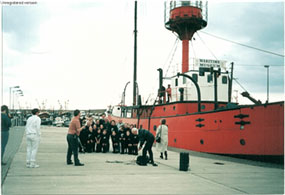 Maritime Museum (ex lightship Guillemot) plus local schoolchildren
21st OCT Gale force winds again today. Both doing odd jobs around the boat and stopping for a read now and again. After 3pm we go for the mail. It is there, it was delivered to the community centre at 7.30pm yesterday. The postman was also delivering election leaflets, that's why he was so late (what a patient postman). Evening meal at another pub (the wooden house). Good food.
23rd OCT KILMORE QUAY to DUNMORE EAST & WATERFORD
9.40am, leave pontoon, weather dry but overcast. Wind F4.
Uneventful
trip, no problems entering Dunmore. We meet the
harbour
master
(in his office), he said he wasn't really there (!), he was on sick leave (bad chest). Told we can stay where we are, on the west quay. Fishermen come in at night so we may have to move. Advised by a member of the Marine Unit (he came
on board
), to move to Waterford. He said the fishermen here are not as friendly as Kilmore and they would not be taking care with our boat if they came alongside. Move on after 1pm. Weather still dry and winds F4-5
maximum.
The passage to Waterford required
careful attention to the pilot book.
Arthurstown on our strb side (going up the channel), very small harbour and pretty village. Reach Waterford around 3pm. Tie up at Merchants Quay, alongside a de-commissioned trawler. The pontoons at Adelphi Quay were full, we are approx 200yds off the bridge.
24th OCT A dry day but cool. We have a squatter and his dog in the boat next to us. Squatters name is Edward (chatty and clean), obviously not a wino, he busk's for a living. We walk to the Waterford Crystal Factory, Lunch at the factory tourist centre (this centre was part E.C. funded). The factory tour was very interesting. The tradesmen spend many years learning their skills, blowing, cutting and engraving etc. 8yrs blowing, 18yrs engraving. Evening meal at Reginalds pub, a little pricey, food not bad.
25th OCT Visit Reginalds Tower (built by the Vikings in1003AD), it's a round tower with lots of history, but the views from it now are mostly of Waterford's mucky backstreet's. Tony back to the boat and I visit the Heritage centre. This has artefacts from recent archaeological digs from the viking triangle. The triangle (settlement) is recreated in miniature. Viking, Norman and Medieval Irish history all well presented in this museum. I took a sneaky look inside the Christchurch Cathedral, which is being renovated (with a % of E.C. Funds). It has a beautiful interior. Waterford city is pretty mucky really, The hotels look drab from the outside but at night, when you look into their lit windows, they are generally very upmarket and smart. We didn't get to see the Peoples Park (100 yrs old, 16.3 acres). Evening meal on board, watched a TV show (it's weekly). 5 names are pulled out of a hat, they receive £5000 (each) just for being drawn. 5 names drawn again for the next weeks contestants. This week £103,000 in money and prizes (cars and holidays) was paid out. The questions only required contestants to pick out Irish county/town names, each one has a value. Nobody loses.
26th OCT WATERFORD to CORK (CROSSHAVEN)
6.50am We slip our lines, a red sky and enough light to see the buoys etc.
Max
F4-5 forecast (decreasing). Not a rough passage but the sea motion was rolling the boat and I was very sea sick. Tony was ok. The approach to Cork Harbour no problems. Turning to Crosshaven required
careful
attention to the buoyage. Tie up at the RCYC marina around 4pm.
Crosshaven (Cork). Tony washing ropes. Crosshaven sailing school in progress
27th OCT A dry and sunny day (but chilly). A walk in the afternoon to look at the boatyard (its B.H. & they are closed). Tony is optimistic about the size of the paint shed. We walk uphill to the Fort Point. The houses off this pretty path have great views of the Harbour. What a smashing view at the top (if you ignore the industrial bits off Whitegate) the harbour opens out in all directions, Whitegate, Cobh and passage to Cork. Blue/green seas and green hills. Crosshaven is a small village with lots of pubs and a couple of restaurants, the usual large church and streets rising uphill. the R.C.Y.C is reputed to be the oldest Y.C. in the world (founded 1720 at Cobh).
28th OCT Morning on board. After lunch, Tony to the boat yard, the painter visits the boat later. We should have an estimate soon. Customs and Excise visit. We invite an American couple (Linda and Geoff) on board for coffee. They live aboard their sailing yacht Pendragon.
31st OCT Bike ride to the boat yard and pick up estimate, it's to low and Tony is worried about the standard of work. On the way back to the boat we stop and chat to a pensioner (and widow) called Lila, she is fascinated by the bikes. A very sweet and funny lady, she wants us to leave her a bike in a will (just in case one of us goes before her).
1st NOV Bus ride into Cork city. Smart shops and hotels etc. Generally this is a dirty city. People begging in the streets include a teenage girl with a chalk drawing on the pavement & a cardboard sign in her hand ('homeless and hungry, please help'). A woman with a baby in a pram & a woman with a small child on her knee (both begging with plastic cup in hand). Plus all the usual busker types. It's the children being involved in begging that I hate to see. We have lunch in the Cork City Gaol, not as inmates (thank goodness). It's now an exhibition centre (with the assistance of E.C. funds). The gaol, with it's lifelike models of prisoners & warders, plus audio/visual re-enactment of trials etc, gives a better insight into 19th century Irish history than any book can.
5th NOV The local tourist office (a small shed near the marina) hand out free leaflets/pamphlets (don't do much of that in Cork, not even a free city map). Evening meal on board and visit the yacht club later. A local couple (Frank & Barbara) giving a talk about their two year (95-97) circumnavigation of the world (SY Joshua Slocam, ave speed 5knts). Very interesting.
6th NOV (& overnight) CORK (CROSSHAVEN) to PADSTOW
Cloudy but dry, 24hr forecast for the crossing gives strong but decreasing winds. We slip our lines 10.45am & by 11am we are in the main channel. Looking to strb & a lot of people are trying to clear up a recent oil spill from the shoreline. An overnight passage, the seas were heavy and not a pleasant trip. On my watch the night is pitch black and not a star in sight (no visible
horizon
). When a light appeared that looked as if it should be a star in the sky, it turned out to be a ship that passed from
strb
and
across
our bow. At 6-7 miles off, I could see it's port light. An odd experience, the ship looked so close in a pitch black field of vision. Thank goodness for radar, it reassured me. 2.30am, Tony takes over & lets me sleep until 6.15 (I was feeling sick again). Neither of us really slept well at any time. No problems entering Padstow,
careful
attention to the pilot book (and being close to high tide) kept us away from the sand banks. This is the second visit to
Padstow
& Tony was prepared for the strb turn in the outer harbour and port turn (narrow entrance) to the inner harbour (not the way it looks in our pilot book). Met by Malcolm McCarthy (placement manager) and tied up by 8a.m. I went to bed for a couple of hrs, Tony felt he couldn't sleep and didn't
until
after supper.


SF safely tied up at Padstow Tony gets a well earned rest
11th NOV 10am we start a 6 mile bike ride to Wadebridge, this is on the Camel Trail (17 miles Padstow to Bodmin). Lovely views across the River Camel, rolling hills and the fields are still very green. The trail is flat and makes a good ride. Wadebridge town is split by it's old bridge across the river (a bigger and modern bridge is out of town). A sprawling place with old fashioned shops and lots of places to eat.
12th NOV Preparation being made for Christmas lights in the harbour. Lights are also thrown across inner basin, various shapes and sizes (fishes, stars, father Christmas on sledge etc.). It's all very pretty but the electrician in charge keeps pulling out our shore power plug when he has problems with the lights (he gets confused).

Preparation for Christmas lights (various shapes)
CHRISTMAS 97
Christmas tree and carol singers, an enjoyable atmosphere Caroline, Caesar and Jake to the boat. Christmas dinner in local hotel, the soup had brandy in it (we didn't know this at first). After enjoying his soup, Jake fell asleep over the bowl (at less than 2yrs old, his first experience of being a bit tiddly), good job he was secure in a high chair, no harm done, he woke up his usual cheeky self after a short while. An enjoyable Christmas, Caroline and Caesar had some time by themselves to enjoy Padstow & hire bikes to ride the Camel Trail.
Tony & Jake watching Padstow annual blacking up (historical & for charity).
Xmas morning, Caroline & Jake looking good In hotel with Nana
Jake at head of table Jake after soop.