M Y Southern Flight Extracts
from

Log 1998
Holyhead for refit, back to Guernsey, &
wintering

in France.
A long year with

many

up's and downs.
1st Jan Xmas lights in Padstow still on & causing us problems. When faulty lights are unplugged, the electrician cuts off our electricity. He's always pulling out the wrong the plugs. We were relieved when the lights were finally removed.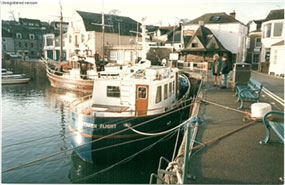 Tied at Padstow (Christmas lights gone from the water)
8th/9th Jan We purchased a MK10/DGPS, Furuno SSB radio, 2nd Radar & a Fish Finder from Tolly Marine. They are fitting some of this equipment now.
22nd/23rd Jan PADSTOW to HOLYHEAD 21hrs 12mins
Depart 11.10am, s-se winds F5-6, decreasing 3-4 later. We had problems with the log at the start of this trip, Tony sorted it out (cleans paddle wheel). We knew this would be an awful trip and it was. The winds did decrease but sea still high (due to previous bad weather). Southern Flight coped well, so did Tony. I was seasick most of the time (still capable of taking my overnight watch). Arrive Holyhead & had to moor onto a can buoy. The Buoy was massive and our magic clasp (on a pole & threads a rope through rings etc.) didn't open wide enough for it's ring. I decided to jump onto the buoy and thread the rope. Tony wasn't pleased to see me disappear out of sight. I was quick about it and got back
on-board
ok
, with the rope threaded. Asked not to do it again (we could work out a better way), it would create a problem if I got stranded . Generator problem after tying up, it turns out to be corroded connection to batteries (a drain hole required for base of gen-set). Not a problem now because the batteries are charged enough to cover our needs.
26th Jan

Lifted out of the water by Holyhead Marine Services.
Lifted out Hull washed & the boat looks good
26th Jan to 19th August. Approx 7mths for RE-FIT.
Holyhead Marine Services Ltd, Newry Beach Yard, Holyhead, Anglesey. LL65 1YB / 01407-760111 fx764531, e mail (
marine-services@holyhead.co.uk
). Martyn Langford (estimator), Nick (yard manager), John (foreman), Dave Jones (painter), Mark Mead (owner), Mark Baines (fitter), John (ships carpenter), Andy (fitter), Steve (fitter), Dave Vaughen (welder). Various internal and external work. Clean, treat & paint bilges. New skin fittings. New upholstery in saloon (and curtains). Service stabilizers & engines. Paint hull and topsides. Make and fit new canopy at the stern. Fit passerel. This list is only part of the total works. Except for the stabilizers (which will give us problems, as mentioned later) we were satisfied with the works, but only after many jobs were repeated two or more times (in particular the paint jobs and canopy. The (mostly) highly skilled labour was poorly directed by the foreman on our job. This meant the re-fit took 7 mths (it should only have taken 3 at most).
Notes: Hull is Allgrip. Topsides are International. Bulwarks are International (027 Sandpiper). Anti-foul is Joutons.
Rubbed down & ready painting Painters prepare
Stern canopy taking shape Paint being sprayed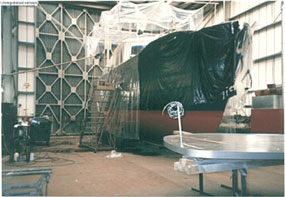 Wheelhouse will need painting again (good, but wrong paint used)
At least during this time we get the chance to see family & friends again. Also we take 3 short holidays. Sri Lanka, Austria & Scarborough
Tony was to wound up about the boat to really enjoy Shri-Lanka and Austria but did unwind better at Scarborough, Royal Hotel.
11th May Southern Flight out of the shed for a while to allow work on a lifeboat that is urgently needed.
Bruce in the park with Jake. Out for a meal with the family.
Sri Lanka
Sri Lanka (who put the English phone box there?).
Sri Lanka & Tony tired of touring Sri Lanka (I find a friend).
Austria, the beauty of the lakes Austria (Vienna) by horse & carriage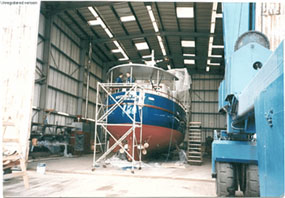 Getting ready for launch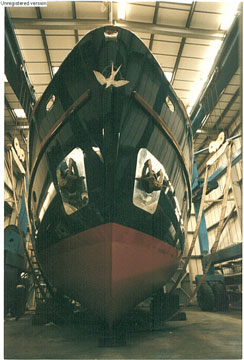 Tony (left). Chris Platt & family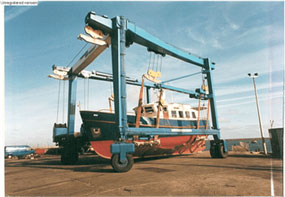 A few final adjustments to straps.
18th Aug Re-launch, sunny day (ideal) but battery problem, missed tide, try again tomorrow.
Finished

at last.

19th Aug Re-launch, all ok but dull day [bad for photo's]. Fill up with fuel 2884 x 15p = £432.60. Joined by friends John & Linda. Weather bound for a few days so John & Linda go to Ireland by ferry [back tues 25th ]. John & Linda return to join us on passage to Ireland.

22nd Aug Left harbour for Wicklow but returned to Holyhead. Winds moderate but sea state awful.

25th Aug John and Linda back from Ireland. Linda leaves for m/c Wed, John works on computers.
27th Aug Holyhead to Wicklow.
Tony suspects port stabilizer not working properly, too much rudder compensation. No other problems on passage. During our stay at Wicklow we tried to avoid having other boats alongside (fresh paint job & all). So we moored up against hrb wall, past the main yacht moorings (with ladders at wall). No ladders where we are & we have to jump off from the canopy roof (it's a little dangerous). If other yachts wanted to tie against us we directed them to the safer moorings (past our stern & plenty of space). After a couple of days the commador from the YC said we must allow other boats alongside, we mentioned the danger of getting off & he produced a rope ladder (funny that he
didn't
offer the ladder to us on arrival!). Took a boat alongside that day, two more
rafted
up even though free spaces further down. When a fourth boat came to raft up we said NO, to much weight on our fenders, he ignored us, you just can't win!.
Visit Wicklow Jail, very interesting. Man dressed as warder shouts at you a bit (all part of the experience). Excellent audio/visual and manikin displays give good descriptions of Irish history (potatoes famine, revolution, Botany Bay ship).
Tied at the end of quay, Wicklow
31st Aug Russian sailing vessel into harbour. Late evening, it's dark & they come in fast (under sail). Too close for comfort when passing, no harm done though. Yacht is OKEAH, skipper SERGA (navel officer, teaches in Academy, 400? per month). Caht-Netepgypt, Sank-Peterburg [St Petersburgh]. They entered this years Cutty Sark race and won trophy for smallest Tall Ship section. An engine on-board but it wasn't working (& hasn't been working since they left Russia). Another older man and three young men on board, very nice people.
Okeah towed out of harbour.
02nd Sept Wicklow to Kilmore Quay.
Tony
positive
port stabilizer not working properly. Visit Wexford for shopping (by bus), purchase labelling machine. Tony labels lots of wiring and also sorting out interfacing (computer-v -Radar). I do lots of cleaning and try to study a French course (on tape). Take a 2nd visit to Wexford (by myself) & meet woman on bus. We discuss a poster requesting assistance to find missing 20yr old woman, turns out to be a member of her family. She's been missing for a long time & left a small child behind. This sort of thing she told me is not unusual!.
Kilmore Quay
12th Sept 4 Customs men on board, no problem.
16th Sept (& overnight). Kilmore Quay to Padstow.
Moderate winds (wind against tide a lot of the time), a big sea swell due to previous bad weather &
stabilizer
still playing up. All in all this meant a very uncomfortable passage. While on night watch I was feeling sea-sick & leant over the strb side (for obvious reasons). I mentioned it to Tony when he came up for his watch & he was horrified. With only two of us aboard he wouldn't know if I fell into the water. I promised not to do it (ever) again.
17th Sept Arrive Camel Estuary, anchor and have lunch, Channel Hound on VHF, towing a Land Mine. Friends Billy and Rosy (Padstow fisherman & fiancée) pass us on their way to meet Channel Hound. Lots of radio and TV coverage but it turns out to be only ½ a bomb and no danger.
Channel Hound
19th Sept Billy and Rosy's wedding, went to evening reception, a good do. Lovely food and nice to see them looking happy.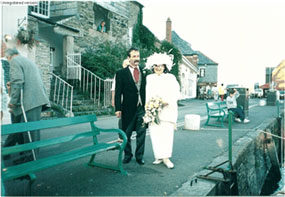 Padstow Billy & Rosy tie the knot
23rd to 29th Sept Annette to the boat. We all visit an Otter Sanctuary. Have an evening out at Rick Steins (a very expensive fish restaurant), Tony sent his fish back ( it wasn't cooked properly). Shopping etc. & enjoyed Annette's company.
2nd Oct Bruce back in Aberdeen (from Vietnam). Robin & Jayne visit Southern Flight, they are friends of Nevil Duke & ex crew.
5th Oct Billy gives us lobster, Rosy goes off to market and we give Billy lunch. Rincewind (a moody 46 of Baumauris) ties at our stern. Vic & Lyn, heading for the med to charter.
8th Oct [& overnight] Padstow to Guernsey.
Again, with stabilizer problem, this passage uncomfortable. Passing Rincewind near Lands End, they called us on VHF radio and said our boat looked to be coping well with the fairly rough & following sea. They head for the south coast to wait for better weather. We press on knowing the winds will be decreasing (hopefully). Glad to say they did.
9th Oct Arrive in Guernsey, nice to be back.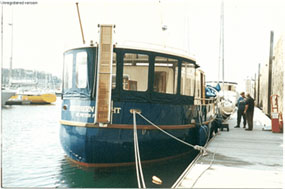 14th to 25th Oct Caroline & Jake to the boat, some bright weather during their stay but lots of strong wind and rain as well (found indoor play centres for Jake on bad days). Enjoyed having them both around again. Jake enjoyed the animal sanctuary at Sausmarez Manor.

Don't be rough with pops Jake. Jake pretending to be camera shy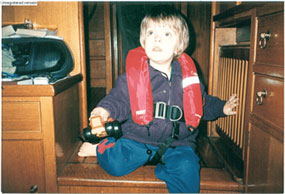 Can I go to sea now pops
27th Oct D.G.Archer (divers) inspect strb stabilizer (no obstruction). Later we visit our bungalow and polish the conservatory floor.

Diver ready to inspect stabilizer
3rd Nov Rincewind in QE2 Marina, Vic & Lyn came over for a chat.
19th Nov Guernsey to Dartmouth.
OK passage despite stabilizer problem. Tie up Sandquay Marina, Peter Ayres waiting for us and took our lines. During our stay in Dartmouth he lent us a car, Peter and Marlene fed & entertained us in their home. They helped us in many ways. Herbert and Joan also invited us to their home, fed and entertained us, We're lucky to have such good friends.
Purchased
new
blue fenders
(big & small).
Vosper's Yard. Dartmouth
1st Dec John from Tolly Marine returns our SSB & re-installs it. He wanted to take it out again unless we paid the balance due (install costs). Tony still not happy with the work (SSB is fully paid for). We called the Police, John left minus the radio and a caution from the police. The radio still not working properly anyway (that's for later).
2nd to 11th

Vosper's

work on stabilizers.
Go to drying out pad. Len Gig & others from Vosper have a fenders ready for us (an old mattress & cushions). Stay there overnight & next day they release the port Fin and investigate. Problem was the bearing installed with grease (at Holyhead) and this caused it to seize up. It's water lubricated & the grease prevents
lubrication.
They replace the bearing. Maybe the strb bearing was not greased so ok?, (more about that later!). In the engine room, Ray (a fitter) was not happy with carbon in pipes and tubes (ref stabilizers). Off the pad (afternoon) & we tie up at
Vosper's
yard.
Vosper's
spend 2 days working on new pipes to keep Ray happy. Elec fault found on
stabilizer
(potentiometer
).
6th to 12th Stay at the yard. Taken to lunch at the Royal Navel College (Fri 11). Dick showed us around (Richard Rendue of VT Marine Services, operations exec). He said the gardens are now sub-contract work (they are slightly unkempt). Suspect a lot of things may be heading that way now due to lack of funds. Not bad food and interesting buildings.
The elec part arrives & all should ok. Start the engines & run tests. SCREAM, the Strb stabilizer now seized. Tony thinks it's jammed. With a saw (tied to a piece of timber) he feels around the fin, & cuts a branch free from it. Stabilizer working & Tony's a happy man.
13th & 14th Tie up at harbour wall & spend time getting the boat ready for sea. Say our goodbyes. It's been great to spend time again with our good friends Peter & Herbert.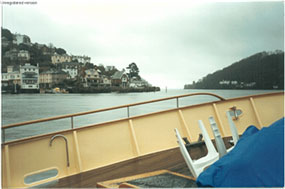 Leaving Dartmouth.
15th Dec (& overnight) Dartmouth to Honfleur.
On this passage the
strb Stabilizer seized.
No problem though, light winds & a good overnight passage. The
forecast
visibility for our approach to the River Seine was slight sea haze. It turned out to be thick fog as we made our way into the channel. We kept as close to the strb side as possible & giving fog signals by horn. Almost got run down by a large commercial ship as it passed us to port (far to close for comfort). The entrance to Honfleur lock was confusing and difficult, without radar it would have been impossible We only saw the posts and lock gates when they were
practically
on our nose. Got through ok and shortly after passing the lock, visibility was good (you wouldn't believe fog was in the channel at all). Spent two days tied up outside of inner harbour (Vieux Bassin). Met
Jane
&
Ernie
(sy Infinity).
Honfleur, waiting to enter Vieux Bassin.
17th Dec Enter Vieux Bassin.
We have the best seat in Honfleur for watching the
Christmas
water pageant. Children on Quai de la Cale being told a
Christmas
story & the top of Lieutenance building is spot lighted to show soldiers in ancient uniform (armed with muskets).
Suspense
style music and the bassin gate opens to let in sailing ship (with Farther Christmas on board). This ship is hassled by large shark (small boat done up with guy inside shining a torch). Smaller pirates boats attack father
Christmas
boat (fireworks & sword fights). A mermaid sings from shore &
mesmerises
the pirates. They lose, father
Christmas
taken to the the shore (carrying a big key). He opens a large chest & hands out presents for the children. He departs on his sleigh (throwing sweets to local children as he drives around the harbour).
The whole thing was very well done and we watched from our stern while sipping champagne & eating caviare (it's a hard life). Each day after this, a Christmas tree has some of it's branches cut down (don't know the story behind this idea?).
Christmas pageant. Shark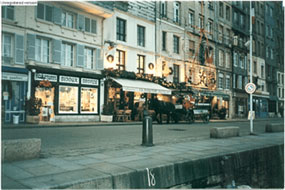 Father Christmas leaves.
Caroline & Jake, Bruce & Annette came to the boat for Christmas. Sadly Caroline & Jake came with a cold (turned out to be severe, suspect it's flu). They spent most of the time in bed & missed the Christmas meal (in a restaurant). The meal was excellent (& very expensive). We had the best Christmas we could under the circumstances. Caroline & Jake feeling better before going home. They all enjoyed looking around Honfleur. I wept buckets to see them leave (27th Dec). Two days after, I came down with a cold (flu?) & spent a few days in bed (feeling like death warmed up).
Meeting people in Honfleur
M's Desiree (in charge of harbour), doesn't speak English (we don't speak French). We all got by with signs, a few French words by us & a dictionary.
Stephanie, a young girl from nearby gift shop (red hair), acts as our interpretor sometimes. Her English is very good.
M's August (an old sea salt who hangs around the harbour). He fought in Free French Navy during the last war. With Stephanie's help, he chats to us now and again, Tried to sell us a painting of himself sitting in the harbour, looking very nautical with his long white beard (we didn't buy one). Probably finds plenty of buyers in the summer though and keeps local artist in business. His portrait sold at the gift shop.
I joined a French language course at local school. Found later, it was full of French teenagers trying to re-learn their grammar. I tried, but didn't learn much really.
We enjoyed our stay in France. Good food & wine, nice people. Honfleur mostly restaurants and art galleries, with interesting old buildings. We were the only live aboards in the harbour & it was surprising how quickly the time went. In the new year, the strb Stabilizer bearing was replaced (it too had been installed with grease in Holyhead).